Countries Hit With Coronavirus Start Sending Children Back to School—In Denmark, the Youngest Go First
Many of Denmark's youngest students returned to classrooms Wednesday morning following nationwide school and business closures implemented more than one month ago.
It is the first European nation to restore in-person instruction after shutdowns enacted amid the coronavirus pandemic, the BBC reported, although elementary schools in Sweden never closed in the first place.
During a news conference earlier this week, Danish Prime Minister Mette Frederiksen confirmed the country would proceed with plans to reopen certain educational institutions, daycare centers and leisure facilities. The measure—which government officials in Denmark have folded into plans for an initial push toward restoring various public and economic sectors—applies to students in fifth grade and below. As news site The Local Denmark reported, about half of schools permitted to do so actually resumed classes Wednesday, although all are expected to follow suit by April 20.
"What a lovely start to the day at Lykkebo School in Valby," Frederiksen wrote in a message shared to her official Facebook page Wednesday morning.
The post's accompanying photo pictures her inside a Copenhagen classroom alongside students, some of whom she said told her "it's hard not to give the best friends a hug of just reunion joy."
"I can really understand that," she wrote. "There's no doubt this is a difficult task. We all want to return to everyday life as we know it. It takes patience and time. But I am convinced that parents, teachers, educators and children can do the task together."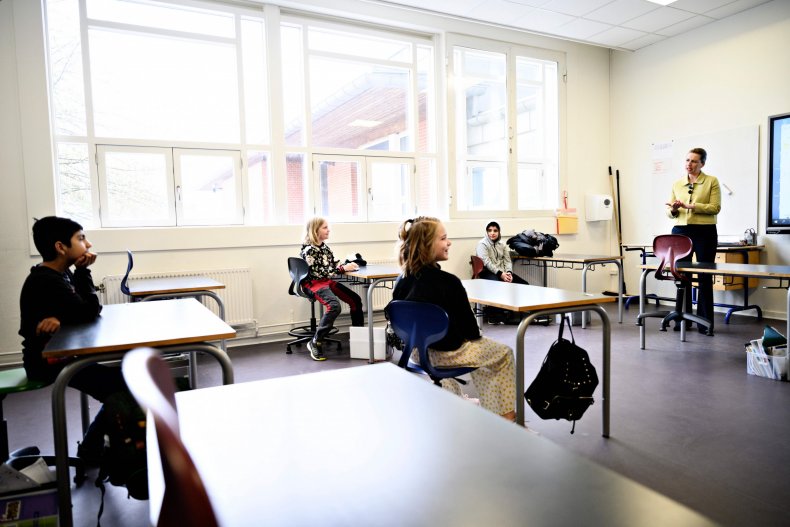 Frederiksen first announced that the country's education restrictions would be soon be lifted last Wednesday. They have been in place since March 11. She explained that students beyond fifth grade would continue remote schooling through at least May 10, and nonessential businesses would remain largely closed.
Children in Norway are also due to return to school in the coming weeks. In a statement also released last Wednesday, Prime Minister Erna Solberg said daycare centers and elementary schools offering first through fourth-grade classes would reopen by April 27, although daycares could open as early as April 20.
"Parents, children and staff must all be confident that we are re-opening these institutions responsibly," said Guri Melby, Norway's Minister of Education and Integration, in the recent statement, noting the government's intention to ensure those parties "receive clear, reliable information" about how to limit the infection's spread. "I am pleased that it will soon be possible for the youngest children to return to day care and school," he said.
According to the latest figures published by Johns Hopkins University's coronavirus tracker Wednesday morning, Denmark has confirmed 6,876 positive cases in total since the start of the COVID-19 pandemic, while Norway has confirmed 6,686. Of those diagnosed, 309 people have died as a result of the virus in Denmark, and 142 have died in Norway.