Amid the COVID-19 pandemic, this week over 100 countries and other areas have been added to the U.S. State Department's "Level 4: Do Not Travel" category, the department's "highest advisory level due to greater likelihood of life-threatening risks."
That leaves around 50 countries in the lower-level categories, with only Bhutan currently at Level 1, the lowest advisory level where travelers are told to "exercise normal precautions."
There are 15 countries in the Level 2 category where Americans are told to "exercise increased caution," while 35 countries come with a Level 3 warning advising travelers to "reconsider travel."
Speaking to Newsweek, a State Department official said: "We believe the updated framework will help Americans make better-informed decisions about the safety of international travel. We continue to strongly recommend U.S. citizens reconsider all travel abroad, and postpone their trips if possible.
"There are currently no restrictions other than travel to North Korea or Cuba in place for U.S. citizens' travel abroad, but the State Department advises against travel to countries with a Travel Advisory of Level 4 as a matter of safety and security. If a U.S. citizen decides to travel there anyway, we strongly urge them to read our information on high-risk travel and heed our advice on how to prepare," the official told Newsweek.
The department's latest update was made in a bid to "better reflect the Centers for Disease Control and Prevention's (CDC) science-based Travel Health Notices that outline current issues affecting travelers' health," according to a statement Monday from the department.
The update would result in around 80 percent of countries worldwide falling in the Level 4 category, according to the statement.
As of Thursday, around 150 of the nearly 200 countries and other areas listed on the department's website, have been placed in the Level 4 category, marking a significant rise from the 34 that had previously been put on the list.
Below we take a closer look at the countries that currently do not fall in the "Level 4: Do Not Travel" category, listed in alphabetical order within each list.
See the department's website for the latest update of the advisory level categories.
Countries at Level 1 - Exercise Normal Precautions
The department explains: "This is the lowest advisory level for safety and security risk. There is some risk in any international travel. Conditions in other countries may differ from those in the United States and may change at any time."
Countries at Level 2: Exercise Increased Caution
The department advises: "Be aware of heightened risks to safety and security," for countries with a Level 2 warning. "Conditions in any country may change at any time," it adds.
Belize
Benin
Fiji
Grenada
Liberia
Mauritania
Palau
Rwanda
Saint Kitts and Nevis
Singapore
South Korea
Sri Lanka
Thailand
Vietnam
Zimbabwe
Countries at Level 3: Reconsider Travel
Travelers are advised to "avoid travel due to serious risks to safety and security," for countries in the Level 3 category. "Conditions in any country may change at any time," the department says.
Angola
Australia
Brunei
Cambodia
Cameroon
China
Djibouti
Dominica
El Salvador
Equatorial Guinea
Eswatini
French Polynesia
Ghana
Kyrgyzstan
Iceland
Japan
Laos
Malawi
Marshall Islands
Mauritius
Morocco
Nepal
New Zealand
Nigeria
Samoa
Senegal
Sierra Leone
Sint Maarten
Sudan
Taiwan
The Gambia
Timor-Leste
Togo
Uganda
Zambia
Territories and regions with a Level 2 or 3 warning
Anguilla (Level 3)
British Virgin Islands (Level 3)
Cayman Islands (Level 3)
Hong Kong (Level 3)
Micronesia (Level 3)
Montserrat (Level 2)
New Caledonia (Level 3)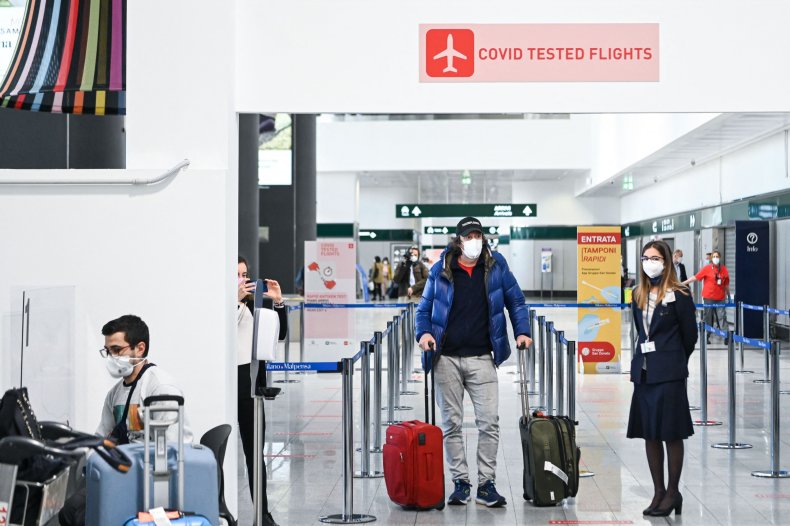 The wider picture
Coronavirus has infected more than 143.9 million people, including more than 31.8 million in the U.S., since it was first reported in Wuhan, China.
More than 3 million people have died worldwide and more than 82.5 million have recovered as of Thursday, according to Johns Hopkins University.
The graphic below, produced by research provider Statista, shows the total number of COVID-19 vaccine doses administered per 100 people across different countries.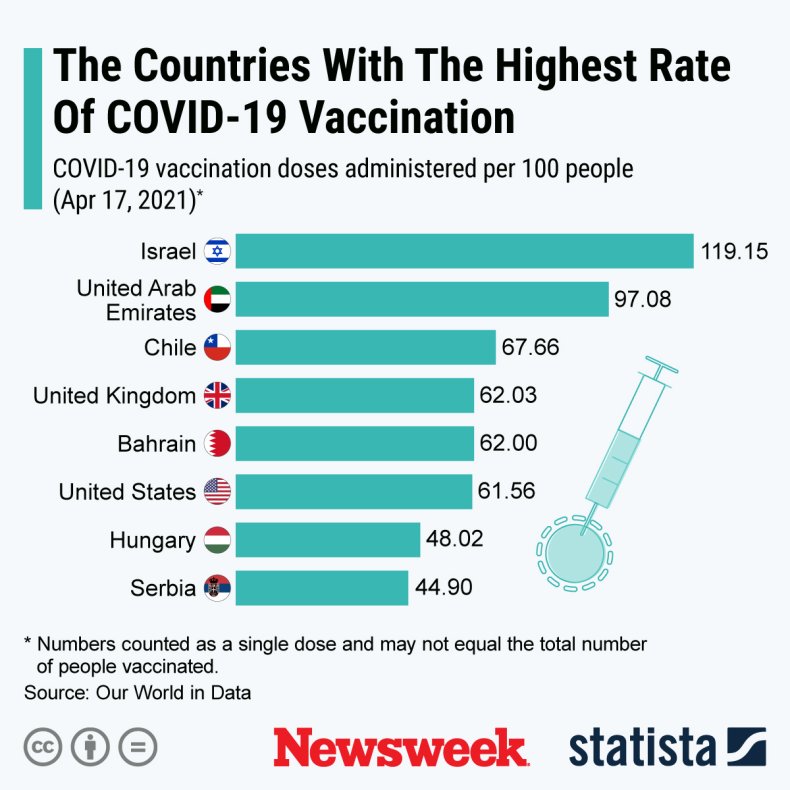 About the writer
Soo Kim is a Newsweek SEO Reporter is based in London, UK. She reports on various trends and lifestyle stories, from health, fitness and travel to psychology, relationships and family issues. She is also a South Korea expert who regularly covers Korean culture/entertainment for Newsweek, including the latest K-dramas, films and K-pop news, and is the author of the book How to Live Korean, which is available in eight languages. Soo also covered the COVID-19 pandemic extensively from 2020 through 2021 after joining the general news desk of Newsweek in 2019 from the Daily Telegraph (a U.K. national newspaper) where she was a travel reporter/editor from 2010. She is a graduate of Binghamton University in New York and the journalism school of City University in London, where she earned a Masters in international journalism. Languages spoken: English and Korean.
Follow her on Twitter at @MissSooKim or Instagram at @miss.soo.kim
You can get in touch with Soo by emailing s.kim@newsweek.com