A Country for All: An Immigrant Manifesto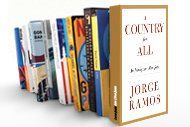 Jorge Ramos
Translated from Spanish by: Ezra Fitz
176 pages | Buy this book
It's not called a "manifesto" for nothing. In six short chapters, Ramos humanizes undocumented immigrants, argues why you should care, and explains why reform is needed now. Above all, it's an inspiring book that, if passionate to a fault, is soundly reasoned.
What's the Big Deal?
An intractable issue for the country, immigration has sparked controversial laws in Arizona, and affects the 12 million undocumented workers in America. Ramos may be in awe of Obama, but he's got beef: candidate Obama pledged to move legislation in his first year in office. This is a major, festering social ill, according to Ramos, and without change everyone can believe in, well, tensions will likely continue to rise on both sides.
Buzz Rating: Rumble
The Daily Beast recently declared that Ramos was on the warpath: "[He's] the most prominent Hispanic voice inside or outside of politics to blast away at Obama for not keeping his word." Meanwhile, the president went to the microphone again on Wednesday on the topic. Talk about being on the radar.
One-Breath Author Bio
As the iconic Mexican anchor on the Spanish-language network Univision, Ramos has wide-reaching influence in the Hispanic community. He's no slouch, either. To date, he has won eight Emmy awards and is the best-selling Spanish author of nine books, including one for kids.
The Book, in His Words
"I will outline the enormous contributions that undocumented immigrants have made to this country, and I'll show why—despite so much criticism to the contrary—they should be legalized . . . through facts and logic, without all the destructive rhetoric and divisiveness that have come to define this debate" (page xviii).
Don't Miss These Bits
1. Ramos is after the lofty goal of bringing the "invisibles" out of the shadows. He tells the story of Alfredo Quiñones-Hinojosa, who migrated to the U.S. without papers in 1987, was a farmhand for $3.35 an hour, and went on to become a neurosurgeon and American citizen. (Ramos frequently reminds the reader of his own American-dream immigrant story, too.) People like Quiñones-Hinojosa, he says, exemplify how integral undocumented workers are to our daily life. In addition to performing manual labor, and not to mention caring for so many of the country's children, undocumented workers cleaned Homeland Security Secretary Michael Chertoff's home for four years before he even, ahem, noticed (page 10).

2. Rather than stealing jobs, Ramos says the country needs immigrants to replace a retiring workforce, and backs up his case with numbers. Taking the math further, he reasons that undocumented immigrants add approximately $10 billion to the economy each year and that legalizing undocumented immigrants could generate up to $5.4 billion in tax revenue and create 900,000 jobs (page 43).
3. Strangely, Ramos's "manifesto" comes at the end of the book and nails down three essentials: the legalization of undocumented workers (which would involve a monetary penalty on those who entered illegally), integration of individuals living here, and long-term investment in the developing economies of our less fortunate Latin-American neighbors (page 130).
Swipe This Critique
Ramos declares a "new rule" that nobody can make it to the White House without the Latino vote and without the help of the Spanish-language media (page 106). Perhaps true, at least to some degree, but considering his overbearing tone, some of these declarations come off more as narcissism than pragmatism.
Tic Alert
"The time is now." "Now is the time." "Now," "now," "now."
Gradebook
Prose: Though emotional fervor drives him to tics (see above), Ramos writes clearly and concisely.
Construction: Ramos starts with a plea for empathy, lays out 10 convincing reasons why immigration reform is an urgent matter for all (and what's in it for politicians), and a framework for a more sensitive and humane country with his manifesto.

Bottom Line: "Latinos are the future of the United States" (page 119), Ramos says. If he's right, you should read this.