Ahead of Academy of Country Music Awards, Study Examines Gender, Age Gap Between Male and Female Artists
The creative contributions of women often go underappreciated within the country music establishment, according to a new study from the University of Southern California.
The analysis, released Friday, provides data to support what artists and industry onlookers have long decried as a pervasive gender and age gap in the Nashville music scene.
Working with the Annenberg Inclusion Initiative, researchers examined the disparity by combing through five years of the YearEnd Billboard Hot Country charts. From that sample, they then tracked the number of women who received songwriting credits and subsequent award nominations at the Academy of Country Music Awards.
Led by Stacy L. Smith, they found that 16% of artists across 500 top country songs from 2014 to 2018 were women—translating to 5.2 male country artists for every 1 female country artist represented on the charts. Women who did find commercial success were also far younger than their male counterparts. In fact, none of the women who catapulted to the upper echelons of the Billboard chart during the surveyed period were over 40.
Men, meanwhile, enjoyed top honors later in their careers.
"The mean age for top performing male solo artists was 42 whereas the mean age for top performing female solo artists was 29," the researchers found. "Women are not only disadvantaged in the country market, but their age illuminates a sell-by date that their male counterparts do not experience."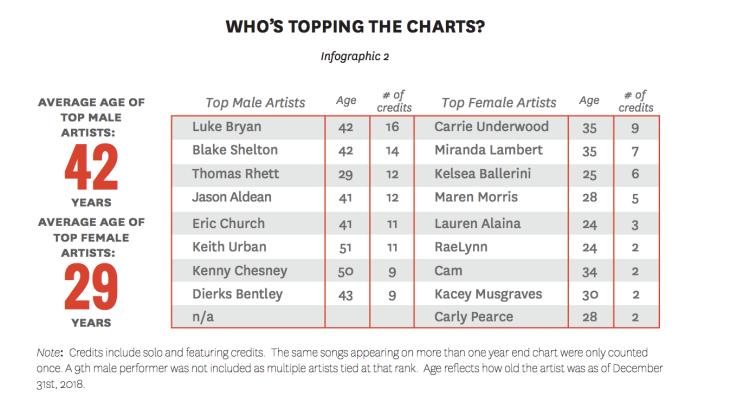 What's more, only 12 percent of songwriters across the five years studied were women, leading the researchers to write that "the 'bro culture' is still alive and well in country music and things are not getting better."
To correct the imbalance, researchers advised that industry influencers—from label executives to radio managers—internally assess recruitment, signing, and promotion strategies.
"The current reality in country music does not have to be the future of the genre," the study reads. "By taking action as an industry, executives, programmers, advocates, and even consumers can leverage their influence to create a space that produces great music— by male and female artists."
The research was prompted by a second consecutive year of all male nominees for the prestigious Entertainer of the Year Award at the Academy of Country Music Awards, the 54th iteration of which will be held Sunday.
Its unveiling also comes as Music City grapples with accusations that it's exclusive to the voices of white men. Lil Nas X, a black artist from Atlanta, found cross-genre success with "Old Town Road"—a song that marries elements of country and hip-hop—but its removal from the Billboard country charts triggered an ongoing debate about race and inclusivity in the industry.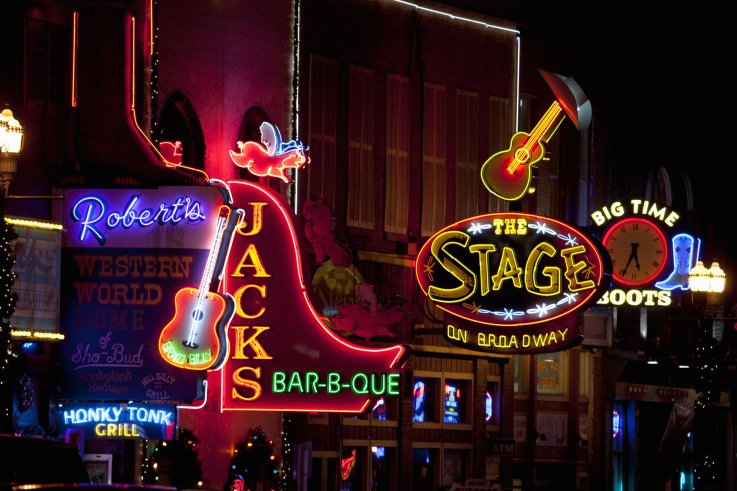 Ahead of Academy of Country Music Awards, Study Examines Gender, Age Gap Between Male and Female Artists | Culture