Country Star Jason Aldean Wades Into Gun Control Debate, Says Weapons Are 'Too Easy to Get'
Country music star Jason Aldean has waded into the gun control conversation, calling for stronger background checks for guns in a new interview. Aldean, who was onstage when the Las Vegas mass shooting occurred in October 2017, told the Associated Press that guns were "too easy to get."
"It's too easy to get guns, first and foremost," he said. "When you can walk in somewhere and you can get one in five minutes, do a background check that takes five minutes, like, how in-depth is that background check?"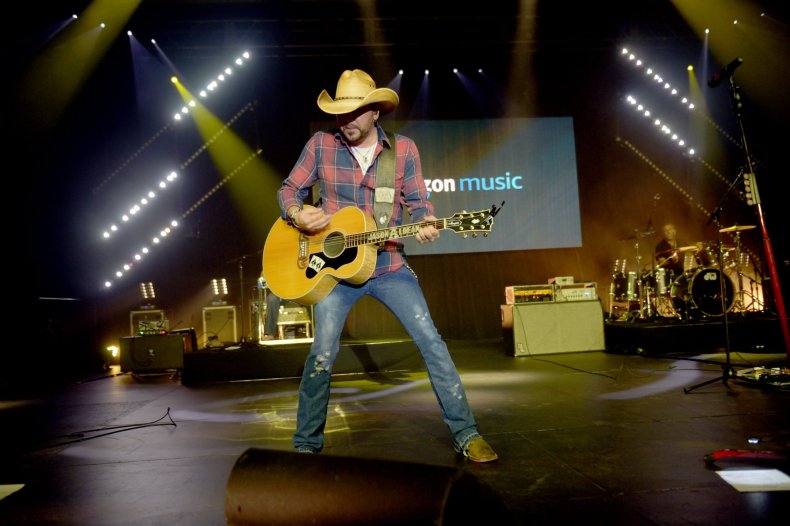 Aldean had largely refrained from speaking about guns and the hotly debated topic of gun control, calling it a "no-win situation."
"I think no matter what you say, whether you're for gun control or not, I mean, you're setting yourself up to be crucified in the public eye or in the media," he said.
Other country music stars have spoken out in favor of gun control legislation. In an interview with Billboard in November, singer Tim McGraw called for "common-sense" gun control. McGraw said civilians should not have access to "military weapons."
"Look, I'm a bird hunter—I love to wing-shoot. However, there is some common sense that's necessary when it comes to gun control," the self-described "blue-dog Democrat" said. "They want to make it about the Second Amendment every time it's brought up. It's not about the Second Amendment."
Aldean, who is a gun owner as well, said he was not against others owning guns. He did express regret that mass shootings were being misused during political arguments about gun control.
"Nobody is looking at what the actual issue is and really how to come to an agreement and make a smart decision," he said.
The "I'll Wait for You" singer said he felt connected to the survivors of other recent shootings and understood where their feelings were coming from.
"Unless anybody has witnessed anything like that or been a part of it, it's really hard for people to really understand where you're coming from on that stuff," Aldean told the AP. "It's like the kids from the school in Florida, that shooting. I get it, man. I understand how they are feeling."
Around 40 members of Aldean's band and crew, as well as his pregnant wife, Brittany, were at the Route 91 Harvest festival in October when a gunman started firing at fans from a hotel window. The shooting left 59 people dead and hundreds more injured.
On Friday, Aldean visited the Barrow Neurological Institute to visit patient Jovanna Calzadillas, who was shot in the head during the music festival. According to Fox News, the mother of two survived a bullet that pierced the left side of her brain. She was released from the hospital in January.