Country Star Travis Tritt Cancels Upcoming Shows Requiring Vaccination, Masks or Testing
CMA and Grammy-award winning country music artist Travis Tritt on Monday announced he's canceling his upcoming shows that are scheduled at venues requiring attendees to either wear masks, show proof of COVID-19 vaccination or a negative test result for the virus.
"I'm putting my money where my mouth is and announcing that any venue or promoter mandating masks, requiring vaccinations, or pushing COVID testing protocols on my fans will not be tolerated," Tritt said in a statement posted on his website Monday.
He added that any of his shows he has already booked that institute any of those requirements will be canceled immediately.
"Many people are taking a firm stand against these mandates around the country, and I wholeheartedly support that cause. I have been extremely vocal against mandates since the beginning," Tritt said.
Shows affected by his announcement include those scheduled on October 23 in Muncie, Indiana, on November 6 in Philadelphia, Mississippi, on November 11 in Peoria, Illinois, and on November 13 in Louisville, Kentucky.
Future shows of his that do not require COVID-19 mandates will go on as scheduled.
"I'm sorry for any inconvenience this situation creates for anyone who had purchased tickets to these shows. We will try to reschedule unrestricted shows in these areas as soon as we can," said Travis.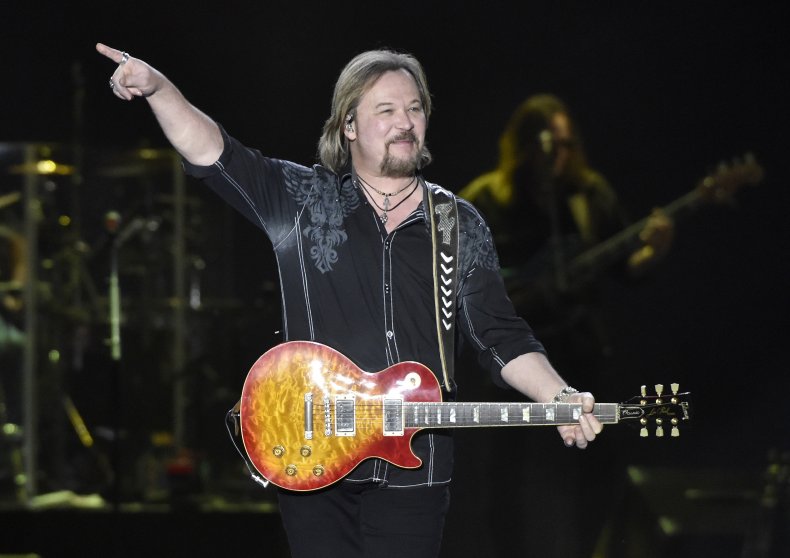 For his part, Tritt said his decision was about freedom of choice.
"This is a sacrifice that I'm willing to make to stand up for the freedoms that generations of Americans have enjoyed for their entire lifetimes," added Tritt. "There are plenty of promoters and venues around the country that appreciate fans and the freedom of choice in this great country, and those are the promoters and venues that I will be supporting."
Tritt is not the only musical artist to cancel scheduled performances due to mandates venues have put in place.
Since last year, guitarist, singer and songwriter Eric Clapton has questioned the efficacy of the vaccine and in July said publicly he would not perform at any venues, which require attendees to prove they've been vaccinated. His statement was in response to Prime Minister Boris Johnson announcing that vaccine passes would be required to enter nightclubs and other venues.
Other music and comedic performers have canceled upcoming shows due to what they felt was a lack of COVID safety precautions.
Classic jazz and soul singer Michael Buble canceled a show last month in Austin, Texas, noting the venue's unmet requests for greater COVID-19 protocols.
Last month, the comedian Patton Oswalt canceled several upcoming shows in both Salt Lake City, Utah and Florida locations after venues there denied his safety requests.