The country Trump tried to buy: Greenland markets new ice museum, pristine fjords
---
NUUK, Greenland – Seated on the second floor of the chic Spanish restaurant Tapasimut, we were waiting to see what it could offer us in terms of tapas.
Greenlandic tapas, that is. Sure enough, the menu listed musk ox, reindeer and tuna as options, washed down with Qajaq, a Greenlandic beer brewed with pure water from local icebergs. There was cilantro accompanying our meal, an herb more at home some 30 degrees in latitude south of this Arctic location.
Outside it was dusk, and I could spot expanses of black lava rock poking up through a creamy blue sea to the west. Nuuk's downtown was filled with industrial buildings and apartment blocks built for extreme cold and, it being a September evening, the temperature was in the 30s.
Opposite me was Hjörtur Smårason, 45, the new CEO of VisitGreenland and a trim, athletic-looking Icelander who had been working in the travel industry in Copenhagen when he heard that Greenland's top tourist position was open. He jumped at it, he told me, wanting to help breathe new life into the country's travel industry.
Although historically off the beaten path except for cruise ships and wealthy individuals who could afford the sky-high plane fares and hotel rates, Greenland is reinventing itself as a more attainable, yet still pristine Arctic destination.
The country hopes to be the next Nordic tourism wonder: a collection of gorgeous vistas, gourmet restaurants and targeted travel packages toward a clientele that wants a quality experience without ruining what's already in place.
The word for that is sustainability and Nuuk, a metropolis dominated by Sermitsiaq, a 3,970-foot-high mountain that rises up from an island northeast of the city, is the first sustainability certified capital city in the world. So says EarthCheck, a certification and advisory group for the travel and tourism industry.
"In terms of rural destinations, places to get out into nature, authenticity and sustainability – we check all those boxes," Smårason told me.
"We don't want to experience the same thing that Iceland did in terms of mass tourism where there weren't enough walkways and toilets."
He is referring to a time between 2011 and 2018 when the number of foreign visitors to Iceland shot up by 328 percent, thanks to cheap flights and savvy marketing spotlighting everything from the country's geysers to Game of Thrones filming locations. In 2018, the number of foreign tourists (2.3 million) dwarfed Iceland's 350,000 residents by a factor of 6 to 1. Locals and tourists alike complained of overcrowding at popular sites and environmental degradation of popular hiking trails because of overuse.
Watching all that were Greenlanders, who were thinking of ways to keep their country's natural wonders - including an enormous ice cap that takes up much of the country - in prime shape while bringing in tourism dollars.
To be sustainable, it helps to have good infrastructure when the masses do arrive. Currently, Greenland gets just under 100,000 visitors a year compared with 20 times that touching down in Iceland.
Many of the public signs in Greenland are in Danish or Greenlandic, compared to the more English-friendly Iceland. Iceland is very driveable whereas Greenland lacks roads connecting its farflung towns. All travel is by plane or boat.
But Greenland's vast, isolated wilderness areas, the country's intriguing Danish/Inuit culture and a much colder, drier and sometimes sunnier climate than Iceland creates a sense of savage beauty not found in other Nordic countries.
"We need to rethink sustainable tourism in a way that works in an Arctic country," Smårason said. "We're building from scratch, which is easier to do than to change a tourism infrastructure. That may sound bold for a country of 56,000."
Chief among the changes are the country's two new international airports under construction in Nuuk and Ilulissat, a city of 4,670 some 300 miles north of Nuuk. Located near the site of the existing airports, their runways will be lengthened to about 7200 feet to accommodate large jets.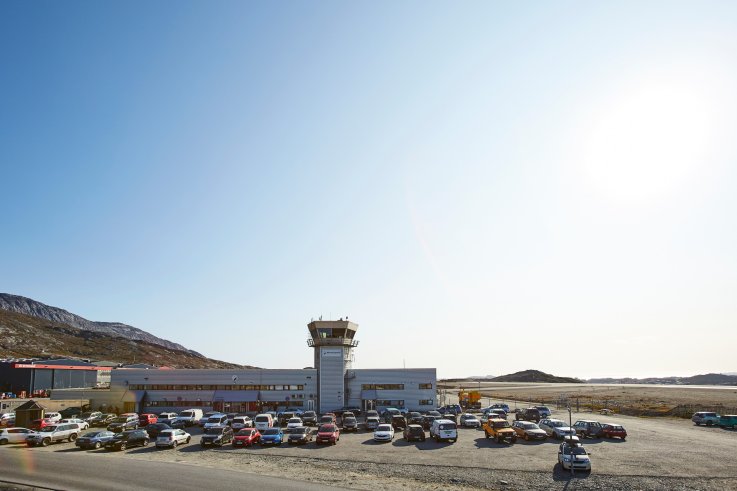 Currently, the international airport in Nuuk is small. It will be vastly expanded with a new runway, terminal and other improvements by 2024,
Peter Lindstrom/Visit Greenland
The Air Greenland flight I took from Reykjavik held 37 passengers, but the passenger jets that will land at the new airports can hold closer to 187 people. New terminals must be added to accommodate them, as the current facilities – other than the U.S. military-built terminal at Kangerlussuaq - are small and crowded with almost no amenities. (Ilulissat lacks even a reliable airport taxi system, forcing me to beg a ride into town from a friendly Danish businessman.)
Both airports are slated to open in 2024, with a goal of attracting traffic – and hopefully major airlines -- from North America as well as Europe. Currently, one must fly via Reykjavik or Copenhagen only on certain days of the week, and fares are not cheap. (The roundtrip flight I took from Iceland to Nuuk - three hours each way - cost $1,176).
As for what tourists will find when they get there, Greenland offers a whole different slate than Iceland: Sled dog rides, icebergs, polar bears and KOKS, a famous Faroese restaurant that recently announced a temporary move to a location in Ilimanaq, an isolated settlement just south of Ilulissat. The restaurant, which is remodeling its facility in the Faroe Islands for the next two years, is known for New Nordic cuisine employing foraged herbs, seafood and fermented ingredients. Its famed chef, Poul Andrias Ziska, will oversee the Ilimanaq operation with the goal of expanding Greenlandic cuisine. Open from June 12- Sept. 8, KOKS Greenland will be the only Michelin-starred restaurant in the Arctic.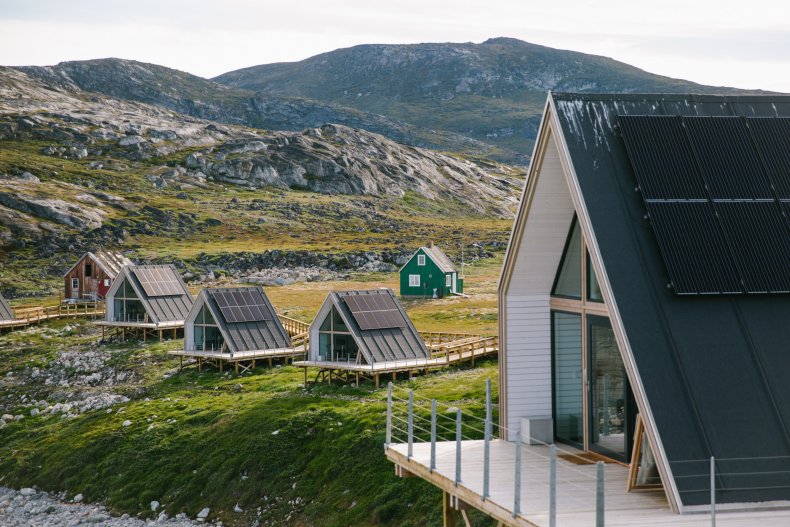 KOKS, along with other Greenlandic experiences, will come with prices to match: the 17-course menu is expected to cost well over $300 and Smårason is frank about Greenland not being a budget destination. It's more for the adventure tourist –including those on cruise ships -- who wants curated experiences such as exploring the ice sheet near Kangerlussuaq, hiking the Nuuk fjord country to the remote village of Kapisillit, or engaging in a multi-day sled dog trip in Tasiilaq, east Greenland.
"We're unique," Smårason said. "We've the world's biggest fjords here. (Scoresby Sund, the world's largest fjord, is in east Greenland and covers 14,700 square miles. The fjord system around Nuuk is the world's second largest.)
"We're in a good position to compete with Alaska. Our biggest advantage is that we're closer to New York."
Speaking of which, every Greenlander I met was amused, not upset, at former President Donald Trump's 2019 offer to buy the world's largest island. Local travel agencies reported massive spikes in their internet traffic – one claimed an increase of 2,800 percent – as Americans began googling to figure out where this place was.
"When Trump tried to buy Greenland, there were expectations this would put us on the map," Smårason said. "Then came Covid."
A MUSEUM ON THE HISTORY OF ICE
A few days later, I was walking to the new Danish-designed Icefjord Centre in Ilulissat. Barely a half mile out of town, one walks down one hill, then up the next past a colony of friendly sled dogs and their puppies to reach a large parking lot. There are no sidewalks to the site and Asbjørn Bargsteen, a local tourism official, admitted that a bit more prepping needs to be done.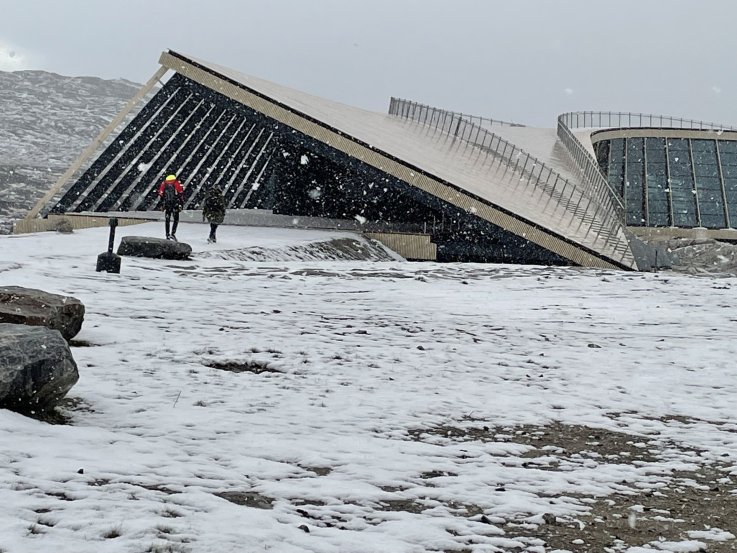 Designed by Danish architect Dorte Mandrup, the Icefjord Centre, a museum dedicated to a history of ice and climate change, opened July 3 in Greenland. Visitors can walk up the roof for a better view of glaciers in a nearby bay.
Julia Duin
"It's having the micro infrastructure – better signage and walkways – along the roads so people feel safe," he said. "But considering we're 250 kilometers north of the Arctic Circle, it is amazing what you can find here."
Ilulissat may feel a bit raw around the edges, but the Centre does not. Designed by Danish architect Dorte Mandrup, the museum is the crown jewel of Greenland's transformation into a Nordic destination that seeks to educate the world about climate change barely a quarter-mile from where it is visibly taking place. Visitors - especially those who ascend to the pedestrian plaza atop the museum - get a front-row seat on the Ilulissat Icefjord and its famous glacier, Sermeq Kujalleq, which is calving icebergs faster than any other glacier in the world. Despite Covid, the Centre still drew 12,000 visitors in the six months after its July 3 opening.
These massive multi-story-high icebergs drift past the Centre and into Disko Bay, where they eventually float south toward the Atlantic Ocean.
Climate change has proved to be an unexpected boon for Greenlandic tourism, as visitors want to see where this world-changing event is taking place. Starting in 2007, when a group of 200 scientists, theologians and government officials met in Ilulissat to pray downstream from Sermeq Kujalleq while then-Pope Benedict XVI delivered a video message from the Vatican, Greenland has owned climate change. Even though it's occurring at just as alarming rates in places like Siberia or Alaska, it's to Greenland the world goes to see the phenomenon in living color.
Tourism officials are banking on tourists flocking to the Centre, a 16,000-square-foot boomerang-shaped building (actually to copy the wingspan of a snowy owl), that was underwritten by the Danish philanthropic association Realdania. Constructed of steel and more than 300 windows, the museum gets flooded with light from the east and west during all but the darkest winter months. One can easily pick up the pungent scent of the European oak floors and ceilings upon entry, where visitors are told to remove their shoes.
"The idea is to harmonize with the outside," museum director Elisabeth Momme told me. "The idea is to realize your place in the world without trying to control nature but being part of it."
The Centre tries to be low-tech, hence no massive screens. Explanations (in English, Danish and Greenlandic) are in large 27-inch books or voiced in tiny videos inside of exhibits in teardrop-shaped glass prisms. The color scheme is neutral, with white cushioned benches and black walls that mirror the outdoor landscape. Soft, meditative music plays in the background.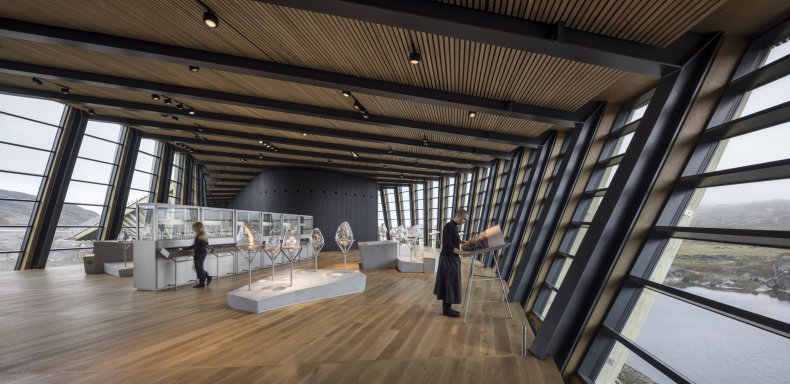 Closest to the entrance is an exhibit on the history of ice, where one learns that the Sermeq Kujalleq glacier has yielded 40-50 billion tons of ice in the past 20 years alone, causing a 3 percent rise in world sea levels.
The glacier has doubled its velocity in recent years, retreating a historic 12 kilometers (7.4 miles) in 2002 alone. Another 10 kilometers (6.2 miles) have disappeared since then.
Models of the Earth show what its surface looked like ranging from the last Ice Age in 19,000 BC to the present. A 2-million-year-old piece of wood is encased in one prism, showing a time when Greenland was truly green and covered with larch, birch and pine trees. Dinosaur fossils found in Greenland come from 450 million years ago when Greenland was part of the prehistoric landmass of Pangea and closer to the equator.
Equally fascinating is a large glass case featuring ice cores – going back 450,000 years - that contain the Earth's atmospheric history. Explanations on black touch screens show an increase in greenhouse gases starting in the 1830s. They show less sulphuric acid from 1929-1933 because of 30 million people being unemployed (worldwide) during the Depression, thus burning fewer fossil fuels. (The Covid-19-caused slowdown of 2020 is not displayed at the Centre). From 1970 on, there was a notable reduction in the amount of lead in the cores, which the Centre attributes to President Richard Nixon signing the Clean Air Act that year. The message: Political initiatives have real effects.
The Centre hopes to have some effect on global policy as well, as it is available for small conferences and groups focused on climate change. Queen Margrethe of Denmark visited Oct. 8.
"This is the epicenter of climate change and it's important that people know about it," Smårason said.
The rooftop plaza atop the Centre provides a 360-degree view of the surrounding landscape. A boardwalk leads down to the fjord itself. A 1.5-mile roundtrip path takes sightseers to even more stunning views with the option of returning via a walk along the stone cliffs overlooking the fjord's azure-blue waters with ice chunks scattered over its surface like rice. (There is some mild rock scrambling involved, so one has to be in decent shape to do this).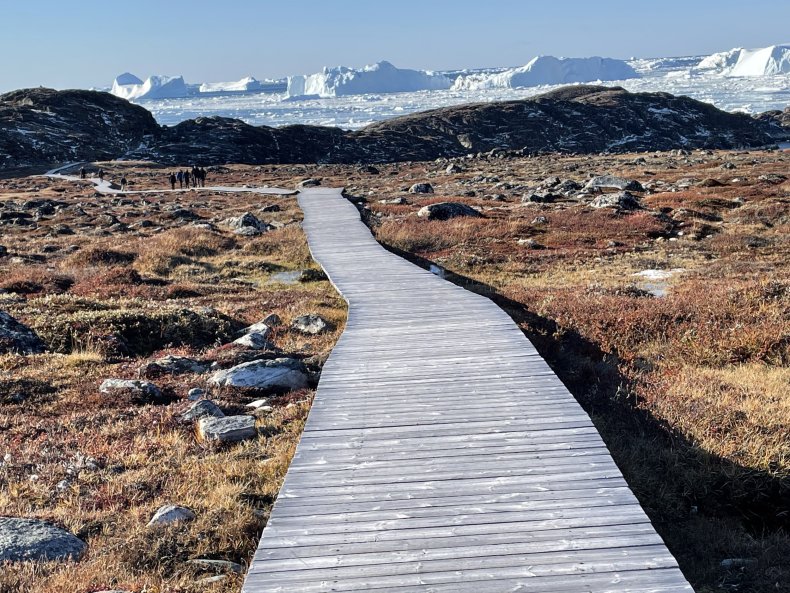 Near downtown Ilulissat are docks for boat tours of the immense Disko Bay where one can sail past 60-foot-high icebergs as they float out to sea. Sometime around 1912, it is believed that one of them headed south toward the Atlantic Ocean, eventually encountering a ship known as the Titanic.
NUUK'S FJORDS
I returned to Nuuk where, judging by the construction along its southern outskirts, it is being flooded by Greenlanders from elsewhere in the country because of more jobs and better services. The suburb of Qinngorput features jazzy apartment blocks and there are plans for another suburb – Sermeq City – that will be a mix of residential and retail on the waterfront. I counted at least 10 building cranes in the port area. The capital city, pop. 17,635, is playing up its best side as a prime location in the heart of gorgeous fjord country.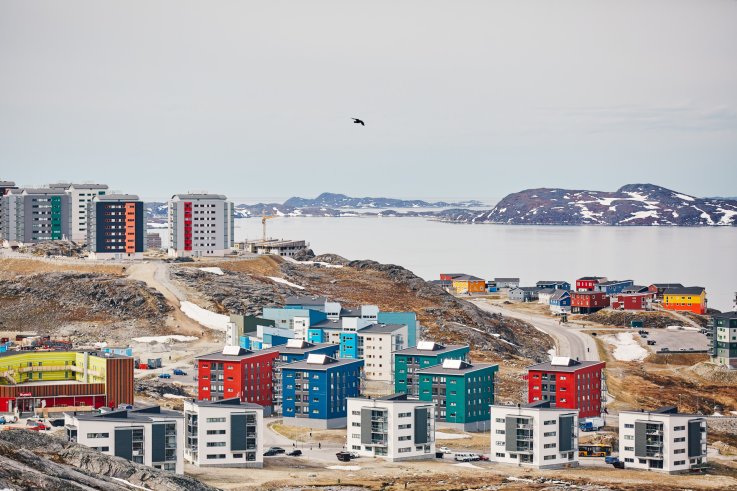 These apartments in Qinngorput, a new suburb of the Greenlandic capital of Nuuk, illustrate how Greenlanders are relocating from isolated villages to the cities.
Filip Gielda/Visit Greenland
It didn't take long for me to case the few tourist gift shops in Nuuk: most were located in a plaza across the street from Hotel Hans Egede, which dominates the downtown. From there, I walked about a half mile to the waterfront site of colonial Nuuk, where the first European settlers landed in 1721. The Greenland National Museum and Archives is located in a series of residential-looking buildings by the bay, next to which was a dock where I caught a ride on the Nuuk Water Taxi. The bright yellow boats not only ferry tourists about the waterways but they also transfer cargo, film crews, scientists and anyone else wanting to travel the vast fjord system.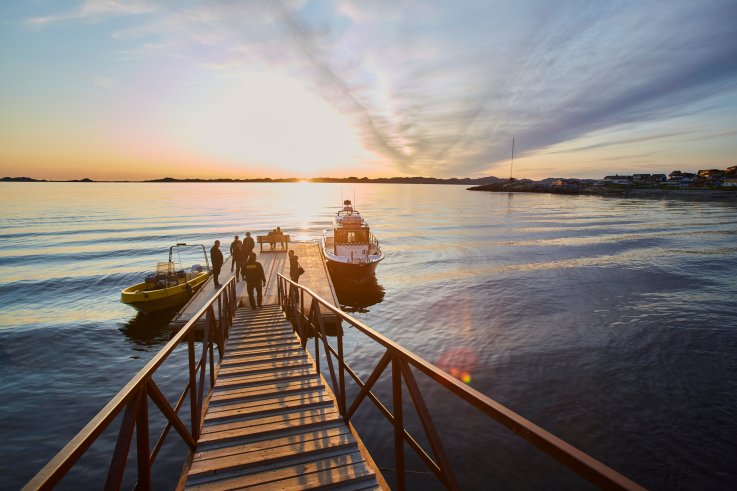 The Nuuk Water Taxi can be found by a dock by colonial Nuuk, where the first European settlers arrived in 1721.
Peter Lindstrom/Visit Greenland
The three-hour boat ride up one of the fjord arms went past several mountains topped by glacial horns, which are sharp, pointed peaks formed by multiple glaciers that wear down a mountaintop almost to a pencil point.
We stopped by Qornoq, a collection of summer cottages set in fields of patchy hay and low-lying grass sprinkled with a cotton-like plant; possibly polar wool. We walked to a small church (with blue pews and a wooden baptistry) and then a playground, picking tiny black crowberries nestled close to the ground.
We continued past more islands until the blocks of ice floating about from a nearby glacier made it too dangerous to continue. (If the boat broke a propeller, rescue would be a long time in coming). The lure of this remote area was obvious, and I could see why the city was planning on building 40 eco-cabins not far from where we were. They will be at the Nuuk Icefjord Lodge in Kapisillit, 47 miles (by boat) north of Nuuk.The cost will be about $9 million.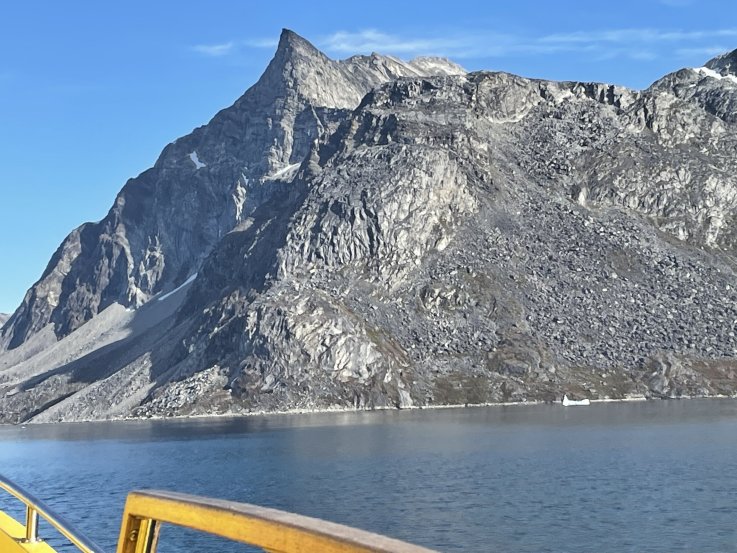 Seen from the fjord below, Sermitsiaq, a 3,970-foot-high mountain rising up from Nuup Kangerlua (Nuuk Fjord), is topped by a glacial horn, a peak shaped by multiple glaciers into a rocky peak. The fjord in central-west Greenland is lined with such mountain formations.
Julia Duin
If you build it, they will come, seems to be the local philosophy, along with the hope is that visitors will find the ideas of natural beauty and climate change compelling enough to consider coming north. Once they do, they'll want to know they're not ruining the landscape by being there.
After all, the country has an unbeatable brand in having some of the purest air and water reserves on Earth and the locals intend to keep it that way.
"I want Greenland to be the showcase for sustainable tourism," said Smårason, "like New York is the showcase for fashion."
KNOW BEFORE YOU GO
Hotels
Hotel Hans Egede, Aqqusinersuaq, Nuuk
Very central to everything in town. Winter prices start at $359/night. In September, rates ranged from $434/night (budget) to $696 (Polar class). The hotel comes with two very good restaurants and a bar on the top floor.
Phone: +299 32 42 22, https://hhe.gl/ or booking@HHE.gl.
Hotel Icefiord, Jørgen Sverdrupip Aqq. 10, Ilulissat
Perched on rocks overlooking the harbor, rooms offer stunning views of icebergs drifting by. Some come with balconies. They could use more electric outlets plus I never could figure out how to operate the shower. There is also a very decent in-house restaurant. Winter rates range from $260-$323; summer rates range from $338 to $423. The hotel will furnish transport from the airport.
Phone: +299 94 44 80. https://hotelicefiord.com/ or booking@hotelicefiord.gl
Restaurants
Tapasimut, Aqqusinersuaq 6, Nuuk.
Serving soups, hamburgers, local beer and of course a variety of tapas.
Phone: +299 32 92 22. https://visitnuuk.com/providers/tapasimut/.
Café Iluliaq, Fredericiap Aqqutaa 5, Ilulissat
Informal restaurant serving hamburgers and sandwiches, $11-$30.
Phone: +299 94 22 42, https://www.facebook.com/cafeiluliaq/.
Boat transport
Nuuk Water Taxi, Imaneq 27, Nuuk.
Offers a variety of fishing and scenic tours around the Nuuk fjord system.
Phone: +299 54 56 90, https://watertaxi.gl/en/.
Disko Line, Ilulissat-based transport that offers ferries and boat rides around Greenland's Disko Bay. Be forewarned that Disko Line can abruptly change its schedules, which happened to me twice.
Phone: +299 94 53 00, https://www.diskoline.dk/en/.