California Wildfires: Yolo County Fire Map, Blaze Spreads to Thousands of Acres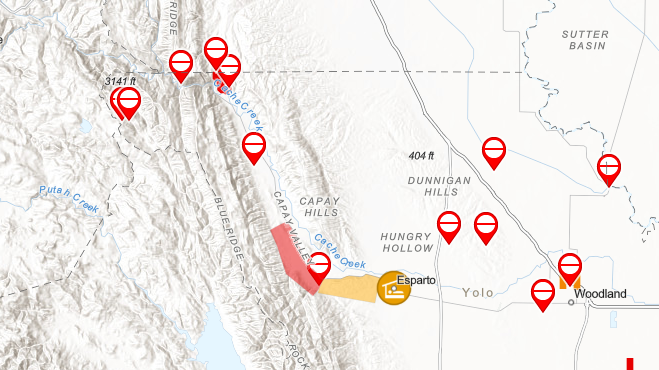 UPDATE: 2:45 p.m. ET—The County Fire in Yolo County has rapidly spread since it started Saturday. By noon on Sunday in California, it was burning across more than 22,000 acres aided by Red Flag conditions, according to the California Department of Forestry and Fire Protection. It was so large that ash was traveling to nearby towns and falling there. The police in Benicia, California, tweeted that there was ash falling and smoke visible there, more than 50 miles away.
Additionally, mandatory evacuations were ordered for the area north of Highway 128, south of County Road 23, west of County Road 89 and east of Berryessa Knoxville Road, said a release from Cal Fire.
Original story:
Another wildfire started burning in California on Saturday afternoon, having since grown to cover more than 15,000 acres. The fire is burning near Guinda and was originally named the Guinda Fire. The name was changed to the Country Fire as it grew in Yolo County, California, according to the California Department of Forestry and Fire Protection.
The fire started Saturday afternoon around 2:15 p.m. PT and in less than 24 hours grew to cover 16,500 acres of burn with zero containment. There was so much smoke from the fire that a satellite in space was able to pick it up, according to the Sacramento National Weather Service.
There were mandatory evacuations in place for County Road 63 to County Road 76, west of Highway 16 and the Murphy Ranch area, according to Cal Fire. Those displaced by the fire can go to the shelter at Rumsey Grange Hall at 16960 Yolo Ave. in Esparto, off of Highway 16.
As of Sunday morning in California, there were 110 fire engines working to fight the fire along with 29 fire crews, 12 helicopters and more. The conditions for a fire were perfect, and a Red Flag warning was in place, meaning the temperatures were higher, the humidity was low and the winds were blowing, said the Cal Fire website.
A map of all of the fires in California is available online, including the nearby Pawnee Fire.
Updates about the fire were available on the Cal Fire Facebook page for anyone looking for evacuation information and maps of the fire. A video feed from the nearby Cache Creek hotel and casino showed the smoke from the fire overwhelming the mountains in the distance.
On Saturday night, authorities weren't sure if any structures had been destroyed but knew there were some in the immediate area that could be in danger, The Sacramento Bee reported. Those in the area should pay attention to the local announcements from authorities and be ready to evacuate if they're asked to for their own safety.