County in Nevada Faces $200k Cleanup Bill After 'Storm Area 51' Festival
After the notion of storming Area 51 on September 20 became a well-known Facebook meme with over two million people responding to the invitation to the "event," two festivals were planned for the weekend. But now that it's over and done and revelers have decamped for their homes, Lincoln County has a hefty cleanup bill to take care of—and they have to dip into emergency funds to pay it, according to Fox5 Las Vegas.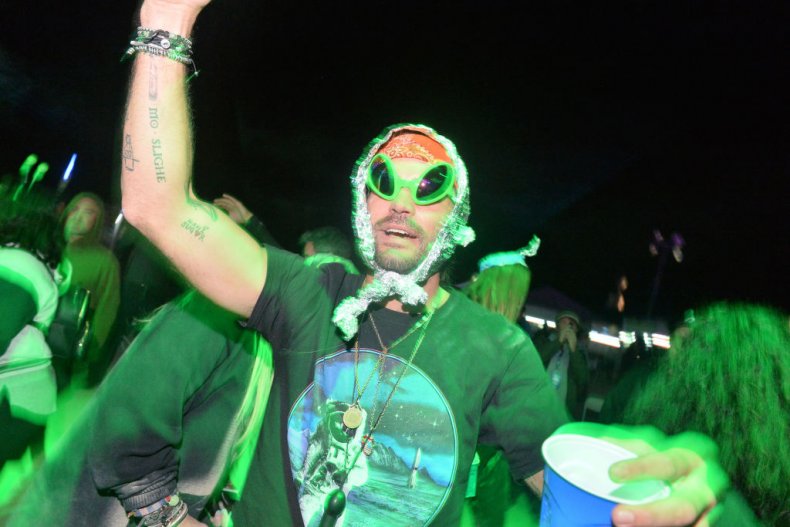 Among other costs, Lincoln County has to pay the cost for bringing in 300 additional police officers from neighboring counties who were deployed to Area 51 to manage crowd control and keep revelers from storming the premises, as well as provide them with supplies. Nevada authorities had staged several large incident command areas in preparation for a crowd that some were concerned might balloon to over 30,000 people.
During the festival, The Defense Visual Information Distribution came under fire for tweeting that anyone who tried to actually raid the building would be fired upon, followed by a hasty retraction.
Litter collection is also a concern. While Lincoln County has $200,000 budgeted for such events, County Commissioners are planning on dipping into the Land Fund Act to pay off the bill.
According to Lincoln County Emergency Manager Eric Holt, at its peak, 3,000 people arrived to dance and party at Alienstock, held in Rachel, Nevada and hosted behind a hotel called The Little A'Le'Inn. Hundreds more chose to travel Nevada's Extraterrestrial Highway, which involves a stop at one of the so-called "back entrances" to Area 51.
Even more revelers arrived at the "Storm Area 51" Basecamp at the Alien Research Center in Hiko, Nevada, where DJ Paul Oakenfold played for the crowd. Only 200 visitors made it to the gates of the base, according to Reuters.
Holt enacted an emergency declaration ahead of the festival in August, and has also sent a letter of intent to the state in the hope of having 50 percent of the money his county spent reimbursed. It's likely that Lincoln County won't see any money from the request for a year or more.
Lincoln County isn't the only entity to have lost money on the festival. Connie West, who owns the Little A'Le'Inn, told Fox5 she lost $40,000 on Alienstock, yet says the festival went "fabulous, absolutely fabulous." She told Fox5 she'd gladly hold another Alienstock next year.
Only five individuals were arrested during the weekend of September 20th—one for indecent exposure after public urination, one for an alcohol related incident, and three for trespassing on the grounds of Area 51.