When two suspects were caught stealing dozens of Red Bull cases from stores across Las Vegas, Nevada, one of them blamed a Red Bull addiction.
Las Vegas Metropolitan Police arrested Eugene Davis, 35, and Angela Sharp, 27, after a high-speed chase on July 21. They were accused of four separate heists to steal large amounts of Red Bull over the span of a week, according to local news outlets.
In the first incident, police said that a man matching Davis's description entered a Smart & Final store on July 13. Employees said the suspect stole 20 cases of Red Bull. When one worker confronted him, he reportedly said, "Don't approach me. I have a firearm. I will use it if you approach."
On July 14, Davis was allegedly seen "acting suspiciously" at a Costco store. He had a "cartful of Red Bull cases, a Dell laptop computer, and a security camera," according to police. A loss prevention officer spotted him trying to leave the Costco through a side door without paying.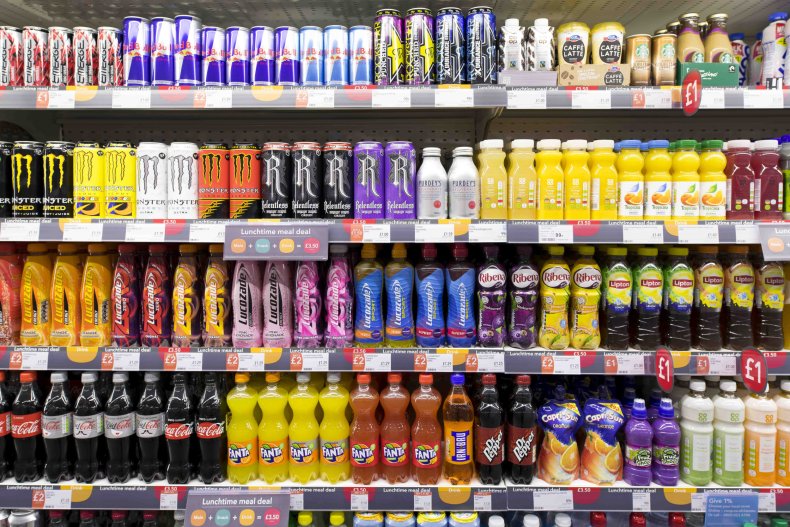 When the worker approached, the suspect reportedly said, "You want some of this?" before hitting the officer's face with his elbow. He threatened to shoot the employee when a female driver pulled up—allegedly Sharp—and he escaped in the car, leaving the Red Bulls behind.
In a third incident on July 20, a woman matching Sharp's description entered a different Costco and loaded a cart full of Red Bull cases. Once again, a worker confronted her as she tried to leave the store without paying. She ran away to a vehicle, where a male driver—allegedly Davis—started loading up their car. Sharp reportedly threatened to pepper spray an employee who tried to stop them.
A Costco manager told police that the couple stole Red Bulls in a similar manner the week before, except that the female suspect was the driver and the male had the cart. In total, they stole about 25 cases of Red Bull from that store, valued at $2,500, according to an employee.
Las Vegas Metropolitan Police officers spotted the couple's car, which had been photographed by store workers, on July 21. It sped away from them at 100 miles per hour in a 15-minute pursuit. Police finally took the two suspects into custody, finding approximately 190 mostly unopened cans of Red Bull in the car.
Sharp admitted to the theft on July 20, reportedly telling police, "she did it [it] because she is addicted to Red Bull."
Newsweek reached out to the Las Vegas Metropolitan Police Department for comment.
Although energy drinks like Red Bull are marketed as enhancing energy and physical as well as cognitive performance, drinking them over time can seriously increase cardiovascular health issues. A 2018 study of long-term Red Bull consumption from the National Institutes of Health (NIH) found it significantly increased heart glucose and glycogen levels, which can heighten the risk of tachycardia, palpitations, cardiac arrhythmias, hypertension and even death.
The high sugar and caffeine content in these drinks can trigger your brain to release higher amounts of dopamine, the pleasure hormone. But the more often you consume energy drinks, the less pleasure you experience. As a result, people may drink larger amounts to experience the dopamine response, fueling an addiction, according to an NIH report in 2017.
Uncommon Knowledge
Newsweek is committed to challenging conventional wisdom and finding connections in the search for common ground.
Newsweek is committed to challenging conventional wisdom and finding connections in the search for common ground.
About the writer
Shira Li Bartov is a Newsweek reporter based in New York. Her focus is on trending news, human interest and legal stories. She has covered labor and civil rights lawsuits extensively. Shira joined Newsweek in 2022 from Inside Edition. She is a graduate of Brown University. You can get in touch with Shira by emailing s.bartov@newsweek.com. Languages: English, German, Hebrew and Mandarin.