Couple Arrested on Honeymoon In Hawaii for Ignoring Coronavirus Quarantine Rules
A couple was arrested while on honeymoon in Hawaii for flouting the state's mandatory quarantine for travelers.
Borice Leouskiy, 20, and Yuliia Andreichenko, 26, from Citrus Heights, California, were aware of the requirements of the two-week self-quarantine when they arrived at a hotel in Waikiki, a neighbourhood in Honolulu.
However, the couple said the rules contradicted what they were told by officials at the airport, according to local news platform KHON.
The pair told hotel staff that they planned to visit friends and beaches during their stay, before leaving the premises. They returned with pizza and told the hotel manager they were allowed to leave to buy food.
Staff rang the authorities after Leouskiy and Andreichenko left the hotel again the next day. The pair were arrested on April 30 on charges of unsworn falsification to authority and violation of the 14-day quarantine.
Hawaii's Attorney General Clare E. Connors said: "We appreciate the vigilance and cooperation of the hotel staff, and staff at other hotels, in helping maintain the health and safety of visitors and residents. It is important that everyone flying into Hawaii at this time, abide by our mandatory rules."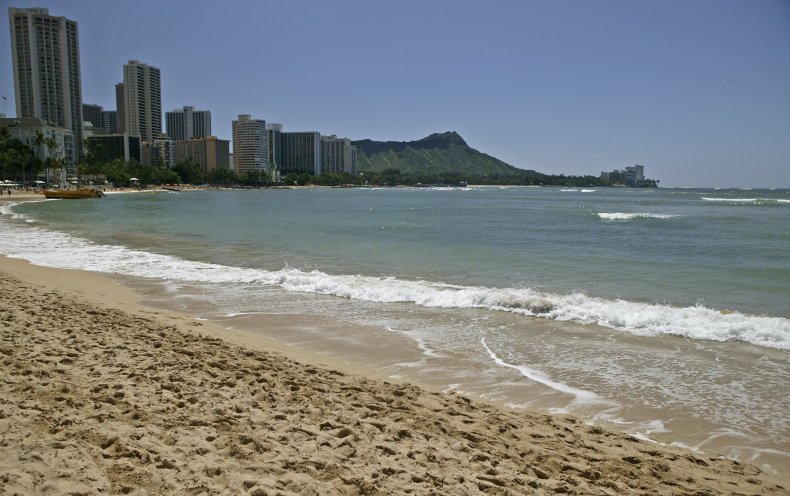 Under rules designed to limit the spread of COVID-19, there is currently a 14-day mandatory self-quarantine order in place for all incoming visitors that asks them to stay indoors.
Hawaii Governor David Y. Ige is urging all citizens to maintain strict social distancing measures. "These actions are extreme, but they will help flatten the curve and lay the groundwork for a quicker recovery," he said. "We need to come together as a community to fight this virus."
There are 620 confirmed cases of the novel coronavirus in Hawaii and there have been 16 deaths so far, according to data from Johns Hopkins.
The Hawaii State Department of Health has said in a statement on the current situation: "There have been 620 cases of COVID-19 identified in Hawaii. Of those cases, 12% have required hospitalization, and over 80% were residents."
"COVID-19 is spreading globally, nationally, and now locally. While the majority of cases identified in Hawaii have been introduced into our state by travelers, especially Hawaii residents, we all need to practice social distancing (i.e., maintaining at least 6 ft distance or 2 arm's length from others) as well as other important infection prevention measures (e.g., wash hands, clean surfaces regularly) to prevent widespread community transmission.
"Social distancing can reduce the spread of disease, prevent our healthcare system from being overburdened, and protect the most vulnerable members in our community from infection," the department added.