Couple Arrested After Being Found With Drugs and Stolen Stimulus Checks in Texas Hotel Room
A man and woman accused of making fraudulent transactions during a stay at a hotel in Texas were found with stolen stimulus checks and drugs in their room, authorities said.
Deputies were called to the Holiday Inn in the 21400 block of Fairfield Place Drive in Cypress on Monday, according to a news release from the Harris County Precinct 4 Constable's Office.
An employee there told deputies that the hotel had received a phone call about a fraudulent charge that had been made on a credit card by a couple staying in a room there.
Deputies went to the room that the suspects were staying in and the man and woman identified themselves as Maritza Aleman and Dustin Whitman, the constable's office said.
When deputies investigated, they said they found the couple were in possession of drugs. The constables's office said 44 grams of methamphetamine and 5 grams of Valium were recovered from the room.
Deputies also found three stimulus checks that didn't belong to either suspect in the hotel room, the constable's office said.
The U.S. government issued checks of up to $1,200 to eligible American adults as part of a $2 trillion stimulus package to help people cope financially during the coronavirus pandemic. Households were also eligible to receive an additional $500 per child under the age of 17.
"Further investigation revealed that the female provided a false name and was positively identified as Heidi Hubbard," Constable Mark Herman said in the news release.
Whitman, 35, and Hubbard, 39, were both arrested and booked into the Harris County Jail. They were charged with possession of a controlled substance with intent to distribute, Constable Mark Herman said in a statement. Hubbard was also charged with failure to identify.
"Additional charges may be filed at a later date pending further investigation," Sergeant Cinthya Umanzor told Newsweek.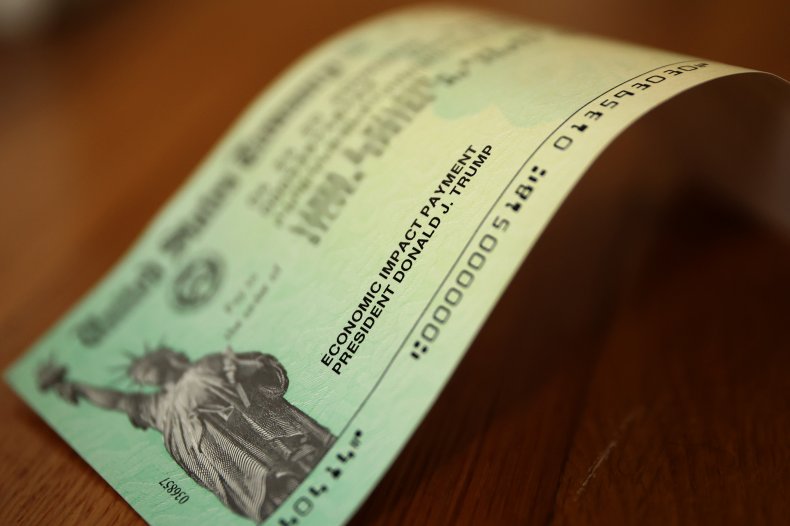 Whitman's bond was set at $15,000, according to online records from the Harris County Sheriff's Office. Hubbard's bond has been set at $10,000. Both are due to appear in court on Wednesday.
Last week, the Internal Revenue Service (IRS) published its latest data regarding coronavirus stimulus payments, with state-by-state breakdowns revealing Texas was among the states that received the most money overall.
California topped the list in terms of total cash paid out, with about $27.8 billion sent to nearly 16.9 million people across the state, according to the data from the IRS and U.S. Treasury Department. Texas came in second, with $21.6 billion distributed among around 12.3 million residents.
This infographic, provided by Statista, shows the spread of COVID-19 in the U.S. as of May 27.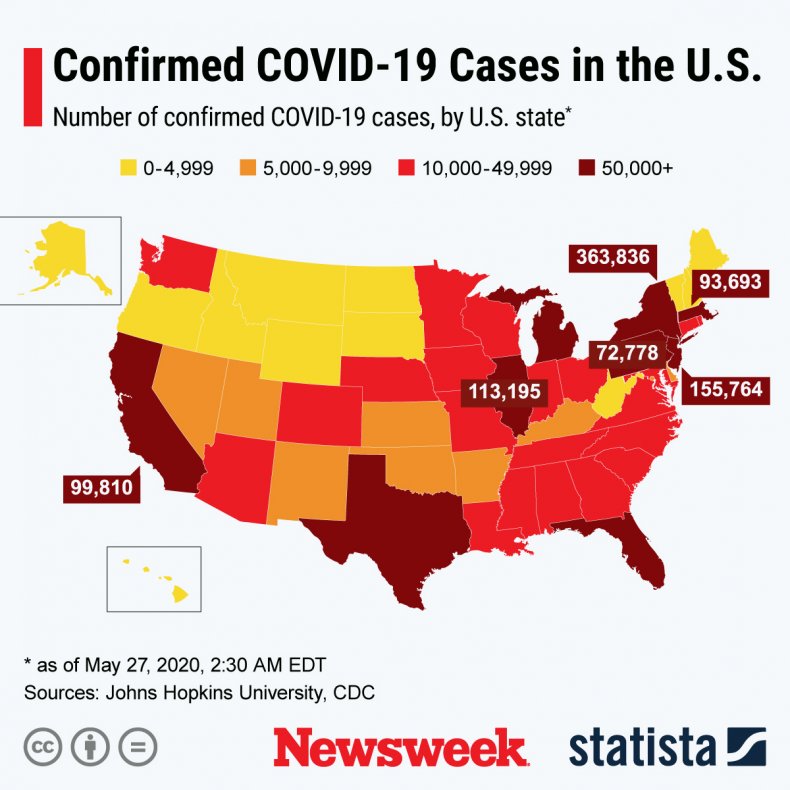 This article has been updated with a comment from Sergeant Cinthya Umanzor and an infographic.