Couple Celebrate at Restaurant They First Met With Subway-themed Wedding
A Michigan couple commemorated their wedding with a photoshoot outside the Subway restaurant where they first met.
Julie Bushart and Zack Williams met at a Subway restaurant on Five Mile Road in Livonia, Michigan, on December 8, 2017. Bushart had been shopping with her mom for her birthday when they decided to visit Subway for lunch and spotted Williams in line ahead of them, she wrote on the couple's wedding website.
It was Bushart's mother who played matchmaker, chasing Williams down in the parking lot to pass along her daughter's number as he was leaving.
"Mom and I cooked up the master plan of how she'd chase him down in the parking lot to give him my number written on our receipt. When he got up to leave, I never saw my mom move so fast," Bushart wrote.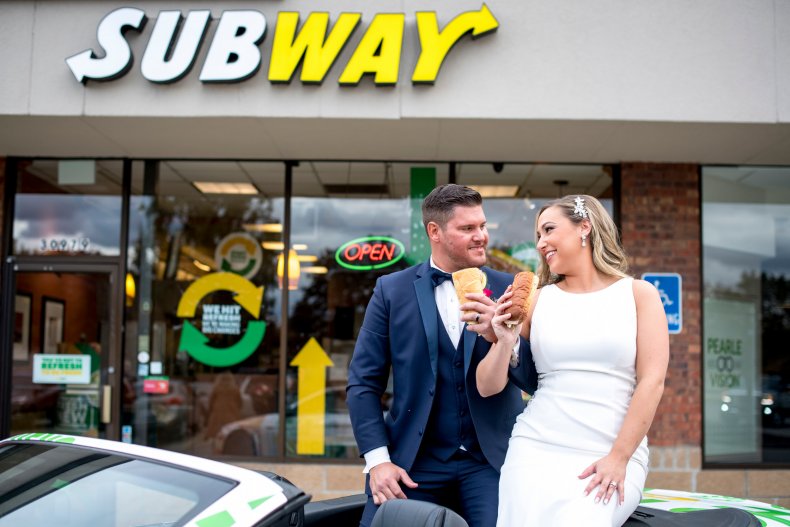 "She caught up to him before he got into his car (as I'm watching from inside, absolutely mortified) and gave him my number. He called me a half hour later and the rest is history."
She added that she and Williams both believe it was fate that led them to each other that day. Ahead of their wedding, Williams, who works in construction management, got in touch with Subway to let the company know the role it had played in their love story.
Subway responded and wanted to plan something special for the bride and groom on their big day. After the pair wed on Saturday, they returned to the exact Subway where they first met for a Subway-themed wedding photoshoot, posing with sandwiches next to a Subway convertible.
Subway also provided the couple's reception guests with a late-night snack table laden with sandwiches and cookies.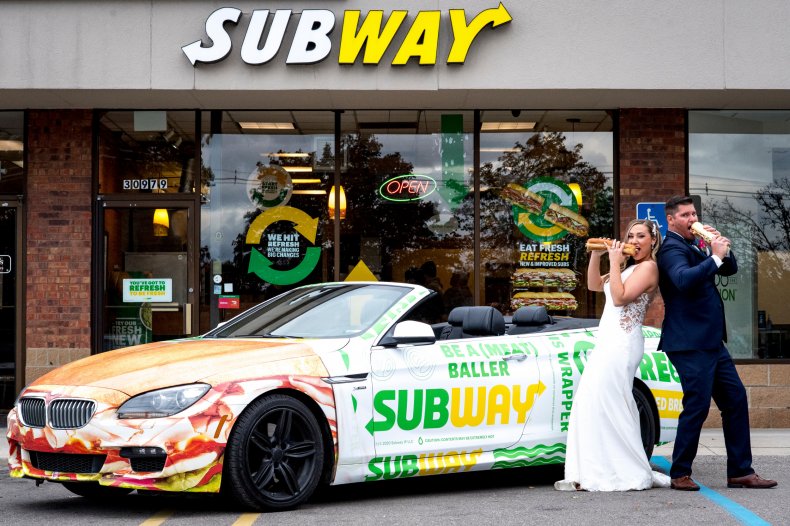 "We are completely blown away and incredibly thankful for Subway's generosity in providing a Subway-themed photoshoot at the exact Subway where Zack and I met for our wedding day," Bushart, a project manager at an advertising agency, told Newsweek. "They had a Subway-wrapped convertible waiting for us to take some photos in style and cheers each other with Subway sandwiches."
She said she and her husband had "an absolute blast" during the shoot.
"All of our guests at our reception were huge fans of the late-night snack table, filled with our favorite Subway subs and cookies, too," she added. "A huge heartfelt shoutout to Subway for making this happen and making it the coolest experience we'll remember forever."