For this couple, it appears common housecats simply weren't enough.
A San Antonio couple has been charged with cruelty to livestock and torture after authorities discovered that they were harboring a bobcat and a tiger cub in their house, according to KSAT.
Per News 4 San Antonio, the bobcat now resides at the Center for Animal Education in Bridgeport and the tiger cub at the Downtown Aquarium in Houston.
On March 16, Bexar County sheriff's deputies arrived at a home on Shane Road after one of the couple's neighbors reported that they were keeping a bobcat as a pet.
When the deputies entered, they found the bobcat hanging out in the dining room. One of the defendants, 21-year-old Cristela Coronado, told them that the animal was "tamed" and that they "had nothing to worry about," according to Sheriff Javier Salazar.
"You know, I don't think she has a full understanding it's a wild animal you're dealing with," Salazar told NBC DFW.
While speaking with Coronado, the deputies noticed a pair of large paws peeking out from under the laundry room door.
"My special enforcement officer asked, 'What's that?' And she said, 'Oh, that's a tiger,' very matter-of-fact," Salazar said, adding in apparent incredulity, "You just can't do that."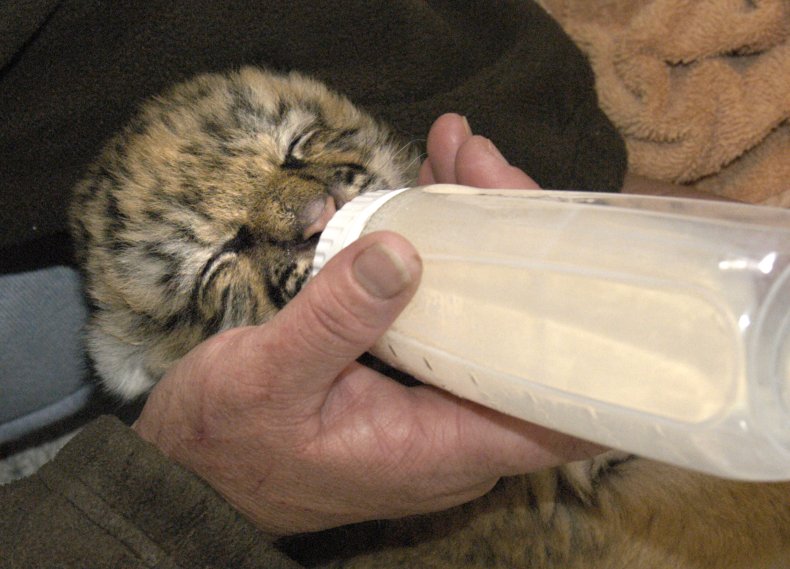 Shortly thereafter, Coronado's boyfriend, 25-year-old Jeremy Nathan Martinez, returned. He told the deputies that he fed both the bobcat and the tiger cub regularly and even bottle-fed the cub in the mornings and evenings.
However, an Animal Control Services investigator cast doubt on his claims. In an affidavit, the investigator stated that the couple "did not maintain the felines in a state of good health due to the failure to provide necessary food, water and veterinary care," noting that the bobcat walked with a limp and the cub was underweight.
The deputies took Martinez into custody then and there, as there were several outstanding warrants for his arrest. In addition, they confiscated both animals and turned them over to the San Antonio Zoo for care pending the results of the investigation.
"Our staff worked incredibly hard to improve the health of both cats while they were in our care," Tim Morrow, the president and chief executive officer of the San Antonio Zoo, told KXAN. "We are honored to have assisted in this effort and to be the bridge to get these cats to their new homes and much improved lives."
In a real-life case of life imitating art, Salazar blamed the popularity of the Netflix show "Tiger King," which follows controversial zookeeper Joe Exotic and his feline inventory, for a burgeoning interest in keeping big cats—and wild animals in general—as pets.
Both Martinez and Coronado were booked on April 23. They have both since posted bond and are awaiting a court hearing.