Couple Charged for Firefighter Death in 22K-Acre Wildfire Sparked by Gender Reveal Party
A couple whose gender reveal party sparked a Southern California wildfire that burned nearly 22,000 acres and killed a firefighter last year have been charged with involuntary manslaughter.
Refugio Manuel Jimenez Jr. and Angela Renee Jimenez have pleaded not guilty to all charges related to the El Dorado Fire, San Bernardino County District Attorney Jason Anderson announced at a Tuesday news conference.
The charges include one felony count of involuntary manslaughter, three felony counts of recklessly causing fire with great bodily injury, four felony counts of recklessly causing fire to inhabited structures and 22 misdemeanor counts of recklessly causing fire to property of another.
The wildfire erupted on September 5 when the couple and their young children set up a baby gender reveal at the foot of the San Bernardino Mountains in Yucaipa.
The couple set off a smoke-generating pyrotechnic device in a field at El Dorado Ranch Park to reveal the gender of their baby, but it quickly ignited dry grass on a hot day during last year's very dry summer.
While the couple attempted to extinguish the flames using bottled water and alerted authorities immediately, strong winds stoked the fire, causing it to spread on national forest land.
As the wildfire continued to blaze over the next two weeks, it became deadly on September 17, when the flames scorched a remote area where firefighters were attempting to slow the burn and killed Charles Morton, the 39-year-old firefighter veteran in charge of the Big Bear Interagency Hotshot Squad.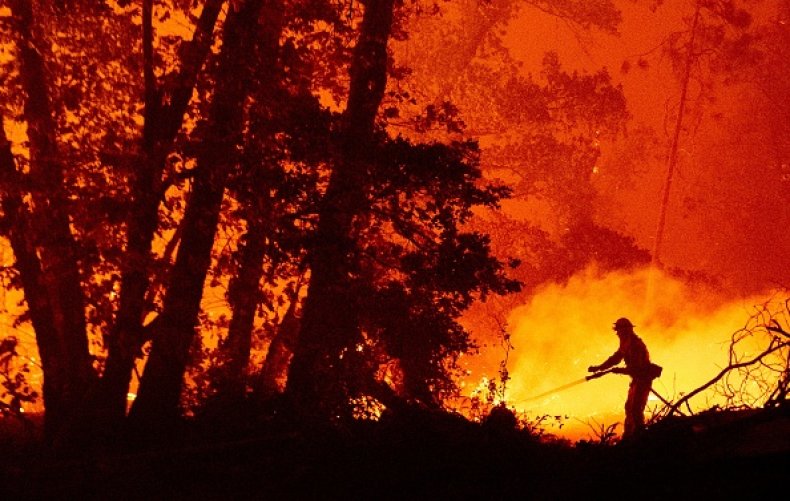 Anderson said Morton's death could have been avoided had the Jimenezes not set off a dangerous device in extremely dry conditions that have made wildfires even harder to fight.
"Obviously he wouldn't have been out there if this hadn't started in the first place, in terms of where he was," Anderson said.
"The homicide detectives worked with U.S. Forestry, with their experts, to determine cause and effect," he added. "Looking at that, we thought based upon the evidence that not only the homicide division gathered working with U.S. Forestry and Cal Fire, but looking back at the origin of the fire that's why the grand jury made the determination of charging involuntary manslaughter."
Until the fire was contained on November 16, the El Dorado Fire injured 13 other people, including two firefighters, and forced the evacuations of hundreds of residents in the area. It destroyed five homes and 15 other buildings.
The court released the Jimenezes on their own recognizance and they are expected to reappear in court on September 15.
If convicted on these charges, Anderson said the couple could face roughly 20 years of jail time.