Couple Charged With Murder, Accused of Starvation of Twin Girls
A mom and her boyfriend have been charged with murder after being accused of abusing and starving her 8-year-old twin daughters, one of whom has died.
The couple, Soledad Mendoza and Ruben "Alex" Moreno, both 29, are alleged to have killed little Melanie Mendoza and caused the suffering of her sister at their home in Houston, Texas.
Court documents seen by Fox 26 detail a catalog of alleged prolonged abuse of the children, including untreated fractured bones and clinical signs of starvation. When asked what happened to her twin by police, the surviving child allegedly replied: "My mom killed her."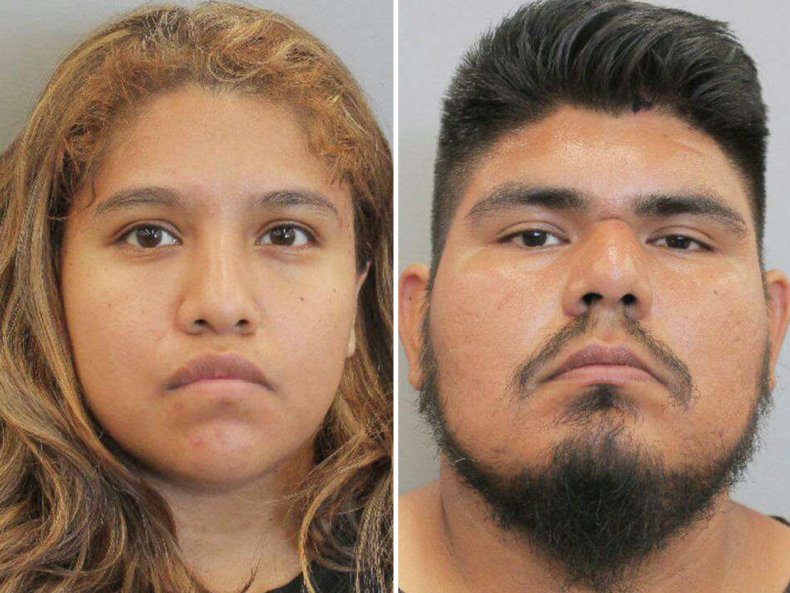 Mendoza and Moreno were arrested on Friday, May 20, after a lengthy investigation stemming from Melanie Mendoza's death in hospital on December 21, 2020, according to local news station Fox 26.
The twins had both been taken to Memorial Hermann-Memorial City Center with numerous injuries. Despite being 8, each girl weighed less than 30 pounds and still wore diapers. Medics then called police so officers could conduct a welfare check.
The surviving twin, whose name has not been released by authorities, and two other children aged 7 and 12—said to be in good health—were removed from the family home and placed into care. Mendoza had recently had a baby, who was still in the hospital, and that infant was also handed over to foster parents.
Court documents said the children were found to have various wounds and be grossly emaciated, with an autopsy on Melanie Mendoza showing signs of long-term malnutrition or starvation. Her body had injuries dating back some time, including an untreated rib fracture that had occurred weeks earlier, according to the Harris County Institute of Forensic Sciences, which conducted the examination six months after her death.
Examiners concluded that she had suffered blunt force injuries from top to toe, with wounds on her head, upper extremities, torso, and lower extremities. The autopsy also revealed that her right adrenal gland had hemorrhaged from trauma, while brown fat discovered in the gland was said to be indicative of starvation. Her bones were also seen to be under-developed for her age. The cause of death was given as "complications of blunt force trauma and malnutrition" and declared a "homicide."
Medical tests on the surviving twin, revealed in court documents, suggested she also suffered from severe malnutrition, physical abuse, low weight and poor muscle mass, and multiple untreated rib fractures. Her right arm was also fractured. She weighed just 26.4 pounds when she first arrived at the hospital, while her doomed twin weighed 29 pounds.
The surviving sister is now said to be well looked after and has reached a healthier weight. She was interviewed by police on February 23, 2021, when she alleged that her mother had killed her twin. She also told investigators that she and her sister were often put inside trash bags, with Mendoza allegedly telling them the reason was "because you're ugly and I don't love you." The girl also alleged they ate food from the trash can and were beaten daily, sometimes with a belt or a shoe.
Newsweek has reached out to Houston Police for further information.
Mendoza and Moreno are both charged with capital murder of a child under 10 years of age, for the death of Melanie Mendoza, and two counts of injury to a child relating to her twin.
Mendoza was given a $3 million bond for all three charges. She is due to appear in court on June 23.
Moreno's bond was denied for the capital murder charge. He was given a $2 million bond for the two other counts. He is next due to appear in court on Wednesday.