Couple Discovers Venomous Snake at Their Feet While Driving Down Highway
A couple was in for a surprise during a drive down a highway in Queensland, Australia, when they noticed a venomous snake slithering across their feet.
A video posted on the Sunshine Coast Snake Catchers 24/7 Facebook page has been viewed nearly 150,000 times since it was shared on Tuesday. It showed Stuart McKenzie, the owner of the organization, removing a red-belly snake from the vehicle.
"We were called to a bit of an emergency on the side of the Bruce Highway where a couple [was] driving along and had a 3.5 foot long Red Belly slide over their feet," read the caption of the video. "It was lucky they didn't crash!"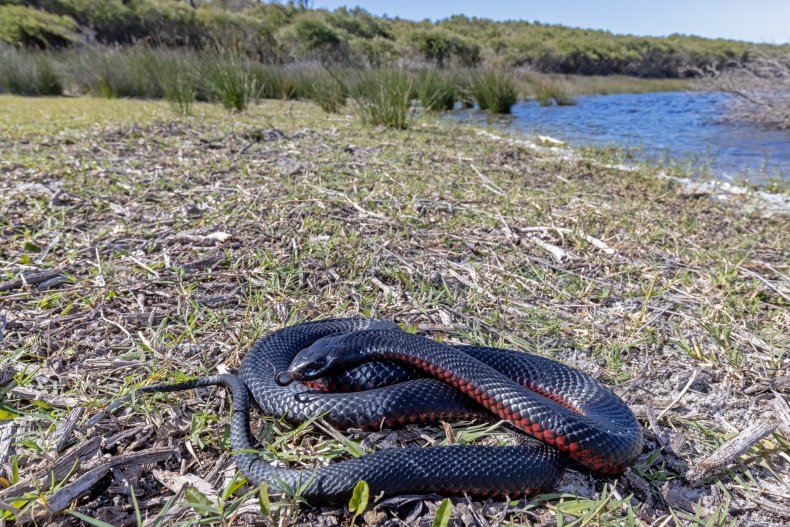 This snake species is not aggressive and will choose to retreat before attacking, according to information published by the Victoria State Government.
However, the snake may strike if it feels threatened.
Though it is venomous, there have been no recorded human deaths as a result of a red-bellied snake bite.
Someone who has been bitten by the snake is encouraged to seek medical attention.
The video, which had previously been shared in April before it was shared a second time, opened as McKenzie explained the incident to viewers just as he pulled over to the side of the road to meet with the couple.
He peered into the couple's car before he opened the door and crouched down to get a better look at where the snake may be.
McKenzie spotted the viper laying against the back door and got to work removing it.
Using a few different tools, he managed to capture the snake and carefully maneuvered it out of the car and into a bag.
All the while, the sound of cars rushing by is heard in the background.
McKenzie brought the snake to a quieter location where he released it.
"It was a tough one to catch as well as I didn't want to have my back facing the highway and had [to] grab the snake and lift it over the front seats without getting bitten," the caption said. "There were a couple of close calls but hey got the job done!"
Viewers were stunned by the discovery of the additional passenger.
"That is one hitch hiker you don't want in your car," a Facebook user wrote.
"Time to use cruise control and feet up," another commented.
"My mouth was open whilst watching that," one person said. "Well done."
McKenzie told Newsweek in an email that it was a "crazy" call that the team does not often see.
He said that it just took a few minutes to remove the snake from the car, but it was difficult because he did not have much room to move.
The organization experiences a busy point of the year between September and April, and McKenzie said they catch red-belly snakes almost every day.
This is not the first time a snake was found in an unexpected place.
A family in Indonesia discovered a 12-foot python in their kitchen, while a snake catcher removed a black mamba from the family's bedroom in Maphephetheni, North Durban.
McKenzie previously captured an eastern brown snake that was discovered in a child's shoe.