Couple, Dog Chased Back Into Home by Black Bear in Heart-Pounding Video
A couple from Apopka, Florida, and their dog were chased into their house by a black bear as seen in a video viewed more than seven million times.
Rachel and Jason Smith shared the footage, which was captured by their home security system, to the TikTok account @rachelandjason10. The three sprinted into the house, but the bear was not far behind as it ran after them.
Michael Orlando, the assistant bear program coordinator for the Florida Fish and Wildlife Conservation Commission (FWC), told Newsweek that the agency has begun monitoring the incident.
"We went door to door and talked about education and outreach and explained why it's important to keep garbage in bear-resistant garbage cans," Orlando said.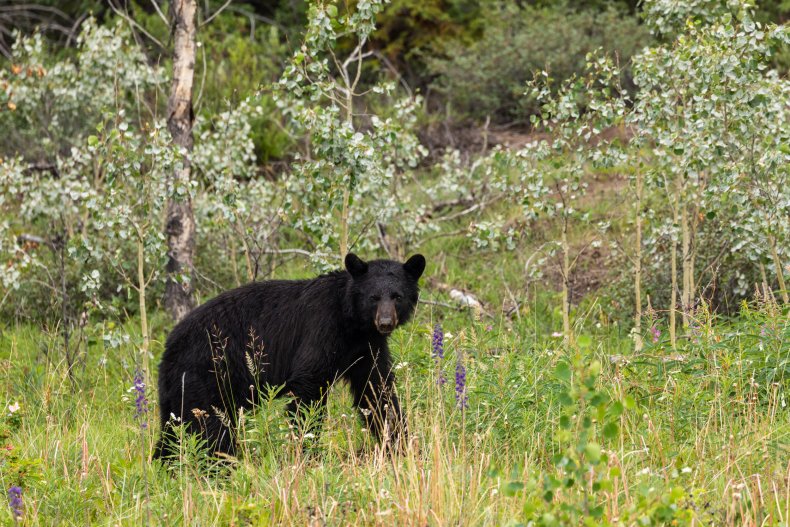 He also explained that bears and dogs generally do not get along with one another and suggested that what was captured in the video was a bluff charge.
Although it's common to find bears looking for food in garbage cans, Orlando said the agency is concerned about these events.
While they believe this was an isolated event, he said the FWC will continue to monitor the incident.
If there are other conflicts, Orlando said they may have to take more aggressive action. This may mean trapping and relocating the bear. But, if the bear poses an issue to public safety, the bear may have to be put down.
The couple is seen running into their house before they call frantically for their dog who paused for just a moment before it darted inside.
The bear can be seen approaching the house before it ran into a bush. It stopped, turned and ran off-camera as the video ended.
Jason told Fox 35 that it is not uncommon to see bears in the area. Though they checked to make sure there were no bears outside before leaving the house that night, one appeared near their neighbor's car.
"I threw my arms up in the air and yelling at the top of my lungs," Jason told the outlet. "I'm trying to make myself big and scary, but he's not stopping."
Rachel wrote to Newsweek that they live close to Wekiwa Springs State Park and the area is wooded, which means there is a large bear population.
She explained that the bears have been active recently, and they've seen them several times each week.
"I have mama bears and baby bears and single bears come up into my front yard close to my front door and we catch them on our Ring doorbell quite often," Rachel said.
In her experience, most bears that were in the neighborhood don't pay attention to people and typically go through garbage cans.
Rachel told Fox 35 that they learned the bear was going through their neighbor's garbage.
The bear was already charging at the couple and their dog by the time Jason tried to yell and wave his arms in the air.
"In a quick second decision, we decided to run because we knew we could make it into the home," Rachel said.
She noted that there was no time to grab their dog before running back into the house because they would have needed to run toward the bear.
However, Rachel said their dog runs faster than they do and quickly caught up to the couple.
The clip prompted viewers to share their thoughts on the interaction.
"Dog said you're lucky my parents are making me come inside," a viewer wrote.
"I swear if yall didn't have a door cam, nobody would've believed it," wrote another commenter.
"My heart DROPPED for that little dog thank GOD she listened to you guys," one viewer commented.
The FWC recommended that those who come across a bear from a distance should not approach it. However, those who find themselves close to a bear should speak to them in an "assertive" voice, slowly back up while leaving room for the bear to escape and remain standing upright.
Orlando noted that people living in areas where there is a large bear population may benefit from carrying bear spray while they are out.
"Most of the time, bears don't want anything to do with people," he said.
Rachel said it was a scary experience and does not happen often, but she said they are prepared to be more cautious and prepared for the unexpected.
A homeowner inadvertently destroyed a bear den, leaving bear cubs abandoned by their mother. The cubs were rescued by wildlife authorities and were to be moved to a specialist rehabilitation center.
Another video showed an orphaned bear in an enclosure enjoying the snow as it rolled around in it.
One video that went viral on Facebook showed bear cubs nursing from their mother.
Updated 05/03/2022, 5:34 p.m. ET: This story has been updated with comments from Rachel Smith.