A couple was surprised when they discovered a hidden room and a suitcase full of ritual and "satanic" objects in the attic of the new home they recently purchased.
In a series of now-viral videos documenting their discoveries, the TikTok account @geebeetv shared updates about the 1920s home she and her partner purchased during a pandemic auction without reading the paperwork.
The couple posted a video recapping everything that they'd discovered in the home. The video received 6.9 million views since it was posted four days ago.
"We made a huge mistake buying a house at auction," the on-screen text read.
During the pandemic, homebuyers experienced plunging inventories and high prices which have made the market highly competitive. With this comes having to quickly jump on a property before it is potentially snatched away by another buyer.
A recent survey from Zillow revealed that approximately 75 percent of home buyers had at least one regret about their purchase. With increased stress and an added sense of urgency to beat out other buyers, some homebuyers feel desperate.
By rushing through the process, many buyers said they have second-guessed their decisions. Other buyers, such as @geebeetv, admitted to not reviewing the paperwork before purchasing a home.
"Pandemic era buyers faced unprecedented conditions," Zillow Home Trends Expert Amanda Pendleton told the New York Times. "They had far fewer homes to choose from, they had far more competition for the homes that were for sale. A lot of buyers ended up in this home that was maybe not what they expected."
In the video, the couple explained that they found a door hidden behind a layer of drywall inside their new house. They said they decided to remove the wall to fully reveal the door and that after opening it, they discovered a hidden room. Inside they found a bible "hanging from a hook."
The couple said they decided to then check the attic where they discovered an "old abandoned" suitcase in the far corner. Although viewers told them to leave the suitcase alone, they decided to open it.
Inside, the couple found "ritual items" inside including a handmade wooden cross and some sort of fabric with a red stain. They also said that strange things were hidden in the walls of the home and showed them pulling a box of items out from behind a crumbling brick wall.
Behind the wall, they discovered miscellaneous parts, a mirror, and photos. One of the photos shown in the video was a black and white portrait of a large family with one man's eyes blacked out.
"We're trying to find out more about who lived here," @geebeetv said in the video.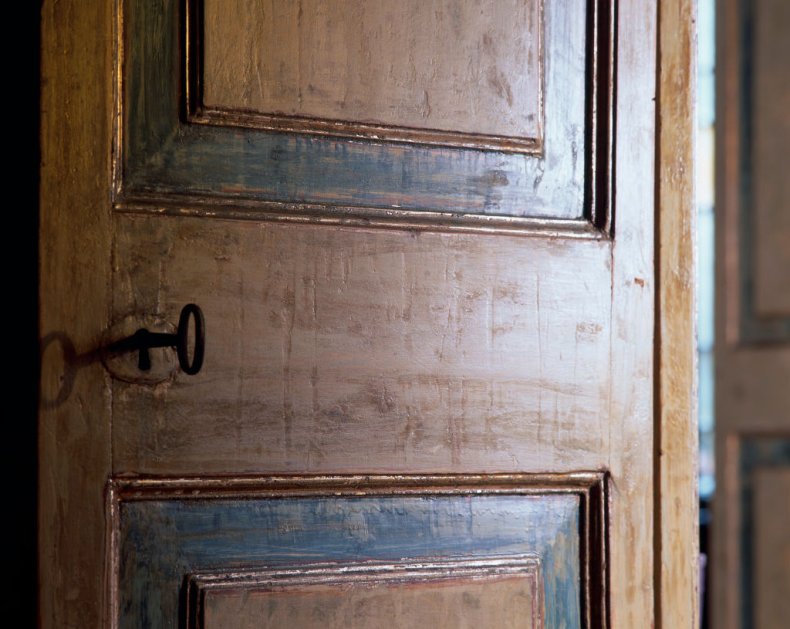 More than 7,670 users left comments on the couple's video, many saying they did not "claim any bad energy." Others mentioned that either the old owners placed the items there as a joke or that the couple was in some serious trouble.
"The conjuring part 4????" one user commented.
"Girl don't worry about trying to find info on them, they gone find you," another comment read. "I do not claim any energy from this video."
TikToker @Geebeetv assured viewers that she would keep them updated about what else she finds inside the home.
In another video, the couple said she was removing the ceiling when they discovered it was full of "black ash." They also made a video showing her and her partner destroying the hidden room that was located under the stairwell.
Many commenters joked on that video that whatever was being kept inside the hidden room was now released.
"The demon says 'I'm free,'" one user joked.
Newsweek reached out to @Geebeetv for comment.