Owners Find 'Treasure Trove' of Lost Items Behind Their 1893 Fireplace
A couple were shocked to discover a "treasure trove" of artifacts hidden for more than a century after removing their 1893 fireplace mantel.
Ted and Marion Outerbridge are currently restoring their 19th century home, the Keyhole House, which they bought in 2018 for CA$220,000 ($176,000), and have been finding items previously lost to history.
The house, in Smith Falls, Ontario, has been giving up its secrets to the couple who have plans to restore the "the neglected but spectacular" property.
Ted told Newsweek: "Entering through the Moorish arch is almost like crossing the threshold into another world. The architecture and craftsmanship are incredible.
"We had been looking for a historic home to restore and we found it, or rather it found us. The house creaks and groans and lulls us to sleep every night. The house has a spirit, and it likes us."
The couple, renowned illusionists, have been sharing their journey on social media as they bring the previously abandoned seven-bedroom, two-bathroom house back to life.
They posted a TikTok clip after removing the mantelpiece on March 22, captioned: "We discovered a treasure trove of artefacts behind our 1893 fireplace mantel!" Since being shared on Monday, the video has been seen nearly 500,000 times, as Ted talks viewers through the incredible finds.
He narrates it, saying: "We've just removed two old screws, which had been holding this fireplace mantel on the wall for 128 years. And now we're going to remove the mantel, and we are seeing a lot of amazing stuff.
"This is what we've found so far, an incredible array of artifacts, bingo cards, George Greer, Mrs Mann, 1956, Dick Brodowski baseball card from 1953.
"Awesome lady here, who's this guy, some keys, some more amazing people, a Christmas card addressed to Mr. and Mrs. John Briggs, some Ogilvie Play Money rolling paper, with tax stamps, it just goes on and on."
Ted told Newsweek: "We have been anxious to remove it [the mantelpiece] in the hopes of finding some historical artifacts hidden behind it. We were not disappointed. After much coaxing the two ancient screws were removed. The mantel was tilted forward, and an abundance of history was revealed!
"Highlights include a Christmas card from 1937 addressed to Mr. and Mrs. John Briggs, (John Briggs died the following year in the house), rolling paper with tax stamps from 1934, a multitude of skeleton keys, including one which operates the original cast-iron rim lock on the master bedroom door, photos of an unidentified older couple and another of a young woman dressed in 1930s attire, and a Dick Brodowski baseball card from 1953 worth about $40."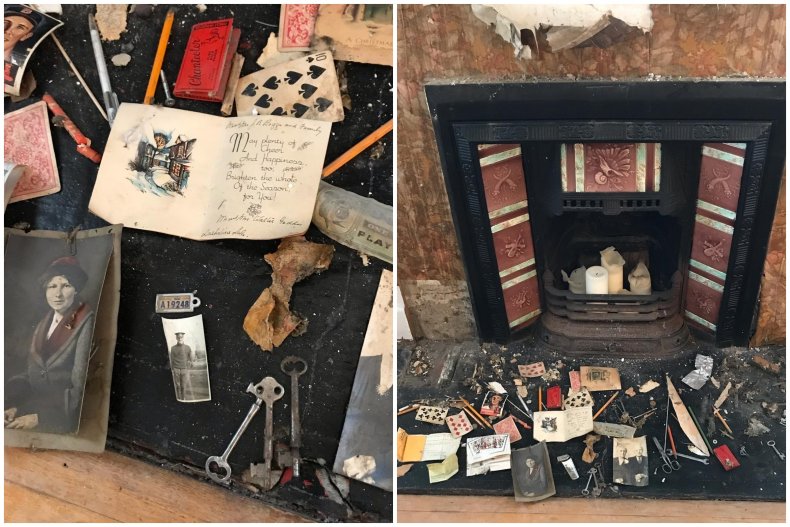 There was a face they'd been longing to see in one of the snaps, as Ted continued: "Reginald Burroughs was a prospector who lived at the Keyhole House 100 years ago with his wife Augusta and their two children. He signed his name in the concrete of two basement windowsills. His three-digit phone number can still be found in a 1918 Telephone Directory. It was 218.
"During the dining room restoration, a golf ball was discovered in the wall which likely belonged to him. I finally met him face to face when I removed the fireplace mantel and found a brittle, curled photo of Reginald Burroughs in his WWI uniform."
They dated a photograph of a woman in a red collar to the 1930s, as they put out a plea on their Instagram page, @thekeyholehouse, saying: "Do you recognize this woman? Any thoughts on what era her fashion is from?"
Numerous people have raved at the finds online. Jessica Milligan wrote: "This is just mind blowing!! One of my lifetime dreams is finding something like this lol."
Meghan joked: "I'm thinking of the families ripping the house apart and arguing about who lost it trying to find some of those things."
Wastelander commented: "THIS is why I want an old house so badly."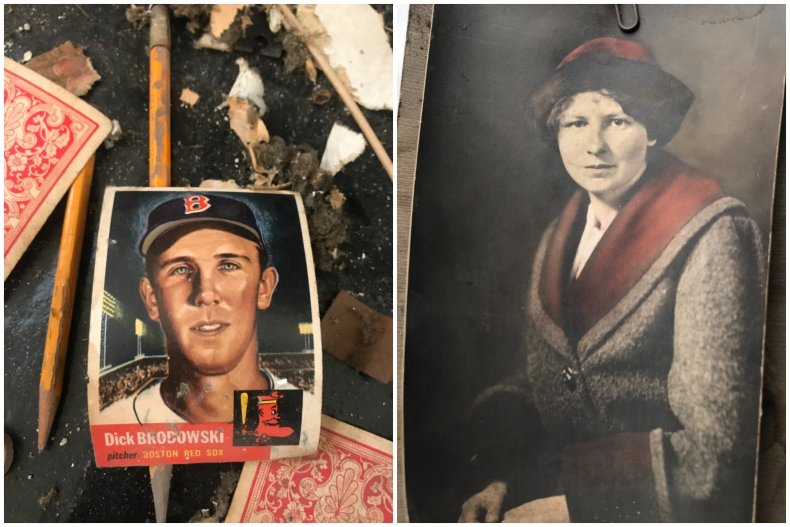 Reluctant_partcipant pondered: "I wonder how many of those keys are for the same thing. Someone just kept putting the replacement keys in the same place."
Brocodile raved: "Pulled a time capsule off the wall for sure. That's so incredible."
ChrisssssSTL said: "Absolutely mind blowing!! That card from 1937!! Just WOW!!!"
While Drmmakert1 added: "That is amazing! I see the history rabbit hole! Great pictures! Hooray!"
As they restored their home, the Outerbridges have come across forgotten notes, a newspaper from 1946 and the remnants of a servants' staircase behind a "secret door."
Ted said: "The Keyhole House is a keeper of secrets and a witness to history. It has many stories to tell if you are willing to listen. Some of the creators who built this grand Victorian home left a note wedged in a door jamb. It fell on the floor while a door frame was being removed.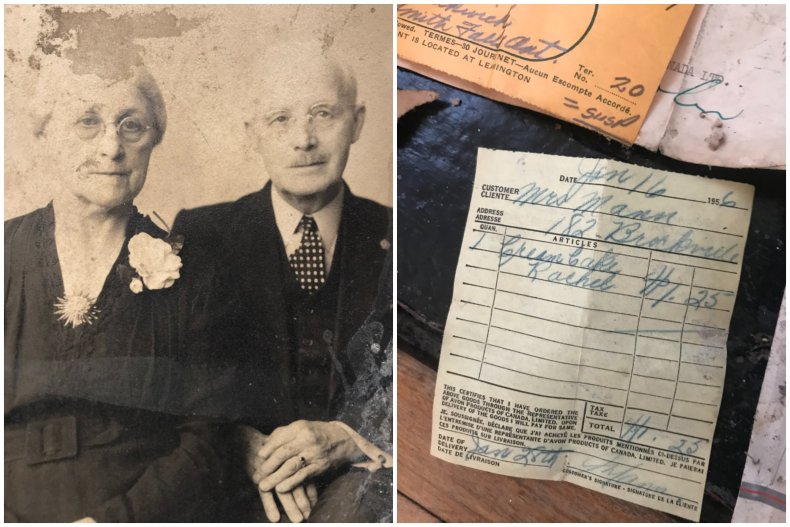 "The brittle scrap of paper is dated June 1892 and reads 'This day for God & Queen have we pledged ourselves to live a life of soberness & love." The note is signed by Benj Byram, Joe Boynton and Bill Rogers, three members of the team of carpenters who built the house."
Ted added: "We thought we could restore the entire structure in three years, now we realize it will never be finished, but we plan to savor the process. I thought I would simply restore an old house; little did I anticipate my obsession with the history and mystery of the former occupants and creators of the house."
There's been a renewed appreciation for vintage homes lately, with numerous social media accounts popping up dedicated to restoring old houses.
It's not hard to see why, with a 2021 study by Hometree finding #periodhomestyle was tagged more than 30,00 times on Instagram, HouseBeautiful reported.
They picked out the most sought-after features via hashtags, with cornice ceilings in pole position, having gained 211,550 tagged Instagram posts.
Panelling, timber floors, roll top baths, ceiling roses, cast iron radiators, skirting boards, picture rails, a butler sink, Victorian fireplaces and floor tiles were also popular.