Couple Furious With Daughter for Suggesting They Babysit Grandson Backed
A set of grandparents have been backed for refusing to look after their grandson for almost a week.
In a popular Mumsnet post, u/Autumnisbeautiful1 explained she is moving to Australia with her husband and toddler. However, she will be in Europe for a work meeting in August.
The mother asked her 60-year-old parents to mind her son for five days, but they refused and were "angry" that she even asked.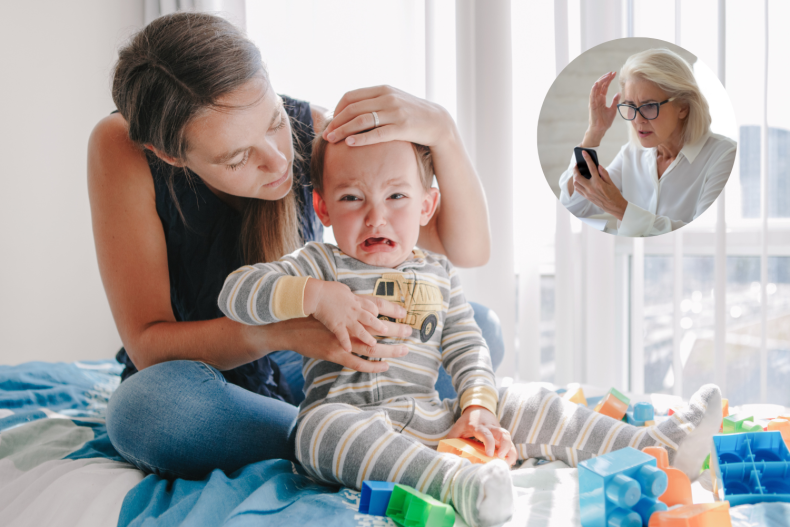 In 2009, Pew Research surveyed 2,969 grandparents, and the results revealed that grandfathers are more likely to look after their grandchildren. The results found that 57 percent of granddads aged 65 to 74 help out with their grandkids, compared to 47 percent of grandmas in the same age group.
Ruth E. Freeman, founder and president of Peace at Home Parenting Solutions, told Newsweek that many families struggle to see things from one another's point of view.
Commenting on the post, Freeman said: "Mom's disappointment that her parents won't take her child while she is away is perfectly understandable, as is her parents' concern that it will be too overwhelming for them. Two-year-olds are on the move, busy exploring the world, and require non-stop attention to keep them safe.
"One very sad part of this story is the grandmother's anger at mom for asking. This tends to happen when people feel bad about saying no," Freeman added. "In healthy families, where it's always OK to say no, anyone can ask for anything as long as no is an acceptable answer to everyone. No one owes anyone anything here, and there is no right or wrong about making a request.
"One approach that mom may want to consider is negotiating how those five days might look. If mom could find a mother's helper to come in for all or part of the day, it might make the arrangement easier for her parents," Freeman added.
"Even a high-school student coming over for the afternoon and early evening might make a big difference," she said. "Since this toddler knows his grandparents well from their weekly visits, they are really the ideal caregivers if they can get on the same page about what they will need to care for him without becoming overwhelmed.
"Mom might start by saying, 'Let's think together about what would make this feasible for you.' Maybe mom could offer to pay for takeout dinners while she is away, in addition to the childcare if she can find it.
"So many families function in this way, making each other feel wrong about seeing things from different points of view. It's harmful and it hurts relationships. Mom isn't wrong for asking; the grandmother isn't wrong for saying no. If they could recognize each other's innocence in seeing the world differently, perhaps they could find a way to get both of their needs met."
'It Would Be Hard Work'
The Mumsnet user wrote that "it would be hard work" looking after her son but assumed that the grandparents may want to.
She posted: "[Currently] they see us every week atm [at the moment] and won't see us for at least 8 months if I don't bring him back with me in August. I thought this was a great opportunity to see each other and especially him spending time with grandparents."
She explained that the parents have never had him overnight and her mom is "always stressed."
"I feel like my dad would do it without hesitation if my mum said yes but agrees whatever she says, which I guess is good for their relationship," the poster wrote.
More than 160 people have commented on the post, many of whom have sided with the grandparents.
One user wrote: "Your son will have forgotten your parents and their home come August so you are considering dropping him off alone with people he won't remember. No wonder your dm [darling mother] is saying no to having a toddler that will likely be incredibly upset."
"You want to drag a 2-year-old from Australia to the U.K. for childcare for 5 days? Seems a tad extreme," posted another.
Another commented: "My MIL [mother-in-law] has never had my dc [darling children] for 5 minutes, let alone 5 days. Some people are like that."
Newsweek was not able to verify the details of the case.
If you have a family dilemma, let us know via life@newsweek.com. We can ask experts for advice, and your story could be featured on Newsweek.