Couple Holds Second Wedding to Celebrate 75th Anniversary
The year 1946 was a special one. World War II had ended the previous year, Tupperware was invented by Earl Silas Tupper, an American chemist, and the St. Louis Cardinals defeated the Boston Red Sox in the World Series. It was also the year Lorraine and Ulysses Dawson of Poca, West Virginia exchanged their vows for the first time to one another.
The traditional gift to exchange is typically a diamond when marking a 75th anniversary. But for Ulysses and Lorraine, recreating their wedding was how they decided to celebrate three-quarters of a century of marriage.
The Dawsons threw their second wedding where they exchanged their vows in front of the five generations of family they created.
"The knot was tied awful tight. And it's still holding," Ulysses, 94, told WCHS, a local affiliate station.
At their first wedding, WCHS reported that Lorraine, now 92-years-old, wore a two-piece red suit, but she donned a white wedding gown for her 75th-anniversary celebration. Ulysses, on the other hand, wore his World War II uniform, which was what he wore for their first wedding.
"That's the way we met each other," Lorraine said. "He was in uniform."
WCHS reported that the memory of the two meeting each other is still fresh for Lorraine.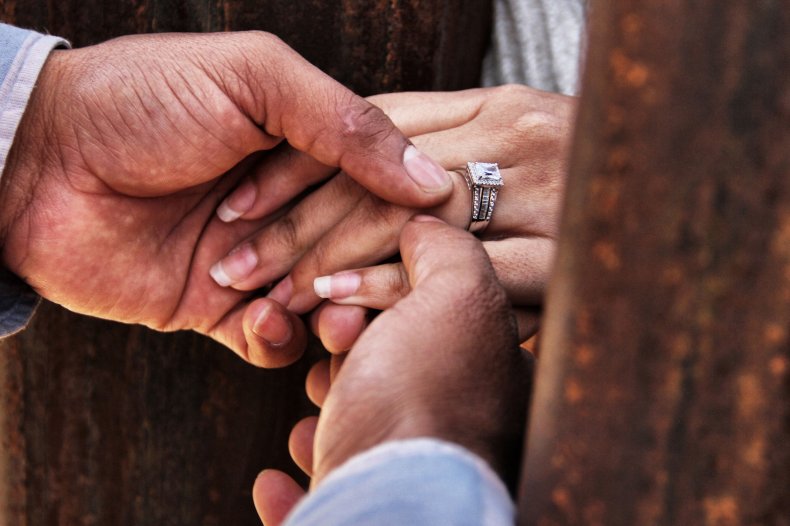 The two were teenagers and she saw him from afar while out walking. Lorraine dropped the bucket of water she was holding and got closer to him. She yelled out to him to get his attention and the two have been together since.
Vanessa Bailes, the couple's granddaughter, told Newsweek the two listened to a radio show together on the porch of her home for their first date.
To have a strong marriage that's lasted 75 years required understanding and patience, Lorraine said.
"Be sure you love each other," Lorraine said. "And it's a 50/50 thing, not an 80/20. It's 50/50."
Throughout the decades, she told WCHS that there have been good times and difficult times, but their relationship stood the test of time and remained strong.
"I thank God for him. I could never find a better one," she said.
"To our family, their love, dedication and faith is the foundation to our relationships," Bailes said. "We grew up watching our parents teach us the same family values that we try to instill into our children so they may know the love that started it all."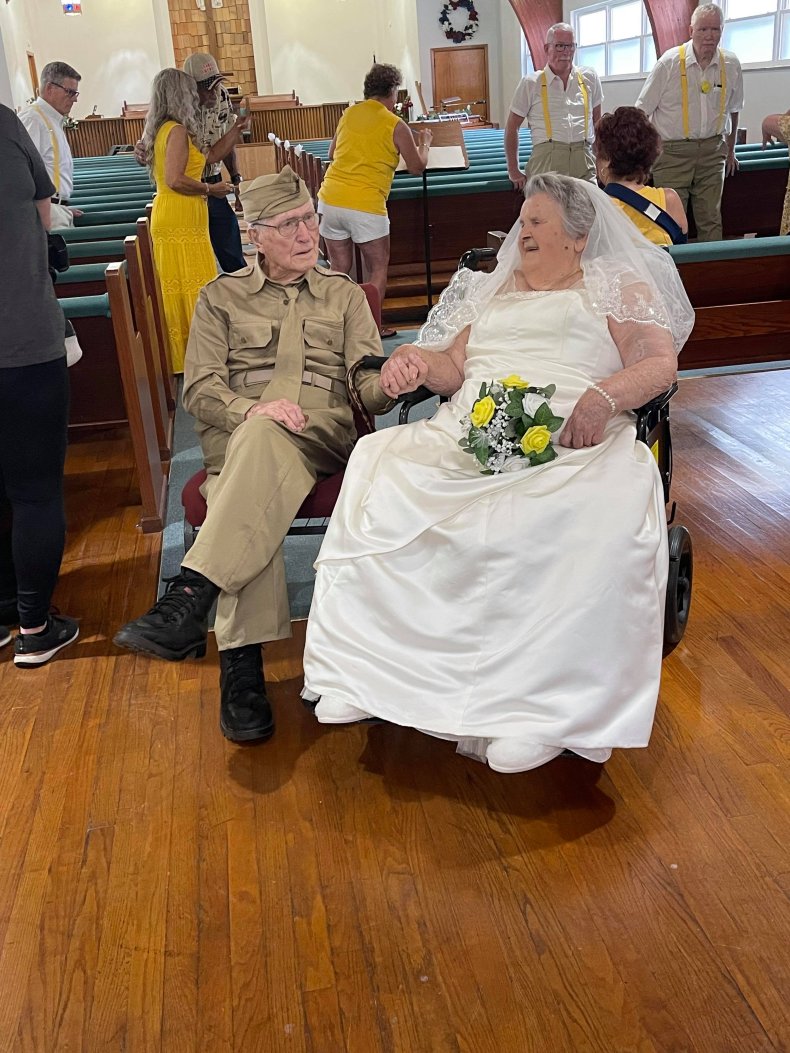 Another couple's anniversary plans went viral, this time on TikTok.
Newsweek reported in July that a husband shared a video to the social media platform capturing the moment that he surprised his wife with a screening of their wedding video that was thought to have been missing.
The pair celebrated their 14th wedding anniversary, and Drew Gottfried managed to find a copy of their wedding video that they were told was "accidentally erased" shortly after their wedding. Drew's wife, Kayla, never had a chance to see their wedding video.
He rented out a local theater and played their wedding video in place of a movie.
The video clip ends showing the couple watching the video in a close embrace.
Updated 10/06/2021, 3:18 p.m. ET: This story has been updated with comments from the Dawsons' granddaughter Vanessa Bailes and a photo from the wedding.