Couple Indicted for Trying to Sell Nuclear Secrets to Foreign Country
A couple from Maryland charged with trying to sell information about nuclear-powered warships to a foreign country was indicted following their arrest earlier this month, according to the Department of Justice (DOJ).
Jonathan, 42, and Diane Toebbe, 45, of Annapolis, each faces a single count of conspiracy to communicate restrictive data and two counts of communication of restricted data.
The couple was arrested in West Virginia on October 9 by the FBI and the Naval Criminal Investigative Service (NCIS) and charged with violating the Atomic Energy Act—a federal law that assures the proper management of nuclear materials and their byproducts.
"The complaint charges a plot to transmit information relating to the design of our nuclear submarines to a foreign nation," said Attorney General Merrick B. Garland. "The work of the FBI, Department of Justice prosecutors, the Naval Criminal Investigative Service and the Department of Energy was critical in thwarting the plot charged in the complaint and taking this first step in bringing the perpetrators to justice."
Jonathan Toebbe worked for the Department of the Navy and served as a nuclear engineer assigned to the Naval Nuclear Propulsion Program. He allegedly tried to give information about submarine designs to someone he believed represented a foreign government that was unnamed in court documents, but the individual was actually an undercover FBI agent.
His wife, Diana Toebbe, joined him several times to preplanned "dead-drop" locations, prosecutors said. At the sites, Jonathan would allegedly leave behind memory cards containing sensitive information.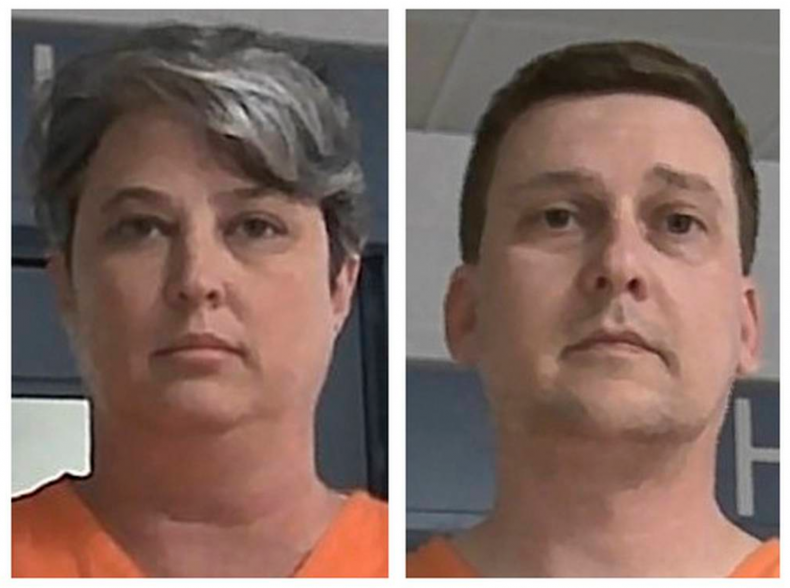 According to the DOJ, the Toebbe's sold information to the individual for at least one year.
On April 1, 2020, Jonathan sent a package to someone he believed was a foreign government containing a sample of secret information along with instructions for establishing a covert relationship, the affidavit said.
He then allegedly spoke with a person he believed to represent that government over encrypted emails. Jonathan continued speaking with this person for months and agreed to sell the information for thousands of dollars in cryptocurrency, according to the DOJ.
The undercover FBI agent then sent $10,000 in cryptocurrency to Jonathan as a payment of "good faith" on June 8.
More than two weeks later, the couple traveled to West Virginia. Diana allegedly acted as a lookout while Jonathan placed an SD card hidden inside a peanut butter sandwich at the designated drop location.
Once the agent acquired the memory card, they sent another $20,000 in cryptocurrency to Jonathan. The Maryland man allegedly provided the agent with a decryption key which allowed them to access secret information on the SD card about submarine nuclear reactors, court documents said.
Almost one month later, on August 28, Jonathan completed another "dead drop" this time placing an SD card in a pack of chewing gum in Virginia. The agent paid $70,000 in cryptocurrency for the information.
The couple was arrested after another drop-off in West Virginia, according to the DOJ.
Prior to working for the Navy, Jonathan was a science teacher at Kent Denver School and taught at the high school between 2005 and 2008, according to KUSA. From 2008 to 2012, he studied at the Colorado School of Mines and earned a Master of Science in Nuclear Engineering. His wife also taught high school science at Kent Denver School from 2005 to 2012.
Newsweek reached out to the United States Navy for comment.