A couple in Scotland was reunited with their cat after a decade when the local SPCA tracked them down with the cat's microchip.
Neil and Lucy Henderson said their cat Forbes went missing in March 2011 after he left the couple's home in Aberdeen and never came back. After months of searching, the couple lost any hope of finding Forbes.
Neil said the couple was distraught after Forbes went missing, having raised him since he was just a kitten and forming a strong bond with him. The couple's friends went door to door searching for Forbes and put up missing cat posters around the neighborhood.
"We looked for him for months and months, but we very sadly had to come to the realization that the worst may have happened," Neil told the Scottish SPCA.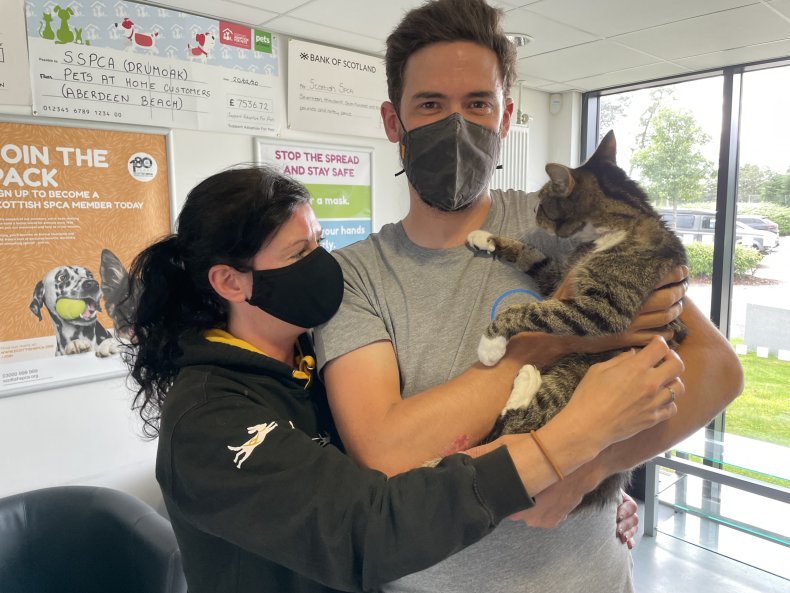 The couple doubted they would ever reunite with Forbes and, a few years later, moved to Edinburgh, located about 128 miles away from Aberdeen.
Meanwhile, in Aberdeen, the Scottish SPCA was called out to a peculiarly skinny cat making his way through some gardens in town. When the SPCA brought the cat in, they found he had a microchip that said he was a 12-year-old cat named Forbes.
In a statement, the SPCA said it supports microchipping pets for this reason. Microchipping involves implanting under the skin of an animal a rice-sized chip that utilizes passive radio-frequency identification technology to tag information about the animal, including owners' names and home address.
The officer went to the address listed on the chip but found that the couple no longer lived there. So he contacted Lucy with the phone number encrypted on the chip.
"I was amazed to hear how long Forbes had been missing for," Greg Stevenson, the responding officer, told the Scottish SPCA. "The owners couldn't believe it but were absolutely over the moon. They had previously lived in the Aberdeen area and are now living in Edinburgh. They were just thrilled to hear that Forbes was coming back to them."
Stevenson said Forbes was found less than two miles away from the couple's Aberdeen home and was in need of veterinary attention for fleas and mites.
"We have no way of knowing where Forbes had been all this time or what adventures he might have been on," Stevenson told the SPCA.
Stevenson recalls Lucy being speechless at the news, unable to take in the overwhelming news. Immediately after, Lucy called Neil who was driving and asked him to pull over.
"My wife phoned when I was on the motorway, and she told me I had to pull over," Neil said. "I was completely unprepared for what I was about to be told and hearing that Forbes had been found left me completely astounded."
Neil says he had to immediately turn the car around to go home after receiving the surprising news. He admits being "completely overcome with emotion" when he found out that Forbes was located.
"We traveled to Aberdeen the next day and when he was brought out, I recognized him immediately. Forbes did give me a big cuddle so I'm hopeful that he remembered us," Neil said.
Stevenson says that due to the roaming nature of cats, they tend to run away from home and return to places where they have previously been fed. "No matter how tempting it is to invite a cat that is not yours into your home,' he said, "please don't do this, as it can cause great upset for owners."
After receiving veterinary attention, Forbes has been given a clean bill of health and is having a great time with his family, including two new cats and two new dogs that the couple adopted since Forbes went missing. Neil says Forbes quickly made a home of the couple's new place in Edinburgh.
"This is just the best outcome for us. We never thought we would see him again. It's like a closed chapter has just opened up. It's a dream come true," Neil said, although he is unsure of the adventures that Forbes has been up to for the past decade.
"I don't think the reality is quite what I have in my head, I like to imagine him on a sailboat gallivanting around the world, but he probably just kicked about it Aberdeen," Neil joked to the Evening Express.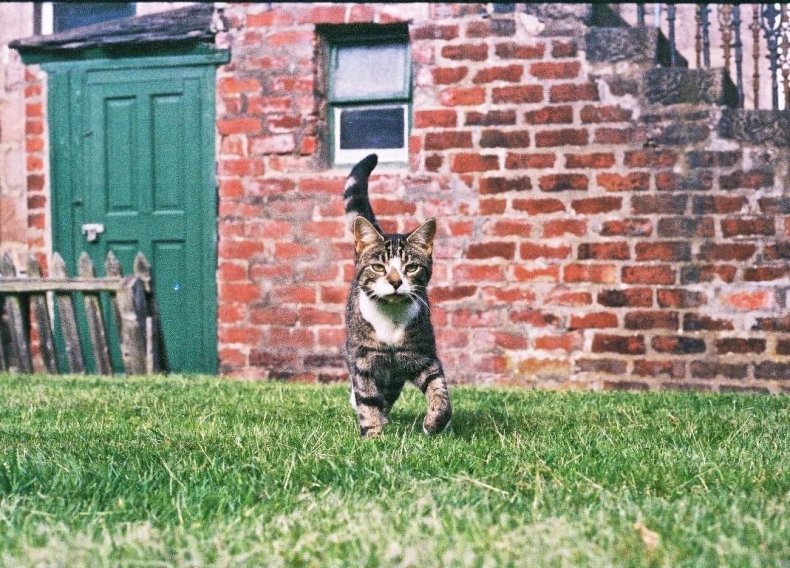 In the Cardiff, Wales, another couple found themselves in a similar situation. Their black and white cat named Tom went missing near their home back in 2009 but was found more than 12 years later hanging around a cemetery with another stray.
Tom was also reunited with his owners after it was discovered that he had been microchipped. Tom was 20 years old when he was reunited with his family late last week.