Couple Reunited With Son 22 Years After He Was Abducted by Father's Co-worker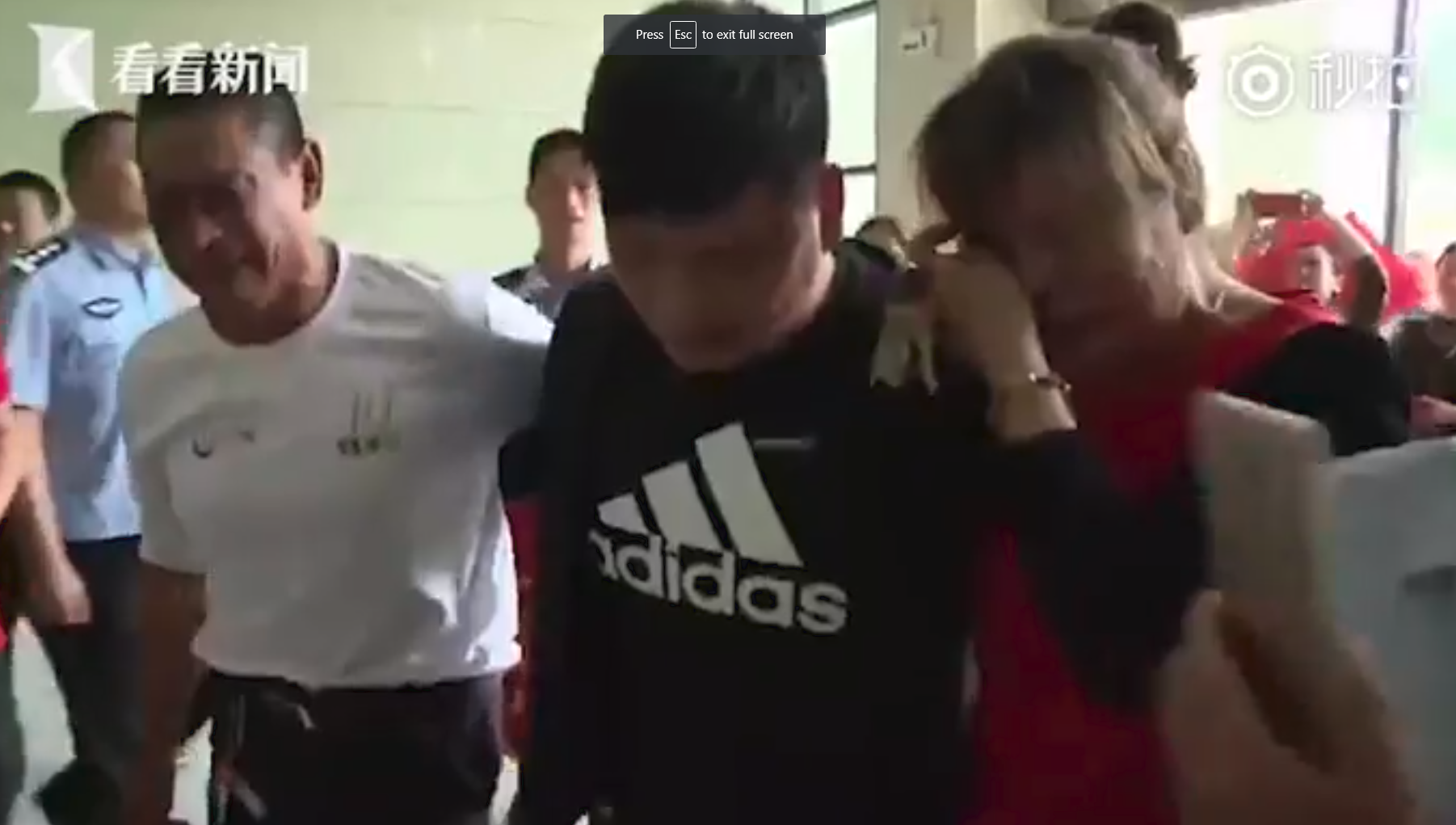 A Chinese couple was reunited with their long-lost son 22 years after he was abducted from a construction site by his father's co-worker.
In 1996, Li Mingzhao and Chen Zhen's 4-year-old son, known as Pengpeng, disappeared while he was at work with his father in the Maojian district in Shiyan, reported state-run CCTV. The devastated couple embarked on a decadeslong search that ate through their savings, but they never gave up on finding their boy.
After enlisting the help of authorities and volunteers across various provinces in China, Li and Chen finally found Pengpeng last month, after a match was confirmed through DNA testing.
A video released by police captured the moment on May 3 when the couple met Pengpeng for the first time since he went missing, 22 years ago. In the heartwarming clip, Li and Chen can be seen crying as they embrace their son.
"I remember this scar he had on the brow bone. He fell on the ground when he was 2," Chen said.
On the day Pengpeng went missing, Li said he took Pengpeng to the cement factory where he worked. At the factory a co-worker called Yang offered to look after Pengpeng. When Pengpeng failed to come home that evening, the couple went to Yang's house only to discover that he had fled, taking their son with him.
Li and Chen reported the abduction to authorities in Maojian and traveled to the neighboring Henan Province, Hubei Province and Shanxi Province to search for Pengpeng, but their efforts were in vain.
Li said he kept the same mobile number that Pengpeng remembered before he went missing, in the hopes that their son would call. The couple also remained in the same small brick home for 22 years to ensure Pengpeng could come back and find them one day.
In 2010, police captured Yang, the abductor, in Sichuan. However, authorities soon learned that Pengpeng had been sold to another abductor, whose name was also Yang. According to a police statement, the second abductor also named Yang, who was caught this year, confessed to authorities that Pengpeng had been sold to a couple.
Despite the setbacks, authorities continued their search for Pengpeng by enlisting the help of Lin Yuhui, a sketch artist. In April, police finally found a positive DNA match in a 26-year-old man who went by the surname Liu.
During the reunion, Liu told his biological parents that he is married and has two children. "We won't ask him to move back and live with us. We understand that he has his job and his own family in Hebei Province," Li told CCTV.