Couple Stranded on Fishing Trip in Crocodile-infested Area for 26 Hours Rescued After Etching 'HELP' in Mud
A couple stranded in a remote part of Australia has been rescued after scratching a mayday call into the mud that could be seen from the air.
Shantelle Johnson and Colin Nulgit have spoken of the ordeal they underwent during a fishing trip to the Keep River National Park in the Northern Territory, which borders Western Australia.
They ran into trouble on Sunday when their utility vehicle got stuck in the mud. They tried to dig the vehicle out and get it moving by putting things under the tires but to no avail. There was also a significant threat nearby, as they were in a crocodile-infested area.
Nulgit told ABC News: "We were stuck on the marshland and we were right next to saltwater. We stayed in the first night and then we saw the water rising. We grabbed everything and took it about 20, 30 meters from the car."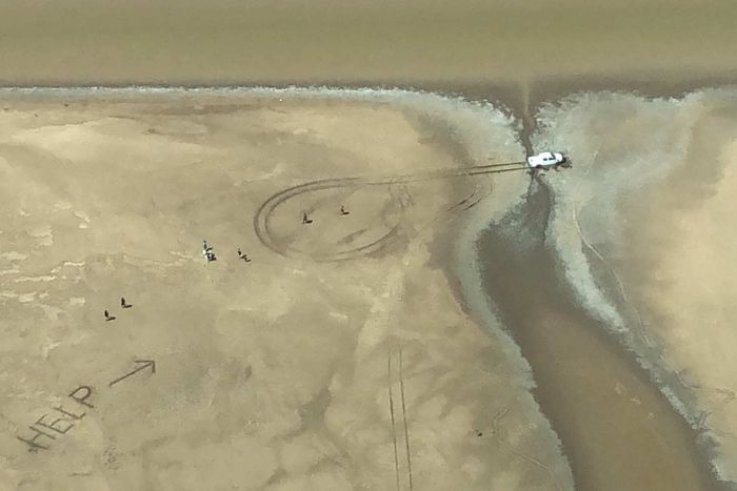 "Earlier that day we saw two, three croc tracks—they were about five, six meters long." The couple stayed in the car the first night. But with the tide rising, they took their belongings, including their dog, Ace, and moved away from the vehicle. They then scratched the word "HELP" into the mud.
Although they had little food with them, they did pack enough water and had told their families where they were going, as well as what time they would be back. These decisions saved their lives.
Nulgit said despite the threat from crocodiles, he tried to stay positive.
An air rescue team finally located the couple at Barra Hole near the Marralum community on the Northern Territory side of the Western Australian border, after seeing smoke from their fire and the sign in the mud.
"When they [the rescuers] came a bit lower to the ground, we jumped out of the car and started to wave them down. It was overwhelming, emotional yeah…we were pretty happy that we'd made it," Nulgit said.
Johnson said: "We were pretty scared and worried, but we were just hoping someone would come."
The couple were praised for staying with their vehicle and letting people know in advance when they were due back.
"It could have been a different story if they hadn't done that," Kununurra police acting sergeant Dean Andrzejaczek said.
Last November, Brooke Phillips, 40, survived for almost a week in a remote part of Western Australia after her car got bogged down in sand.
She survived by drinking pasta sauce and condensed milk and, when that liquid ran out, resorted to imbibing her own urine and the wiper fluid from her car before she was rescued, ABC reported.
Couple Stranded on Fishing Trip in Crocodile-infested Area for 26 Hours Rescued After Etching 'HELP' in Mud | World