Couple Together for 40 Years Finally Wed in Hospital After Terminal Cancer Diagnosis
After 40 years together one English couple decided to tie the knot after the groom was told his cancer prognosis was terminal.
The couple, Keith Turner, 86, and Rita Trickett, 83, first met while working for the Red Cross in 1969, BBC reported. At the time of their first meeting, Trickett was friends with Turner's wife.
"When my wife passed away from cancer, Rita was there to look after me and we've been together ever since," he told the BBC. "However, the thought of getting married never was on our mind. I didn't care too much about labels and we're both quite independent people."
The nuptials took place at Royal Derby Hospital in November 2021.
According to 2021 data from the U.S. Census Bureau, among older adults aged 70 or older, 22 percent of men and 19 percent of women had married twice while 8 percent of men and 6 percent of women had married three times or more.
The data also showed that among adults 75 years or older who had been married at any point in their lives, 58 percent of women and 28 percent of men had experienced the death of a spouse in their lifetime.
In June, CBS News reported on a 95-year-old couple who had both been widowed twice before but found love again with one another.
John Shults and Joy Morrow-Nulton got married in a small ceremony over the summer after persevering through months of dating during the COVID-19 lockdown.
Shults' son told CBS that before the pair were vaccinated they would talk every day and "find a way to get together," he said. "They did whatever it took."
For Trickett and Turner, the decision to tie the knot came after Keith was admitted into the hospital and found out his mesothelioma was terminal, BBC reported.
Turner said it was not until he became so ill that he thought to ask his now-wife to marry him.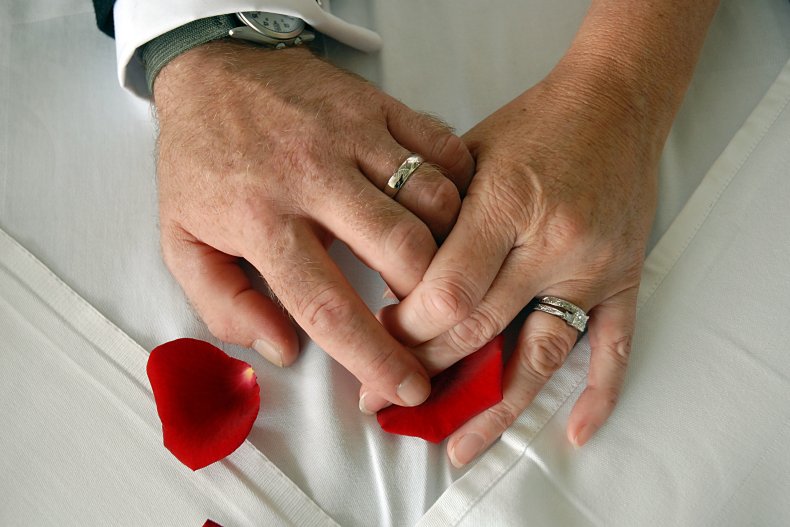 Trickett told the BBC that her husband had asked for his treatment to be ended following the ceremony.
"It's what he wants and I agree with him, he's had enough and is tired," she told the outlet.
Staff at the hospital spent three days planning the event including baking a cake and collecting flower arrangements.
Amanda Broad, a nurse at the hospital, served as the witness.
"I was extremely privileged to be asked to be a witness and although it was my day off I was so happy to be there on their special day," she told the BBC.
Newsweek reached out to the University Hospitals of Derby and Burton for comment.