Couple's Wedding Food List Sparks Debate Over Guests Being Left Hungry
A panicked couple concerned that their wedding dinner would not be enough to feed a large number of guests has divided opinions online.
In a viral Mumsnet post, which can be seen here, user Avelora explained that she and her partner were concerned their BBQ wedding feast might not be enough to satisfy their guests.
According to the wedding planning website Wedding Wire, the average cost of catering for a wedding in the U.S. is about $4,000. It added most couples spend between $1,800 to $7,000.
Avelora explained that burgers, hot dogs, chicken skewers, prawn skewers, fries, salad and vegetarian as well as vegan options would be on the menu.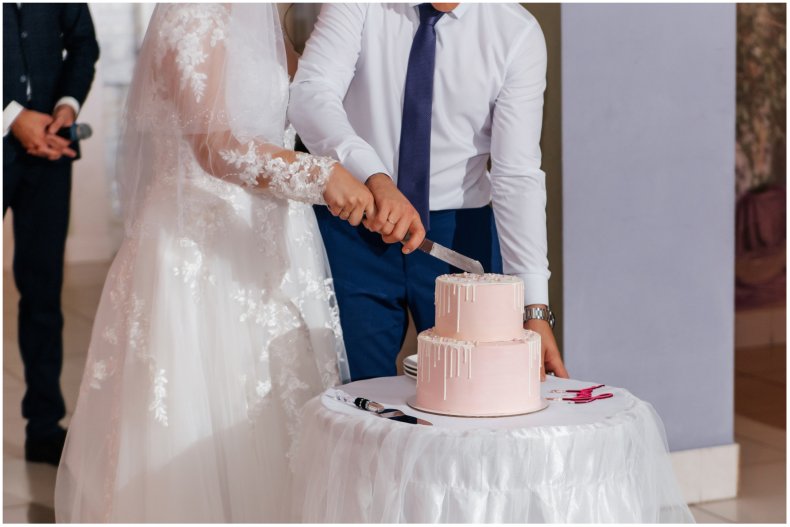 The Mumsnet user then added: "We're getting married next month and starting to have a panic that we aren't providing enough food. [The] ceremony is at 2:30 p.m., so everyone will be arriving at the reception between 3.30 p.m. to 4 p.m. We're having a BBQ starting at around 5 p.m."
She continued: "We've also got a cheese table with various choices, crackers, pork pies etc and a dessert table with cakes, brownies and donuts which are both coming out at about 8:30 p.m.
"Would you then expect another substantial food option with the cheese and snacks table, such as hot food or a buffet or something? We're expecting the BBQ to be done with by around 6:30 p.m. but they can keep going as long as we want them to and the venue closes at 12 a.m."
Since being posted Saturday, the post attracted some 334 replies, with many sharing different views on whether the amount of food would be enough.
One Mumsnet user posted: "One of each other means you might run out of some items if they are popular like burgers etc. That's not great for those not first up."
Another added: "BBQ at 5 p.m. Venue closing at midnight. Yeah, I think I'd have something around 10 p.m. Maybe split the budget if that's a concern."
While a third believed it would be enough, and stated: "That sounds fine. People will have had lunch before the ceremony and you're providing a sizeable dinner. Job done."
A fourth simply wrote: "That's s**t loads, you'll be fine."
One commenter said: "It sounds lovely, but definitely do the cheese/ desserts later in the evening, 9 ish, maybe supplemented with mini pork pies, sausage/ cheese rolls to soak up [the] alcohol and feed those who ate early at the BBQ."
Has a wedding come between your relationship with a loved one? Let us know via life@newsweek.com. We can ask experts for advice, and your story could be featured on Newsweek.