Courage is Contagious | Opinion
One of the reasons Republicans duck hard fights is that the Left today seems like a three-headed monster. It's not just Democratic politicians that conservatives have to battle, but the biased news media and woke corporations, too. That's one of the reasons grassroots Republicans are still so loyal to President Donald Trump—he took every blow the Left could throw at him and never stopped fighting.
This week, and not for the first time, another strong leader—Florida governor Ron DeSantis—showed conservatives around the country how to lead such fights, and, more importantly, how to win them.
At issue were all the mandates being imposed on workers to get vaccinated for COVID-19 or else be suspended or fired from their jobs.
On one side of this debate were Joe Biden, Anthony Fauci and other public health performance artists who have misled the American people for almost two years. They want vaccine mandates and vaccine passports. They want to lord future shutdowns over us. On social media, progressives openly muse about denying unvaccinated patients medical care, and punishing any trucker, nurse or longshoreman who refuses to bend the knee.
On the other side are American workers, who have struggled under the elite's triple burdens of the pandemic, Biden's inflation and the public health community's gross incompetence.
To his credit, Gov. DeSantis has stood with the people and their constitutional freedoms from the beginning. While liberal pundits smeared him and Florida's non-hysterical COVID response throughout the pandemic—even as they hailed a corrupt sexual predator personally responsible for the deaths of thousands of seniors in New York nursing homes—DeSantis stuck to his principles and the actual science of COVID-19.
One result of DeSantis' trust in the people and the data is that today Florida has one of the lowest infection rates of any state in the union.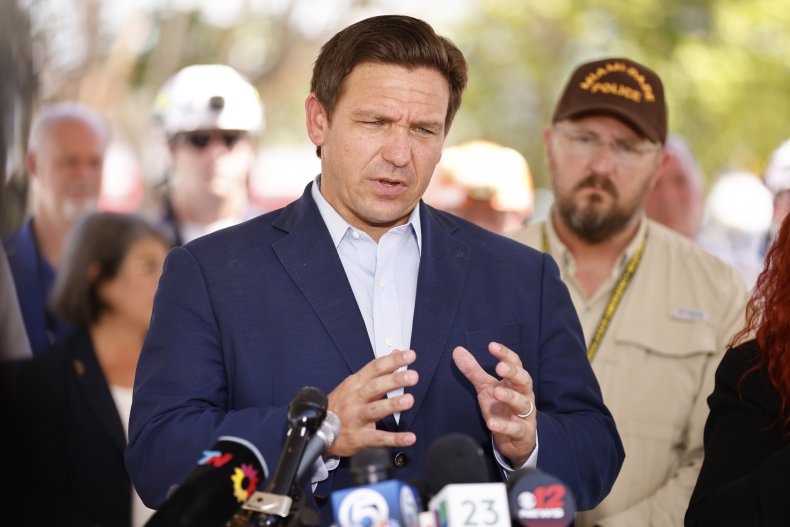 DeSantis' success gave courage to elected Republicans in Washington. Within hours of Biden announcing his illegal, unconstitutional vaccine mandate, conservatives in the House of Representatives and Senate announced plans to defund and rescind it.
Then this week, DeSantis went a step further. It's not enough, he argued, to refuse a statewide vaccine mandate. So he championed, and just signed, a law prohibiting private companies from imposing mandates on their own workers. In doing so, DeSantis took on not only leftists in Washington, Tallahassee and Twitter. He took on the real source of progressive power today—corporate boardrooms, where without passing any laws or winning any elections woke millionaires and billionaires leverage their economic power to tell everyone else what to do.
In Florida, of course, that means Disney—one of the richest, most influential corporations on earth. It is the economic engine of the Orlando area, and one of the biggest employers in the state. It is also increasingly "woke." Like all good progressive plutocrats, Disney executives had already ordered their employees to get the jab or be fired.
By pushing his new law, DeSantis called Disney's bluff. And sure enough, the mouse didn't roar. Instead, it fell into line with the law, the public, the science and behind a conservative governor. The Left expected a vaccine showdown in the Sunshine State, but Disney surrendered without a peep.
DeSantis deserves credit for his courage and wisdom. But the American people need more of it. It's not enough for Republican governors to commend DeSantis—they should be emulating him.
If the governor of Florida, with the national political media scrutinizing his every move, can take on Disney and win, other Republican governors have no excuse to shy away from fights of their own. Nothing in the Constitution allows vaccine mandates. GOP governors and state legislators—including Republicans in Congress—should lean into this fight relentlessly, defiantly and publicly.
The Left's three-headed monster of politicians, journalists and corporations may seem daunting. But with the law, the facts, and the people on our side, conservatives—like DeSantis and Trump—should relish the fight, lead and win.
Jim DeMint is chairman of the Conservative Partnership Institute.
The views expressed in this article are the writer's own.