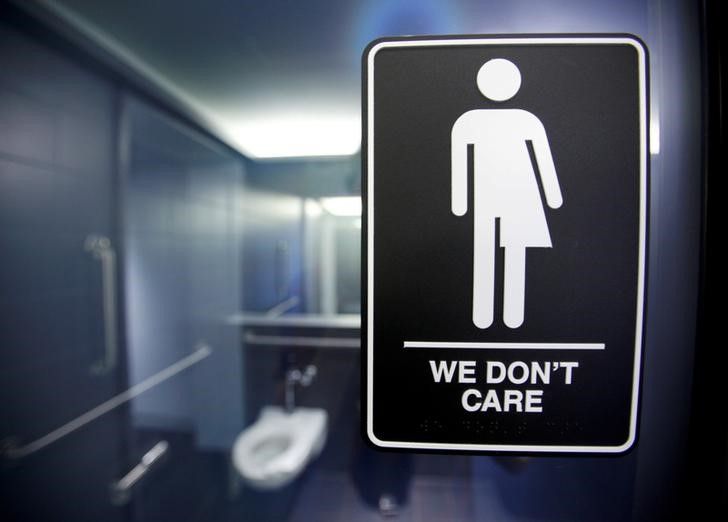 A U.S. judge blocked Obama administration guidance that transgender public school students must be allowed to use bathrooms of their choice, granting a nationwide injunction sought by a group of 13 states led by Texas.
Reed O'Connor, a judge for the Northern District of Texas, said in a decision late on Sunday that the Obama administration did not follow proper procedures for notice and comment in issuing the guidelines. He also said the federal guidelines had the effect of law and contradict existing legislative and regulatory texts.
The ruling by O'Connor, an appointee of Republican President George W. Bush, gives an initial victory to the states, which filed their lawsuit amid building national conservative backlash to the Obama administration's stance on transgender rights.
But the latest battle over U.S. civil rights is far from over. The Department of Justice said in a statement it was disappointed in the decision and was reviewing its options. Legal experts expect it will appeal.
Other courts have sided with the Obama administration, agreeing that transgender students can be protected by anti-discrimination laws.
"A ruling by a single judge in one circuit cannot and does not undo the years of clear legal precedent nationwide establishing that transgender students have the right to go to school without being singled out for discrimination," said a statement from five groups, including the American Civil Liberties Union (ACLU), that have filed "friend of the court" briefs on behalf of transgender students.
The injunction does not prevent parents of transgender students from suing school districts for discrimination, nor does it prevent districts from offering bathroom access policies that run according to the guidelines, those group said.
ACLU attorney Joshua Block said the main practical impact of the decision is that it would prevent the Obama administration from carrying out administrative enforcement actions against schools on transgender issues.
Justice Department lawyers argued in court earlier this month that the federal guidelines issued in May were non-binding with no legal consequences. But those guidelines were backed up by a threat to withhold federal education money from states that refused to comply.
Texas Cites 'Federal Overreach'
At a hearing on the injunction in Fort Worth on Aug. 12, lawyers for Texas said the guidelines usurp the authority of school districts nationwide. They said they were at risk of losing billions of dollars in federal funding for education if they did not comply.
The office of Texas Attorney General Ken Paxton, a Republican who frequently sues the Democratic Obama administration, said he was pleased with a decision against "illegal federal overreach."
The federal guidance said public schools must allow transgender students to use bathrooms, locker rooms and other intimate facilities that correspond with their gender identity or face the loss of federal funds.
Following milestone achievements in gay rights including same-sex marriage becoming legal nationwide in 2015, transgender rights have become an increasingly contentious issue in the United States.
The administration's directive enraged conservatives who say federal civil rights protections pertains to a person's gender assigned at birth, not someone's changing gender identity.
The other states in the Texas-led suit are Alabama, Wisconsin, West Virginia, Tennessee, Arizona, Maine, Oklahoma, Louisiana, Utah, Georgia, Mississippi and Kentucky. Ten other states have also separately sued over the guidelines.
The decision came as Jennifer Campisi was taking her 9-year-old son E.J., a transgender student, to the first day of school in the Dallas-Fort Worth area. E.J. is not allowed to use the boys' bathroom and instead must use either the nurse's bathroom of the faculty bathroom.
"These policies just keep kids separate and they put unnecessary stress on parents," she said, adding that allowing transgender students to use the bathroom of their choice is the best solutions for all.