Court Order Extends Virginia Voter Registration Deadline by 48 Hours Following Website Outage
A federal court has granted an extension of Virginia's voter registration deadline by 48 hours after the state's Department of Elections website shut down on Tuesday, just hours before the original deadline. The new deadline to register to vote in Virginia is Thursday at 11:59 p.m.
The Lawyers' Committee for Civil Rights Under Law and a coalition of civil rights groups filed a lawsuit on Tuesday in the U.S. District Court in Richmond to extend the deadline for voter registration. They argued that the lack of an extension would disproportionately affect minority groups and younger voters, who tend to register on the last day.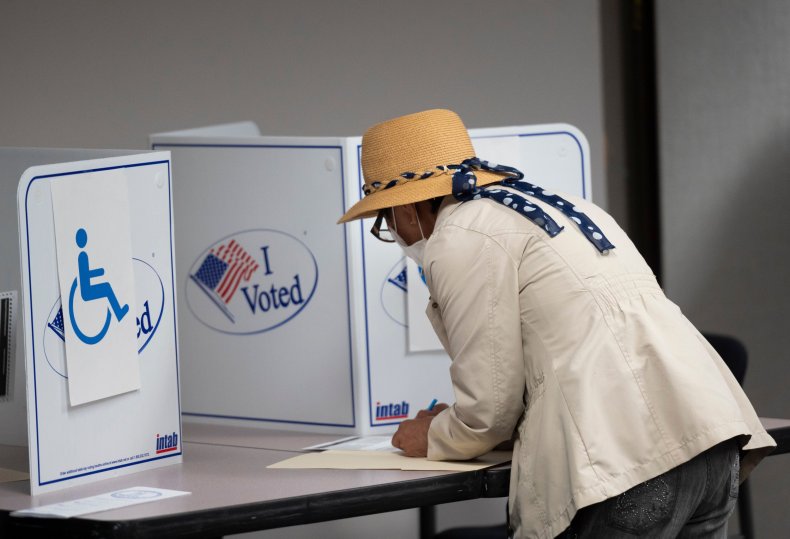 "The commonwealth failed the public and it must grant a significant extension to ensure all Virginians are given an equal opportunity to exercise their fundamental right to vote," said Kristen Clarke, president and executive director of the Lawyers' Committee for Civil Rights Under Law, in a news release.
"Extending the registration deadline is a common-sense step that can be taken to address the potential disenfranchisement of thousands of eligible people across Virginia," Clarke said.
In addition, Virginia Attorney General Mark Herring filed a brief on Tuesday asking the court to extend the deadline.
"We need to make up for the time lost today. We have 21 days until the most important election of our lifetimes and I want to make sure every eligible Virginian who wants to vote can," he wrote in a tweet on Tuesday.
The Department of Elections issued a statement on Twitter saying that the outage was caused by a "fiber cut" near the Commonwealth Enterprise Solutions Center that affected data circuits and VPN connectivity for multiple agencies. Six hours later, the department posted an update saying the portal was back up and running.
In a Tuesday press briefing, Virginia Governor Ralph Northam said that a Verizon fiber was inadvertently cut during roadside work on a utility project in Chesterfield County.
"We have been exploring all of our options to extend the voter registration deadline," Northam said. "That deadline is set in our code, and it does not appear that I have the authority to change it. That is up to the courts, and I would support a court order to the extension of the deadline."
This isn't the first time that technical problems have caused a registration delay for potential voters. In the 2016 election, social media postings led to an unprecedented amount of people registering that year, causing some glitches in the online portal system.
The New Virginia Majority Education Fund sued for an extension, and a federal judge granted one for 36 hours because of the technical problems.
"This now marks two presidential election cycles in a row in which the state's registration system has collapsed, and we hope that this will counsel in favor of stronger systems and backstops to prevent mass disenfranchisement in the future," Clarke said.
Newsweek reached out to the Virginia Department of Elections for comment but did not receive a response in time for publication.