Court Orders Mystery Foreign Company to Comply With Mueller Subpoena
A federal court Tuesday ordered a mysterious foreign company to comply with a subpoena which was apparently issued by special counsel Robert Mueller.
The Justice Department had asked the company to turn over information relating to a criminal investigation, which had been linked to Mueller's investigation into allegations of cooperation between Donald Trump's campaign team and Russia during the 2016 presidential election.
Read More: Who has Robert Mueller indicted? Full list of everyone charged as result of Russia collusion investigation
In documents released by the U.S. Court of Appeals for the D.C. Circuit Tuesday, it was revealed that this entity was a foreign government-owned company.
In the three-page opinion, the court ordered the company to comply with the subpoena.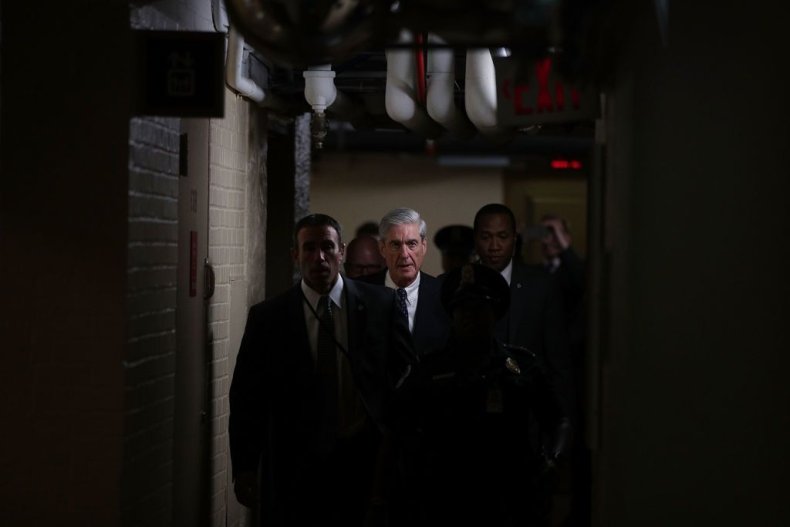 The country, referred to in the documents as "Country A," had tried to quash the subpoena, arguing that it was immune from criminal proceedings under the Foreign Sovereign Immunities Act and that the subpoena was unenforceable because it would require the company to violate the country's laws.
A lower district court in Washington had rejected the company's attempt to quash the subpoena, and in their opinion Tuesday, Judges David Tatel, Thomas Griffith and Stephen Williams unanimously backed the lower court's verdict.
The judges ruled that the Foreign Sovereign Immunities Act did not shield the company from subpoena, and rejected the claim that the country's laws prohibited the company from complying, writing "We are unconvinced that Country A's law truly prohibits the Corporation from complying with the subpoena."
The name of the company, the nature of its business and the information sought by investigators have not been disclosed.
On Friday, lawyers argued the case before a panel of three appellate judges of the U.S. Court of Appeals for the District of Columbia Circuit. The hearing was conducted in strict secrecy, with court security placing an entire floor of the courthouse on lockdown to shield the identity of the attorneys involved in the case.
In October, Politico reported that the sealed grand jury subpoena contained a filing from Mueller's team, one of a series of clues linking the subpoena to the special counsel's investigation.
Speculation has swirled on the nature of the investigation, and the identity of the company.
Former White House ethics chief Richard Painter said that the information revealed Tuesday indicated that Mueller was investigating possible Trump violations of the emoluments clause of the Constitution, which bans federal officials from accepting payments and gifts from foreign governments.
"The company that fought to quash the subpoena is owned by a foreign country," tweeted the attorney, quoting from a CNN report on the court's ruling Tuesday.
"That is a giveaway that Mueller is going after foreign emoluments. The Emoluments Clause of the Constitution is there for a reason. It's about time somebody enforces it."