Court Rejects Challenge of Pennsylvania's Post-Election Day Deadline in Blow to Trump's Legal Disputes
The U.S. Court of Appeals for the 3rd Circuit has upheld a lower court's rejection of a constitutional challenge to Pennsylvania's post-Election Day deadline—further adding to President Donald Trump's losses in recent legal disputes challenging the results of the election.
In the decision, the panel of judges stated that the plaintiffs who brought the case—four registered voters from Somerset County, Pennsylvania—lacked standing and upheld the district judge's decision to deny last-minute injunctive relief just before Election Day on the grounds that it would confuse voters and disturb "the settled expectations of voters and election officials."
"Even were we to conclude that Plaintiffs have standing, we could not say that the District Court abused its discretion in concluding on this record that the Supreme Court's election law jurisprudence counseled against injunctive relief," the court documents said.
"Plaintiffs' requested relief would have upended this status quo, which is generally disfavored under the 'voter confusion' and election confidence rationales of Purcell v.
Gonzalez."
Under the Purcell principle cited by the 3rd Circuit court, courts shouldn't change election rules just before an election since that decision could create problems and confusion for both voters and officials administering the election.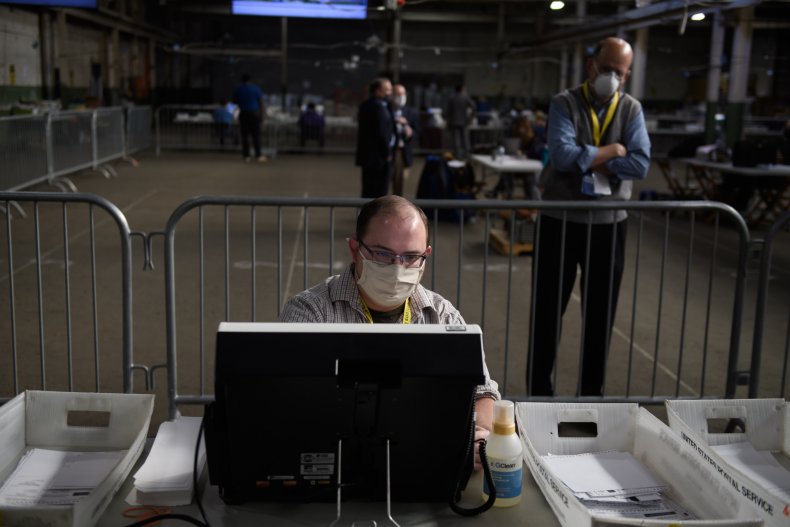 The 3rd Circuit court has a cross section of appointed judges, who were nominated by Presidents Ronald Reagan, George W. Bush and Barack Obama.
The court's decision is a huge loss for Trump, who has has just one success out of over a dozen lawsuits filed by his campaign and allies in various states.
On Friday, Trump lawyers dropped a so-called Sharpiegate lawsuit seeking to review ballots cast on Election Day in Arizona, noting that not enough votes were at stake to overcome the margin of victory. Later that day, a Michigan state judge rejected a Republican attempt to halt the certification of votes in Wayne County, home to Detroit.
Porter Wright Morris & Arthur, the Ohio-based law firm representing Trump in his challenges of Pennsylvania's election results, abruptly withdrew on Friday from a federal lawsuit challenging a vote count, filed on behalf of the campaign.
On Thursday, the Trump campaign won a legal battle in Pennsylvania disqualifying a small number of mail-in ballots from first-time voters who couldn't confirm their identification by November 9. However, these ballots were segregated, along with all other mail-in ballots received after Election Day and postmarked by November 3, and had not been counted. They therefore had no effect on the statewide vote count.
The fate of Pennsylvania's ballots received after Election Day is still uncertain, as a separate constitutional challenge to Pennsylvania's deadline is still pending in the U.S. Supreme Court. Days before the election, the court deadlocked, 4-4, on a request to block a Pennsylvania Supreme Court's ruling that ballots can be accepted after Election Day.
Justice Samuel Alito partially granted a request by Pennsylvania Republicans that late-arriving ballots be segregated from others arriving on or before November 3.