Court Rules Cops Can Sue Seattle Councilwoman for Libel as She Faces Recall Vote
A federal court ruled that police can sue a Seattle city councilwoman who called the shooting of Che Taylor "a blatant murder at the hands of police" ahead of a vote on whether or not to recall her.
Taylor was fatally shot by two police in 2016. Following the shooting, Kshama Sawant spoke to a crowd outside of the Seattle Police Department, calling for "justice."
"The brutal murder of Che Taylor, just a blatant murder at the hands of police, shows how urgently we need to keep building our movement for basic human rights for Black people and brown people," Sawant said.
The councilwoman said the same day, "We need justice on the individual actions and we need to turn the tide on the systematic police brutality and racial profiling.
The two officers who allegedly shot Taylor—Michael Spaulding and Scott Miller—filed a lawsuit against Sawant in 2017 alleging that her comments damaged their reputations, The Seattle Times reported. That lawsuit was dismissed by a federal judge for the fourth time in December 2020.
But last Wednesday, the U.S. Court of Appeals for the Ninth Circuit ruled the officers can sue Sawant for defamation, overturning the 2020 ruling.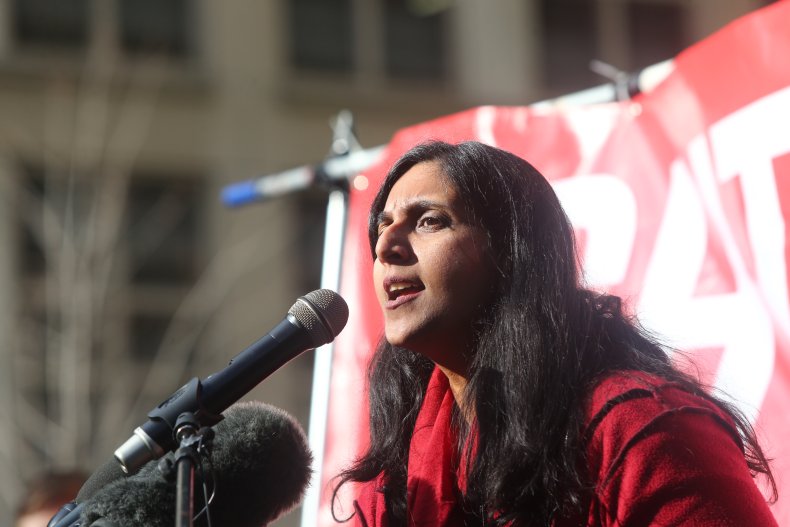 Judge A. Wallace Tashima wrote in the ruling that the appeals court's panel of three judges who heard the case determined that Sawant's "own words suggested that her remarks were directed not only at the police generally, but also at the individual officers involved in the shooting."
Even though Sawant did not name the officers specifically, Tashima wrote that people who heard her remarks knew who she was referring to, the panel ruled.
They wrote that "no reasonable person could conclude" that her comments spoke to broader issues of police accountability, rather than the individual officers involved.
The ruling came just days before voters began receiving ballots in the election that will determine whether or not Sawant remains on the Seattle City Council. The election is scheduled for December 7.
Sawant, the council's only socialist member, began serving in office in 2014.
A resident filed a recall petition against Sawant last year, accusing her of using her position in "violation of the law or has recklessly undermined the safety of others," The Seattle Post-Intelligencer reported.
The charges against Sawant include her allegedly giving Black Lives Matter protesters access to City Hall, leading a march to Seattle mayor Jenny Durkan's home, using city funds to promote a Tax Amazon ballot initiative and firing decisions to Socialist Alternative, according to the Post-Intelligencer.
Newsweek reached out to Sawant for comment Tuesday evening.