Court Rules Man's 'Gunlike Hand Gesture' Was a Criminal Act
A Pennsylvania man has been found guilty of disorderly conduct after making a "gunlike gesture" towards his neighbor.
Stephen Kirchner, 64, of Manor Township, appeared before Pennsylvania Superior Court on Tuesday to hear the verdict for a disorderly conduct case based on a 2018 incident.
According to WGAL, in June of that year Kirchner got into an argument with his neighbor while walking with another woman from the area on the sidewalk. The two exchanged words and then Kirchner "stopped, made eye contact with [the male neighbor] and then made a hand gesture at him imitating the firing and recoiling of a gun," according to the court record.
Other neighbors saw the interaction and one was so concerned that they called 911. Police reported to the scene, took down statements from witnesses and issued a citation to Kirchner for summary disorderly conduct.
Kirchner and the neighbor had an acrimonious relationship for some time. He obtained a no contact order against the woman who was walking with Kirchner in 2018 and installed six security cameras to monitor the exterior of his house.
In court, he argued that he had pointed his finger at the neighbor after the man flipped him the double bird. After reviewing the arguments and the camera footage, the judge found him guilty.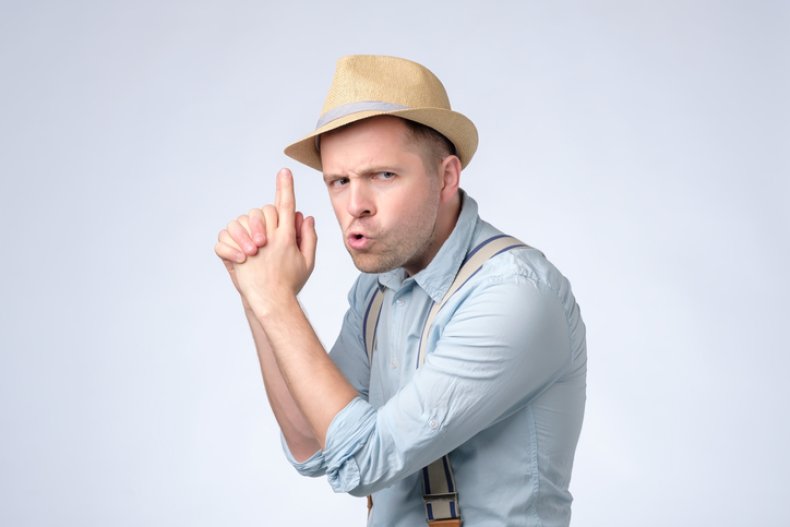 Kirchner and his attorney weren't satisfied with a verdict, and appealed the case to the Superior Court of Pennsylvania.
The district attorney's office released a statement reading, in part, "Kirchner argued on appeal that the gesture did not cause a hazardous or physically offensive condition, that he did not intend to cause public alarm, and that there essentially was no harm done to the victim or society."
The judge disagreed. He upheld the sentence, stating that Kirchner's gesture "served no legitimate purpose, and recklessly risked provoking a dangerous altercation." He was ordered to pay a $100 fine and court costs.
Kirchner's attorney stated that he would not be appealing the charge any further.
The man is not the first to go to court over hand gestures. In 2017, a case went all the way to California's Supreme Court after a gang member named Mario Gonzales made a gun hand gesture at an off-duty police officer who was eating in a restaurant.
Gonzales was arrested for making criminal threats, but his lawyer argued that California's Penal Code §422 only applies "with the specific intent that the statement, made verbally, in writing, or by means of an electronic communication device, is to be taken as a threat," and hand gestures could not be included. The trial court agreed and dropped the charges, but the state appealed.
In appeals court, the judge reversed the decision and ruled that Gonzales could be charged under the code. The state Supreme Court then reversed that ruling, leaving the man free to go.