Court Ruling on Immigration Could Rock Obama, 2016 Race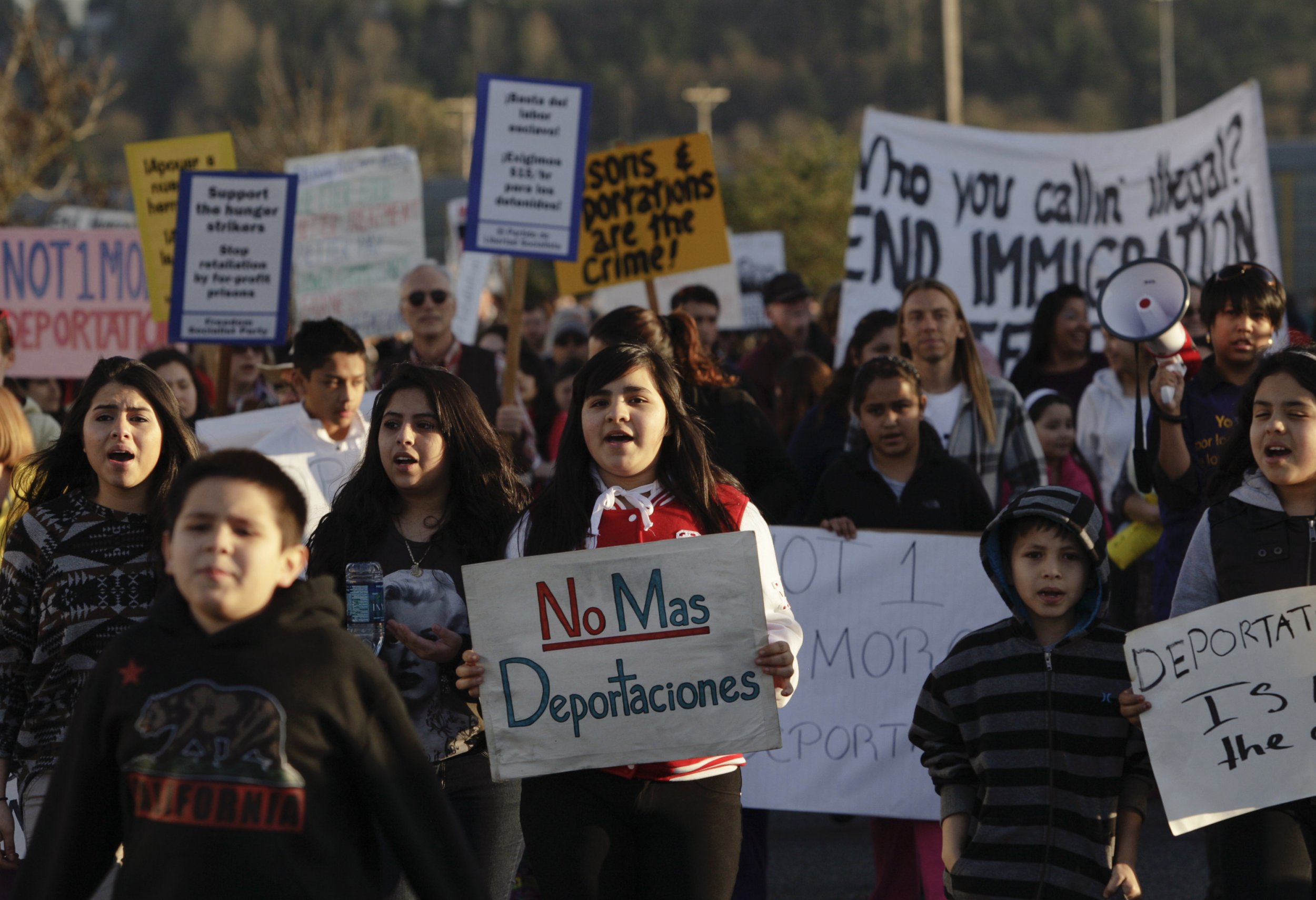 Thanks to a little-watched court case in California, the Obama administration's immigration policy faces a shake-up next week—and the court's ruling could reverberate in the 2016 presidential campaign.
At issue is whether it's legal to essentially lock up women and children who've crossed the border illegally, part of the administration's response to last summer's unaccompanied-minors crisis. Lawyers for some of these families sued the government, and last month, a U.S. District judge in Los Angeles issued a tentative ruling, a summary of which was obtained by Newsweek, stating that the administration policy violates a settlement in a 1997 immigration case, Flores v. Meese.
Judge Dolly Gee gave the two sides 30 days to negotiate an agreement that would lead the U.S. Immigration and Customs Enforcement (ICE) agency to release the minors and their parents from the family detention centers where they are being held. Those 30 days run out on Sunday, May 24.
The judge issued a gag order, so it's "quite difficult to know whether or not there will be a real settlement" by May 25, says Denise Gilman, director of the Immigration Clinic at the University of Texas School of Law, which has advocated the release of the immigrants while they await decisions on their asylum requests. But Gilman says even if the Obama administration and the plaintiffs don't come to a deal, the status quo isn't going to stand. Gee, she says, would then intervene with a solution of her own. And Gee indicated in her tentative ruling that "the most logical solution...is to release the children with their mothers," as Gilman summarized it.
Obama's detention and deportation of hundreds of thousands of undocumented immigrants remains a sore spot for immigrant rights and Latino activists, even after the president granted a reprieve, via executive order, to millions who came to the United States as children and to those who have children who were born here and thus are American citizens. The practice of holding thousands of women and their children—it's just mothers and their kids in these facilities, most of them fleeing dire circumstances in Central America— in fortress-like compounds in Texas and Pennsylvania, some for months on end, has prompted a particularly strong backlash.
Immigrant rights groups have been intensely critical of the practice. In February, The New York Times Magazine had a scathing piece on the treatment of the families staying at the ICE facilities. Earlier this month, hundreds protested in front of the largest family detention site, which was built in Dilley, Texas, last December, calling for it to be shut down. That's helped get the issue onto politicians' radar.
On May 15, Senate Minority Leader Harry Reid issued a statement calling for an end to the practice: "Detaining mothers and their children who are fleeing extreme poverty, persecution, abuse and violence is unacceptable and goes against our most fundamental values." Likely Democratic presidential candidate Martin O'Malley, the former governor of Maryland, went even further, calling for an end to immigrant detentions. They're "cruel, costly and against our values—esp. for families," O'Malley tweeted Friday. "Let's lead with our principles and end them."
Democratic front-runner Hillary Clinton hasn't been quite so emphatic, but she did denounce the practice in her remarks on immigration in Nevada earlier this month, telling a roundtable that "I don't think we should put children and vulnerable people into big detention facilities because I think they're at risk."
ICE did not reply to requests for comment, citing the pending litigation, and neither did the White House. But in the past, the agency has argued that the practice will help deter other undocumented immigrants and also that the mothers are flight risks. The detention centers, ICE insists, are humane and help keep families together. But neither that argument nor reforms announced May 13 to improve oversight and conditions at the centers have placated liberals or activists who want the facilities shut and the undocumented simply monitored to make sure they show up for hearings and court dates. They would prefer the end of detention for all undocumented immigrants, not just those who came as part of the children's wave.
They're hoping Gee, a Bill Clinton appointee, will force the government to wind down its family detention program starting next week, releasing the women and their children and monitoring them to ensure they show up for their court dates and asylum hearings. That would be a return to the administration's practices pre-2014. But they also want more.
Family immigration detention, says Human Rights Watch researcher Clara Long, is "of a piece with policies of detaining people who don't need to be detained," making it harder for them to access lawyers and process asylum claims and generally subjecting them to hardship. Under Obama, the number of undocumented immigrants detained "continue to skyrocket," says Gilman, reaching 440,000 in fiscal year 2013, according to a Government Accountability Office report. Both Long and Gilman hope the spotlight on family detention will extend more broadly to the detention of undocumented immigrants.
And immigrant advocates have no better chance to ramp up the political pressure than during the 2016 election, with both parties eager to court Latino votes. Hillary Clinton will face particular scrutiny, with O'Malley having set the bar for liberals by arguing for an end to all detentions.
The Republican field has had little to say about the practice, which is no surprise. Taking a hard line on illegal immigration is wildly popular among GOP primary voters. But it's a different story in the general election. Religious groups, a key constituency, have been among those protesting family detention. And Republicans will need to close the gap with Latino voters in key states like Colorado and Florida to beat Democrats there. A more flexible stand on detentions is one way to demonstrate some "compassionate conservatism" and would no doubt be well received in those communities, though probably not with the Republican base.