Who Is Courtney Anne Mitchell? Corey Feldman's Wife Doesn't Respond to 'Stabbing'
Corey Feldman's wife Courtney Anne Mitchell did not immediately issue a statement after the actor was hospitalized. The former child star claimed he was stabbed after in Los Angeles' San Fernando Valley. According to TMZ, authorities said there was no evidence Feldman was cut in his abdomen.
Mitchell was in the background in one of the hospital photos Feldman posted to Twitter. She looked distraught as a hospital worker swabbed Feldman's mouth.
Though she didn't immediately responsible to the reported "attempted homicide," Mitchell previously supported Feldman. Days before he went on The Dr. Oz Show in November and accused John Grissom of molesting him in the '80s, Mitchell took to Instagram to support Feldman.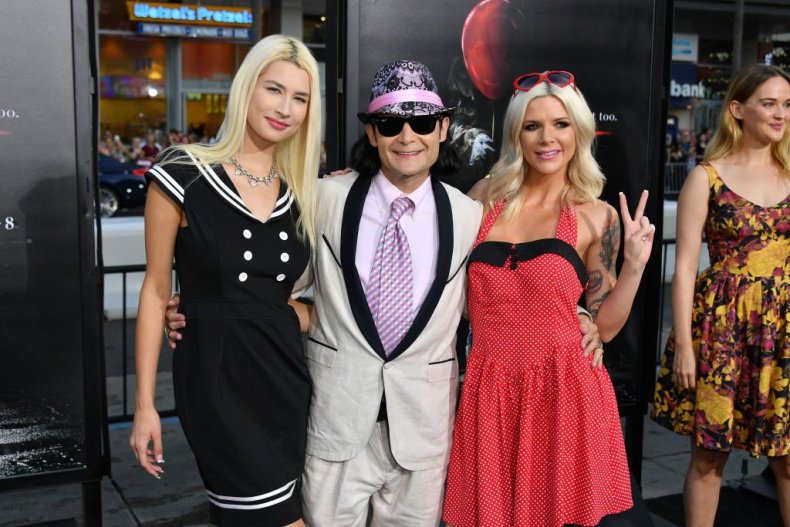 "I am beyond proud of the way my Husband handled the hard hitting questions dolled out by NBC's Matt Lauer yesterday morning," she wrote at the time. "You handled yourself like a pro and put him in his proper place all whilst maintaining your composure. God Bless You for staying true to yourself and not backing down. I am so proud to be by your side as your wife."
For those who are unfamiliar with Mitchell, she plays keyboard in his band, Corey Feldman & the Angels, and is one of his "main angels." Her Instagram is full of food pictures because she's a vegan and nutritional coach, too.
After four years of dating, the couple tied the knot in November 2016 at Caesars Palace in Las Vegas. The nuptials were pretty quick, with Feldman proposing days before they walked down the aisle.
According to Feldman, he knows who is responsible for Tuesday's reported "stabbing": a group called the "Wolfpack." They have reportedly harassed him on various social media platforms.
"IM IN THE HOSPITAL! I WAS ATTACKED 2NITE! A MAN OPENED MY CAR DOOR & STABBED ME W SOMETHING! PLEASE SAY PRAYERS 4 US!" he wrote on Twitter Wednesday. "THANK GOD IT WAS ONLY MYSELF & MY SECURITY IN THE CAR, WHEN 3 MEN APPROACHED! WHILE SECURITY WAS DISTRACTED, W A GUY A CAR PULLED UP & ATTACKED! I'M OK!"
"@LAPD R CURRENTLY INVESTIGATING THE CASE AS AN ATTEMPTED HOMICIDE!" he continued. "I HAVE HAD MOUNTING THREATS ON ALL SM PLATFORMS BY THIS VILE "WOLFPACK" & THIS IM SURE IS A RESULT OF THOSE NEGATIVE ACTIONS! I HAVE REASON 2 BELIEVE ITS ALL CONNECTED! ENOUGH IS ENOUGH! HOW SICK R THESE PPL?!?"
This story has been updated to include that Feldman did not have a laceration on his stomach, like he originally claimed.
Who Is Courtney Anne Mitchell? Corey Feldman's Wife Doesn't Respond to 'Stabbing' | Culture