Courtney Love Supports Depp But Sympathizes With 'Most Hated' Amber Heard
Courtney Love has spoken up in defense of Johnny Depp, claiming he saved her and her daughter's lives.
In a 2-minute video posted to a friend's social media account, Love also sympathized with Amber Heard, saying she knows what it's like to be "the most hated woman in the world."
Depp and Heard's relationship is currently being deconstructed in court as the pair are embroiled in a $50 million defamation case. Depp has accused Heard of causing massive loss of career earnings for him after she posted a 2018 op-ed stating she was the survivor of domestic abuse.
Love doesn't have her own social media accounts so she posted the video on her friend's Instagram story. However, shortly after posting Jessica Reed Kraus, owner of the accounts @houseinhabit, claims she had her Instagram account "taken down." She reposted the full clip on Twitter late on Thursday in a video that has been shared thousands of times with the viewer count still rising.
"I don't really wanna make judgments publicly, but I just want to tell you that Johnny gave me CPR in 1995 when I overdosed outside the Viper Room with Sal. Johnny, when I was on crack and Frances was having to suffer through that with social workers, wrote her a four-page letter that she's never showed me on her 13th birthday. He didn't really know me.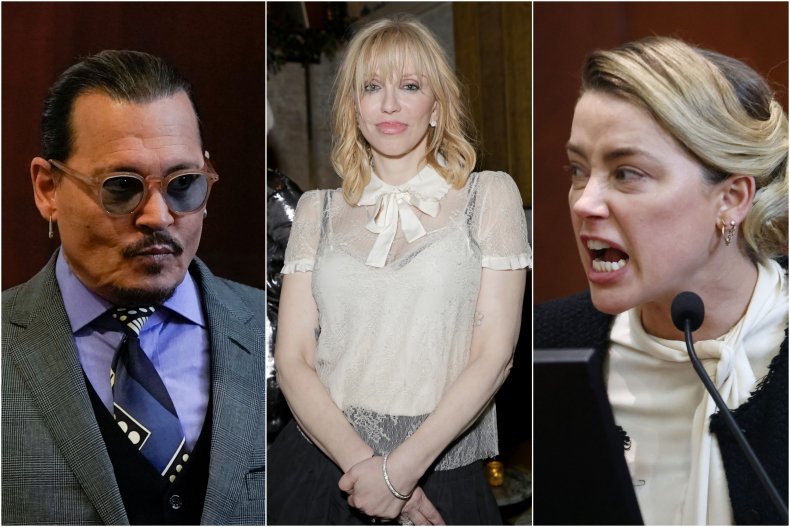 She also described how Depp sent limos to Love's daughter's school when social workers were "crawling around." He sent Frances Bean Cobain, now an artist and model, to see the Pirates of the Caribbean movie.
"You know, she said to me when she was 13, 'mama, he saved my life'. And she said it again," Love said and ended the first part of the video with "I love you."
Love then went on to discuss her thoughts on Heard. While she admitted she can sympathize with her situation, it became apparent that Love doesn't agree with Heard's actions.
"I've been the most hated woman in America. I've been the most hated woman in the world, before TikTok, and it's really a lot of empathy for what that must feel like for Amber. Can you imagine how that feels? Jesus.
"But if you use a movement for your own personal gain, and you inhabit queer feminist intersectional spaces, and you abuse that moment, then I hope justice gets served whatever it is. And I think we should have less schadenfreude and more empathy for all concerned," Love said.
Moving on to a specific detail of the case, Love mentioned a witness from the ongoing Depp v. Heard trial, and divorce lawyer to the stars, Laura Wasser. "Having said that, Laura Wasser would never call TMZ," Love stated.
Love went on to reference recent controversies she had previously spoken out on, in which she feels no one listened to her at the time. "Look, it's not like anybody asked my opinion, and I'm sure you don't. No one ever listens to what I know anyway. Harvey. Britney. What was it Lou Taylor said? 'We don't comment on aliens impregnating people and what Courtney Love says'. So who cares. Bye."
Love was referencing a quote from Britney Spears' spokesperson Louise Taylor who in 2009 reportedly said, "We're not commenting on Courtney Love, or any aliens who might come to Earth to impregnate people." This quote came after Love made severe allegations about Britney's father Jamie Spears.