Courtney Stodden Posts 'Healthier' And 'Fuller' Bikini Photo, Shares Picture of Hailey Baldwin
Reality star Courtney Stodden posted a picture of her fuller figure and shared a photo of model Hailey Baldwin in the same bikini. Stodden noted that it wasn't a comparison or a "who wore it better." She just wanted to show that all body types should be celebrated. Within minutes, the post garnered hundreds of likes and comments.
Stodden, who married Green Mile star Doug Hutchison in 2011, was known for her svelte figure. Over the summer, she started to post pictures of her new voluptuous body and promoted body positivity.
The star gained 20 pounds. "Comparisons are just as toxic as praising and appreciating one body type," Stodden told Newsweek in a statement. "I know what it's like to be thin... and now I know what it's like to be curvy. Both are beautiful. Women need to empower women. It's our duty." She added, "We are ALL supermodels."
Stodden talked about her new figure on Twitter Thursday. "I'm fuller figured ... and I'm happier/healthier," she tweeted. "Stand up for Yourself! You can't expect other people who profess to love you to have your back."
In June, Stodden, 23, released new music. The single "MeToo" reflects on her experiences with sexual assault. "It's an honest look at my own personal experiences with sexual assault at such a young age. I have a voice. And so do you! Comment #metoo if you've shared a similar experience bc misogyny is out of style," she wrote on Twitter at the time.
She sings in part of the lyrics: "There's no escaping uneasy energy/Misyogny is out of style/There's been a breakthrough/Now all I wear is a smile/We're stronger than they ever knew."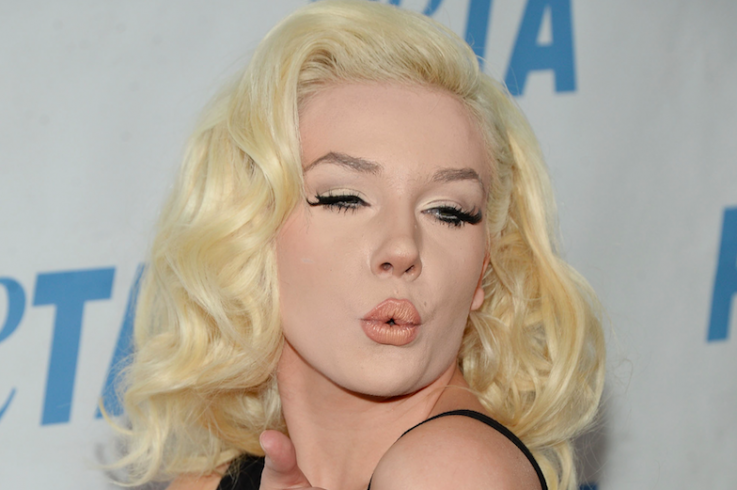 Stodden revealed in March that she was sexually assaulted twice while she was separated from Hutchison. She was 19 at the time. "I didn't really think it was wrong, which is the crazy part. I felt like, 'Okay, well that's how sex is,'" she said on Tomorrow Show with Keven Undergaro.
"You know, I only had sex with one man before that—that was Doug," she said. "So gentle, not to get explicit. But I was like, 'Okay, well maybe that's just a rough way of going on a date.' I really didn't realize it was sexual abuse until I started hearing these women talking. It wasn't until #MeToo started that I was like, 'Wow, maybe that wasn't okay."
"It's really a sad thing, but it happens all the time," she added. "But I am definitely happy that anybody who is a victim of #MeToo is getting heard."
Stodden gained notoriety when she married Hutchison in Las Vegas. He was 51 and she was 16. After splitting and reconciling, Stodden filed for divorce from Hutchison in March.