Courtney Stodden Recounts Marrying Doug Hutchinson Aged 16: 'Exploited'
Courtney Stodden has spoken out about marrying actor Doug Hutchison when they were aged 16 and he was 51, saying they were "exploited."
Stodden, who uses the pronouns they/them, exchanged nuptials with Hutchison in Las Vegas back in 2011, with parental consent.
Per Nevada law at the time, those under 18 could marry with parental consent. With no minimal limit in the state at the time, parental consent and a judge's sign-off was required for under-16s.
Recounting the experience in an appearance on the latest episode of the Call Her Daddy podcast, Stodden, whose divorce from the Lost actor was finalized in 2020, told host Alexandra Cooper that their relationship started over email.
Things progressed quickly, said Stodden, now aged 27, with Hutchison convincing their parents that they should get married one week after they met in person.
Speaking of their mother, Krista Keller, Stodden said, per Yahoo News: "My mom has gotten a lot of hate, and I understand why. If I ever have a baby and I'm raising that baby, from my own experiences, I would never sign my kid off, ever, to an adult man, who is 34 years older.
"There is just no way that would happen. But I think she thought she was doing something that was going to make me happy, truly, I really do believe that. In retrospect, she knows it was the wrong decision."
Celebrity Big Brother star Stodden said Hutchison first made contact with them to give them acting advice. Stodden went on to state that they truly believed they were in love with the actor.
Once they got married, however, singer Stodden accused Hutchison of becoming "extremely emotionally abusive" and physically abusive.
"I think that's the ultimate power a groomer has over a child, that emotional abuse and control," said Stodden. "I feel like I didn't even have control over my own body, my own finances."
Getting emotional during the interview, Stodden said that they are still healing and going through therapy, stating: "It's very, very fresh for me."
"When I go to sleep my dreams are so normal and then I wake up my life is so freaking insane," said Stodden. "I just like to sleep most of the day."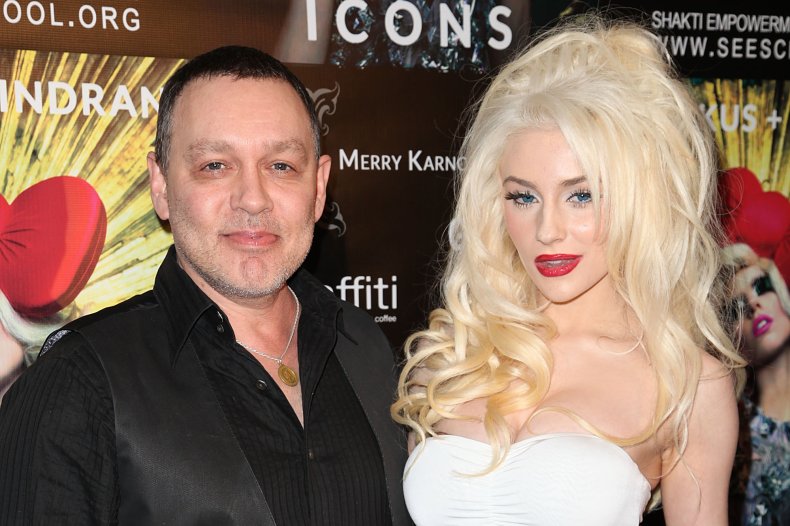 Amid all of the public attention that came with the relationship, Stodden shared that they developed a drinking problem, eating disorder and poor body image.
"You see yourself from every angle in the media and it completely shattered me," they said. "So I had my breasts done right when I turned 18. ... I wanted to be the woman everyone expected me to be."
The implants have since been removed, with Stodden explaining: "I loved having them, I'm not against plastic surgery. If you want to do something to your body that is your freaking choice, but my back feels like a 90-year-old woman."
After stating that hundreds of thousands of underage children married adults in the U.S. between 2000 and 2018, Stodden disputed the "child bride" tag that was assigned to them during their relationship with Hutchison.
"I was not a child bride. I was a child who was exploited," Stodden stated. "I think that is something that people should think about."
Child marriage is defined as a situation where one or both of the parties to the marriage are below the age of 18, and is currently legal in 44 states. About 248,000 children were married in the U.S. between 2000 and 2010, according to the Equality Now website, with vast majority being girls marrying older men.
Stodden, whose engagement to entrepreneur Chris Sheng was announced last May, spoke about the way their marriage to Hutchison altered the course of their life in a 2020 Instagram post, while celebrating their 26th birthday.
"Ten years ago, I turned 16," they wrote at the time. "Nothing could have prepared me for what was around the corner. I had a child's mind, a teenager's body, and I was a virgin.
"However, it appeared to everyone around me that I was a woman who was grown and able to make my own choices. According to many, I was 'mature' enough to date men my father's age (or older), and eventually marry one."
Newsweek has contacted a representative of Hutchison for comment.