COVID Vaccine Effectiveness After First Dose and How Long It Takes to Build Immunity
How effective is a single dose of the COVID-19 vaccines that are currently available in the United States? And how long does it take to build up maximum immunity after receiving the shots?
Both the Pfizer-BioNTech and Moderna vaccines appear to provide some protection after the first dose. But their headline efficacy ratings are only based on assessments of people who have received two shots.
Pfizer-BioNTech
Clinical trials evaluating the Pfizer-BioNTech vaccine, which requires two shots given 21 days apart, reported an efficacy of 52 percent after the first dose.
In a large-scale Phase III trial, participants were given either two full doses with a 21-day interval or a placebo.
A study published in the New England Journal of Medicine detailing the results reported 39 cases of COVID-19 in the vaccine group and 82 in the placebo group, suggesting an efficacy of 52 percent between the first and second dose.
The vaccine only provides maximum protection "seven or more" days after the second dose is administered.
Clinical trials have shown that after this second dose, the Pfizer-BioNtech vaccine reduces an individual's risk of developing COVID-19 by around 95 percent.
In addition, trial data indicates that the first dose only begins to provide some form of protection after around 12 days.
Other experts have provided different estimates for the vaccine's efficacy after the first dose but these figures have been calculated in different ways to the one provided by the clinical trial researchers.
For example, the U.K.'s Joint Committee on Vaccination and Immunisation (JCVI) calculated that the Pfizer-BioNtech vaccine's short-term efficacy was 89 percent between days 15 and 21 after the first dose.
This calculation did not take into account the time period when the first dose hadn't begun to work, unlike the figure provided in the clinical trials.
But Sheila Bird, a biostatistician from Cambridge University, said in a statement that while there appears to be "some protection against COVID-19 disease following one dose," the available data does not "provide sufficient information about longer-term protection beyond 28 days after a single dose."
The graphic below, provided by Statista, shows the countries with the highest rate of COVID-19 vaccination.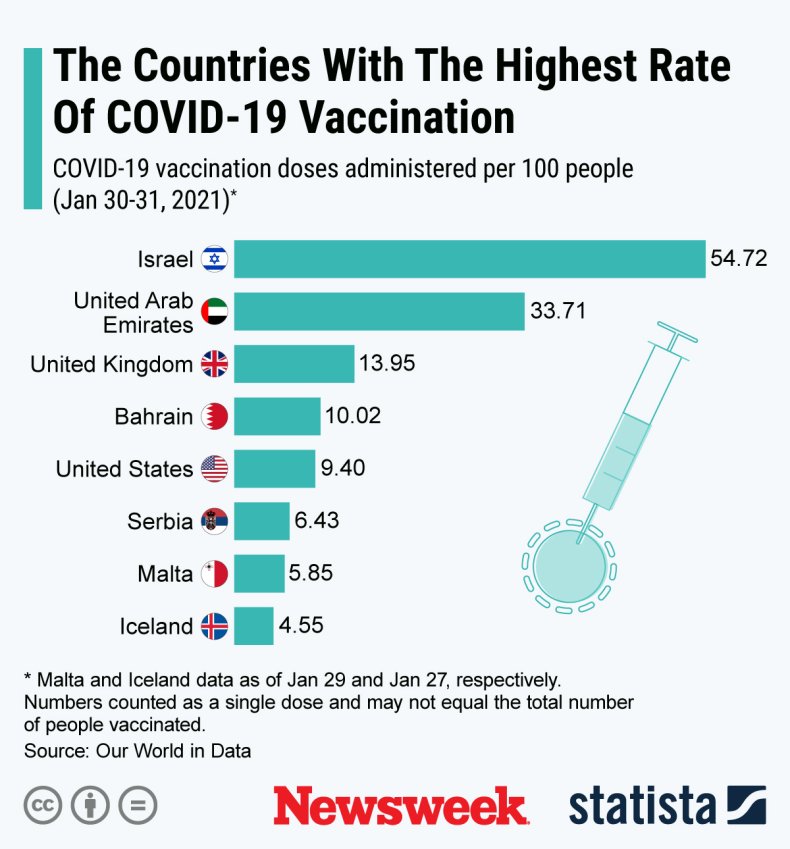 In addition, a paper posted to the pre-print server medRxiv on January reviewing real-world data from Israel's world-leading vaccine rollout has provided more data on the Pfizer shot's efficacy after one dose—although the study has yet to be peer-reviewed so its findings should be viewed with caution.
The researchers concluded that the vaccine was 51 percent effective against SARS-CoV-2 infection 13-24 days after immunization with the first dose.
But Ben Poole, a research scientist at Google Brain, reanalyzed the data provided in the study, suggesting that protection was actually significantly higher after the first dose.
"One dose of the mRNA COVID-19 vaccine may reduce infections by greater than 75 percent, not just 50 percent," Poole tweeted. "The study averages effectiveness over days 13-24, but reanalyzing the data shows greater effectiveness after 20 days. Great news for vaccines!"
Moderna
The Moderna vaccine, which requires two doses spaced 28 days apart, has an efficacy of 94.5 percent against COVID-19 at least 14 days after the second dose was given, clinical trials have shown.
Unlike Pfizer-BioNTech, Moderna actually conducted an additional analysis in their clinical trials among a subset of participants to assess the efficacy of their vaccine after only one dose.
According to a U.S. Food and Drug Administration (FDA) document, reviewing the clinical trial data, vaccine efficacy after one dose was around 80 percent, with a median follow-up time of 28 days.
But the FDA said the small, non-random sample and short median follow-up time "limits the interpretation of these results."
"There appears to be some protection against COVID-19 disease following one dose; however, these data do not provide sufficient information about longer term protection beyond 28 days after a single dose," the FDA document says.
A similar analysis was conducted to look at the vaccine's efficacy against severe COVID-19 after one dose, which appears to be around 90 percent. But again, these findings should be interpreted cautiously due the small sample size and short follow-up duration.