Media Scrum in San Bernardino Provokes Backlash: #Thisisn'tjournalism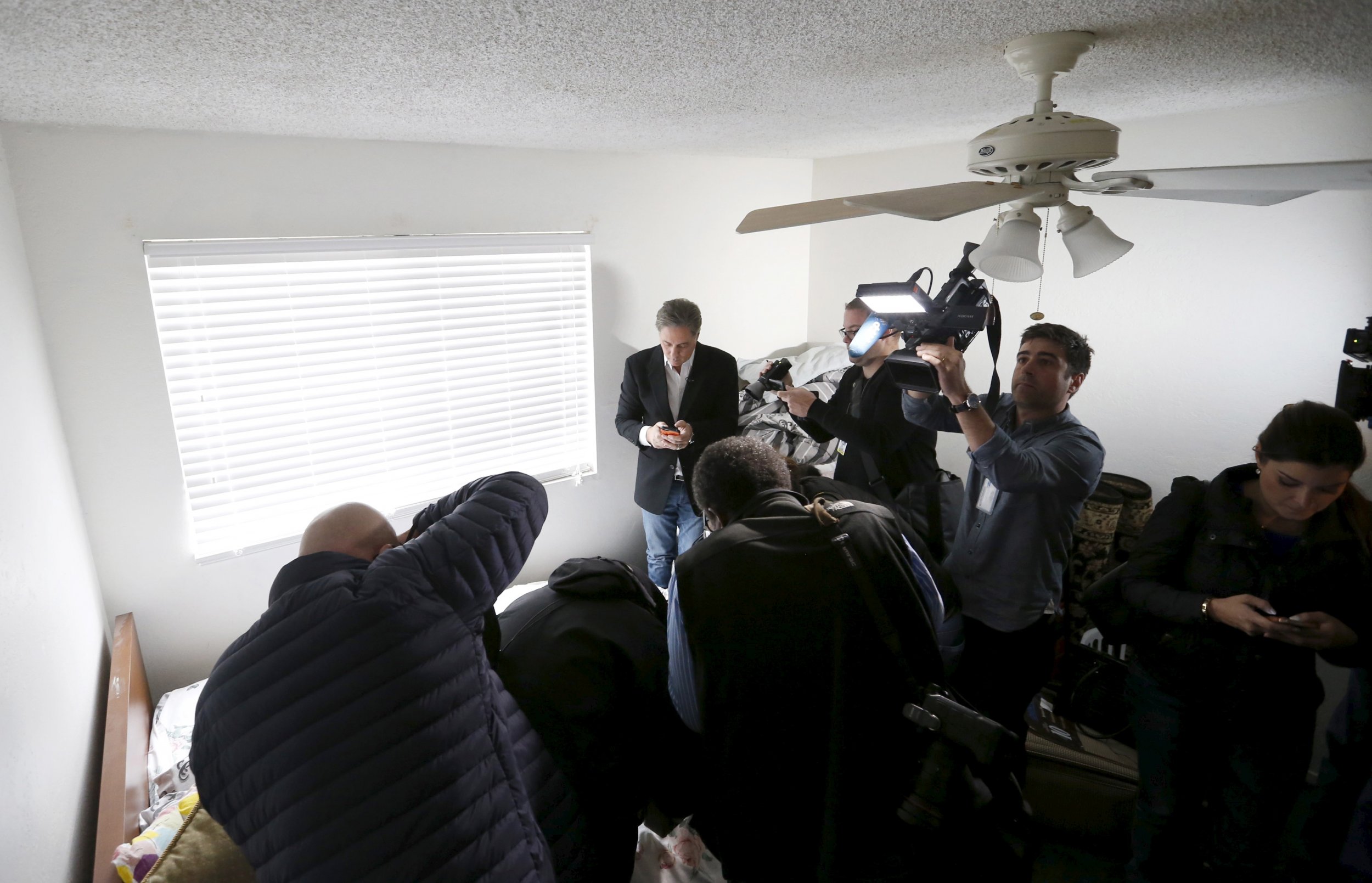 In the award-winning film Nightcrawler, Jake Gyllenhaal plays a freelance TV news cameraman who uses extreme (well, crazy) methods to get footage of crime scenes, stepping on the toes of law enforcement, first responders, victims and decency itself. The movie was an indictment of the principle, "If it bleeds, it leads." The critical consensus: a great film, a great story, a great allegory, but come on...that would never really happen in the news-gathering business, right?
Well, when TV camera crews from various cable channels on Friday entered the apartment of the shooters who killed 14 people on Wednesday in San Bernardino, California, reality got pretty close to the film version. Journalists from MSNBC, CNN, Fox and others broadcast, among other things, a baby's bedroom (the shooters were a married couple with a newborn), family photos and documents identifying people who weren't suspects in the attack. They took viewers on a tour of what some contended was a crime scene in an ongoing investigation. By some reports, it was the couple's landlord who let in the camera crews (and field correspondents).
Now that the San Bernardino scrum is over and the weekend has arrived, the reporting from the shooters' apartment has prompted a significant backlash from...other members of the media. If there's one thing newspeople like to talk about, it's other newspeople, and the Internet has not disappointed in this case.
The indignation was not limited to social media. The Atlantic published an article with the headline, "What the hell just happened on MSNBC and CNN?" NPR joined the post-scrum scrum with an article that seemed to critique the journalists at the scene, but ultimately turned the question back on viewers with a hot take that some might call "fair and balanced":
Ultimately, these events don't make anyone look good. Does the public have an insatiable appetite for the type information that journalists sometimes go to discouraging lengths to gather?

Is everyone involved — reporters, social media observers and the general public — too quick to judge in these types of breaking news events? Do trending hashtags like #MSNBC or #MuslimApartment do anything to solve whatever problems might lie under the surface of Friday's events?

At least right now, it's hard to tell.
Ultimately, these news stories about other news stories don't make anyone look good. Does the media have an insatiable appetite for competition that leads to insane breaking coverage and after-the-fact, self-referential critiques?
Is everyone involved—reporters, social media observers—too quick to judge the intelligence and attention span of the public and preclude the possibility of profitable content that doesn't resemble Nightcrawler? Do trending hashtags like #thatisn'tjournalism do anything to solve the problems underlying sensationalist news coverage?
At this moment, at least, it's hard to tell.
Take it away, Glenn.