My dad was a tattoo artist, he started in 1969. So I've been around the tattoo industry since I was a child. He opened the first tattoo shop in Mobile, Alabama in 1978, and from the age of around six years old I'd help him price tattoos for people.
I've now been a body piercer for more than 20 years, and a tattoo artist for nearly 12 years. I've tattooed and pierced all over the U.S., and even in Argentina where my mom's family is from. I currently live in Murray, Kentucky where Gallery X Art Collective is based—and where we do the "Cover The Hate" project.
Gallery X Art Collective has been open for about a year. It's owned by Jay Harvill, and myself and Jeremiah Swift are tattoo artists there. We had been quarantined, like the rest of America and the world, and all of the protests had been happening. I was moved by the people who were protesting for George Floyd and the cause of racial equality in general.
On our first day back at the shop in early June, I told Jay that I felt this was a really powerful moment and that we needed to be a part of it. I'd noticed a social media post from a tattooer saying he wanted to cover up racist work for his clients, and I told Jay that that was what I wanted to do.
Straight away, Jay said that he and Jeremiah had already been talking about it and Jeremiah wanted to do that too. It was there in the air; the influence of what was happening around us. And that's how the "Cover The Hate" project started.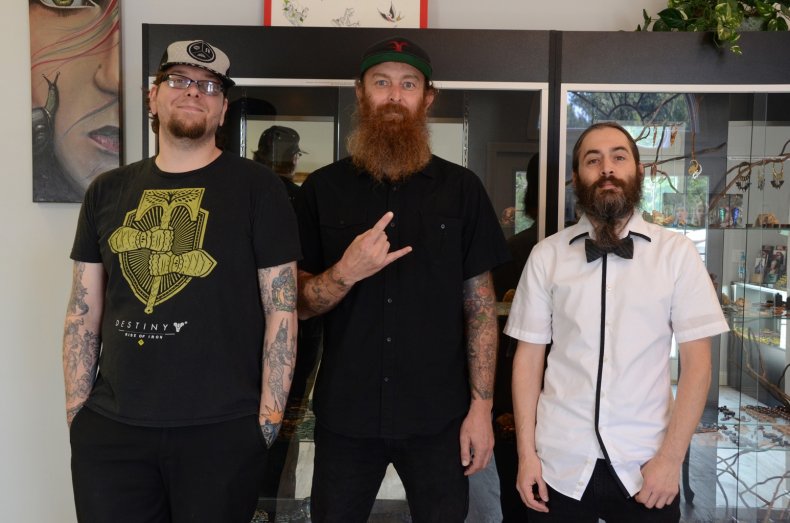 We've been really lucky and blessed that Jay's a really good guy and he's 100 percent on board—even though we're not making money from it, he's paying for the supplies, and we are trying to reschedule tattoo appointments that were missed because of COVID-19. But it's a national and international movement, and this is just our small part of that.
The response has been overwhelming. We announced the "Cover The Hate" project on a Facebook post on June 7 and it received more shares, likes and comments than the whole previous month of our social media posts. We were blown away and then we looked at our messages on Facebook—there were hundreds.
We had no idea this would happen. We're very involved in the community and we tattoo all sorts of people, from the police to all the locals, so we just thought we would offer it to our community, to our people here in Murray.
But we've now had a girl who drove nine hours to get here and have a racist tattoo covered. And I had a message from a woman in South Africa who said that she'd love to take us up on this amazing offer if we're ever there. We've been contacted by people in New York, Florida and California, some just thanking us for what we're doing. There are so many people willing to change, it's incredible.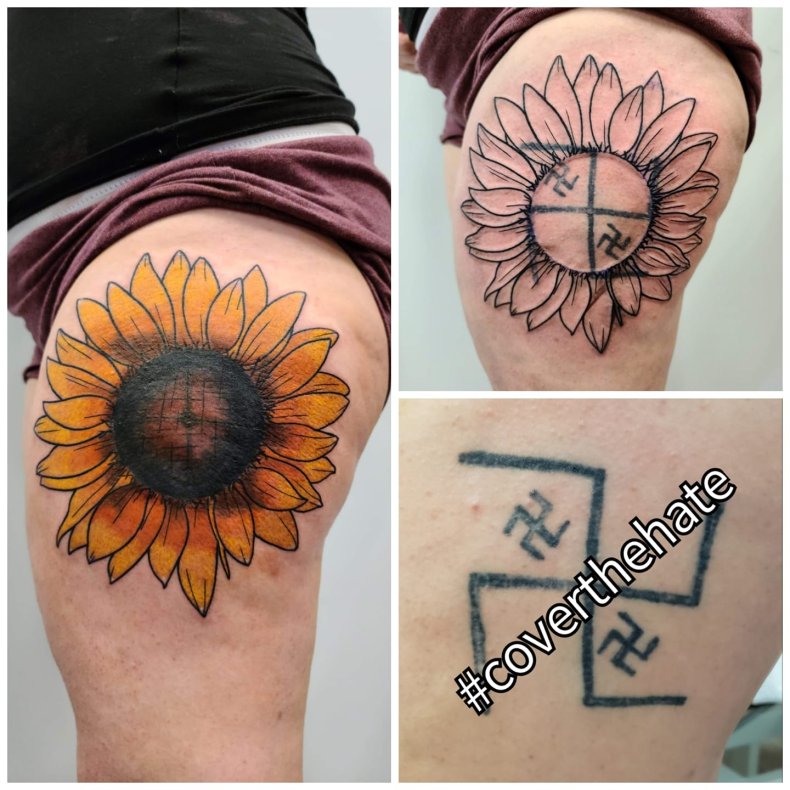 A lot of people have a tattoo of the Confederate flag that they want covered up. We've had people message with SS bolts, Iron Crosses and Iron Eagles, and we've heard from a ton of people who have swastikas. I covered a swastika for a client where it spanned her thigh. I think she had it done at around 16 and was trying to impress somebody—her boyfriend liked it and thought it was cool.
We were contacted by a 69-year-old woman who said she's had a racist symbol as a tattoo for 45 years, even though she was never actually racist. And now she's run out of excuses to tell her grandkids why she can't go to the beach or the water park or the swimming pool. You'd never think it was a 69-year-old grandma who wanted to have a racist tattoo covered—you'd think it would be a 40-year-old biker or a 30-year-old country boy.
Of course, we have had people who really do know the meaning behind the symbols. We've been contacted by a few people who were in prison for a long time, and had a racist tattoo done to fit in there, when they never believed in it. We were also contacted by a gentleman who told me he'd had a racist tattoo for 40 years but he hadn't been a racist for 20 years.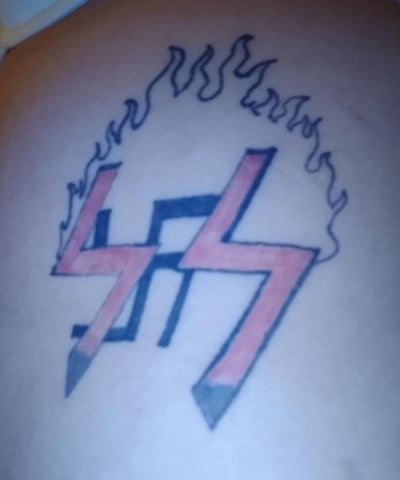 That was the first time I felt really moved, just trying to wrap my head around being racist for that long and then having changed your mindset for so long and still having that patch of shame—he has a swastika tattoo—that you can't get rid of.
So far, we have done as many as we physically can—because of the amount of rescheduling we've had because of COVID-19—and we're not planning on stopping. The shop owner Jay is insanely generous, and we now have distributors like Ultimate Tattoo Supply and Tattooderm who are helping us by supplying some needles, ink and aftercare free of charge, and there are other shops on board—here in Kentucky and across Indiana and Tennessee—where we send people when we can't get to them right away.
It does dip into your pocket when you're a business, but our belief is that if you can help, then do help. Murray has been called "the friendliest town in America" and people from every race and background in the community here have reacted positively to what we're doing. We have the Murray State University (MSU) here, so we have international students from around the world. The MSU basketball coach even came into the shop, said thank you to us and offered a donation to the project.
We are a small part of the global movement that is trying to eradicate hate and racism, and what we're doing is through skin art, through that platform. But we hope we're adding a puzzle piece to that larger puzzle of connecting everybody. I'm hoping, we all are, that more shops will get on board. I'd like free cover ups for racist tattoos to be a shop policy everywhere.
I think racism has been in our country for a long time, but people are becoming more educated and informed. It's 2020 now, the year of clarity, our eyes are open as a nation, and people are ready to move past this. What we're doing is a tiny little part, many other people are doing much more. But if you can change one person's life? Well, that's something you can put on your tombstone.
I've always been the kind of tattoo artist and piercer who has felt like one day I'll have my shot and blow people away with my work. But after we did our first "Cover The Hate" tattoo cover up, I just felt that this is what I'm here to do. It gives me such a sense of accomplishment. I can do the perfect tattoo and pat myself on the back ten times, but that thank you from the first woman we helped—it's going to stick with me forever.
To be able to help people move past racism, and help them change on that personal level, there's nothing I've ever experienced like it. It's enriching, satisfying and it makes me feel like I'm able to make a difference.
Jay, Jeremiah and I all feel that way, it feels amazing.
Ryun King is a tattoo artist and piercer working at Gallery X Art Collective in Murray, Kentucky. Along with Jay Harvill and Jeremiah Swift, King started the "Cover The Hate" project to offer free cover ups to anyone wanting to cover a racist tattoo.
All views expressed in this article are the writer's own.
As told to Jenny Haward.