COVID-19 U.K. 'Second Wave' Could See Partial Lockdown Last for Six Months
Prime Minister Boris Johnson has outlined a range of new lockdown measures to fight the so-called "second wave" of COVID-19 infections taking place across the U.K, measures he says could last for six months.
Johnson told the country that pubs and hospitality venues would have to close at 10pm from Thursday and that people should work from home if they can. It marks a sharp turn from previous government advice, which encouraged workers to return to offices again as the government tries to help the economy recover.
Johnson said that the U.K. was at a "perilous turning point" and that the government had to act.
He said: "If we can curb the number of daily infections and reduce the reproduction rate to 1, then we can save lives, protect the NHS and the most vulnerable, shelter the economy from the far sterner and more costly measures that would inevitably become necessary later on."
The prime minister also announced that the hospitality sector would be restricted to table service only and also said that the requirement to wear face masks would be extended to staff in the retail and hospitality sectors.
Rules designed to prevent a gathering of more than six people will also be amended, meaning that from Monday only fifteen people can attend weddings.
From October 1, the plan to ease the rules for sports events will also be suspended.
However, Johnson was keen to emphasis that the new measures do not mark a return to full lockdown, but that the government would go further if necessary.
Labour leader Sir Keir Starmer said his party supported the government's measures but that a second national lockdown would be a "failure of government".
It comes after England's Chief Medical Officer Chris Whitty and the government's Chief Scientific Adviser Sir Patrick Vallance warned that the rate of infection in the country is headed in the "wrong direction".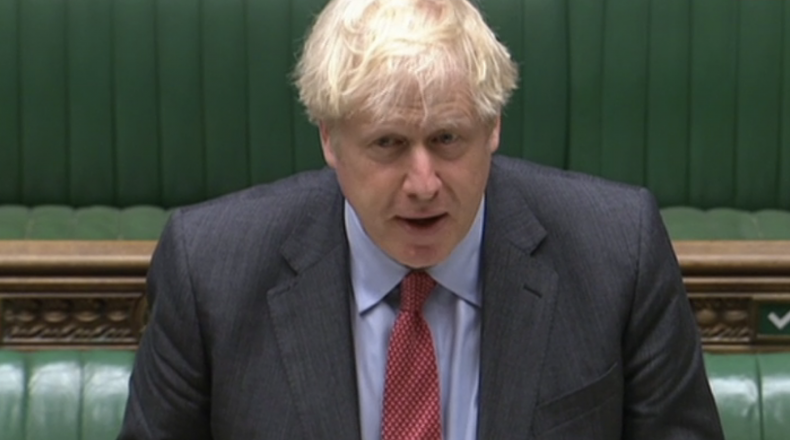 The pair said that there could be as many as 50,000 new COVID-19 cases a day in just three weeks with deaths increasing by the thousands if nothing is done to stop the spread of the virus.
On Monday 4,368 new cases of coronavirus were reported in the U.K. - an increase from 3,899 on the day before.
David Heymann, an infectious disease epidemiologist and professor of infectious disease epidemiology at the London School of Hygiene and Tropical Medicine told Newsweek what was being described as a second wave of the infection, was better described as a resurgence of the virus.
He said: "Wave is a term that is used in influenza and where there's a wave that means that's it not controllable, it just goes into the community and spreads rapidly.
"This virus doesn't spread in that manner. It causes a resurgence, it can occur in a group of people who are exposed, it can occur in people who are being exposed regularly but it doesn't cause waves as does influenzas, it just goes through the entire population."
Asked what he thought of Boris Johnson's new lockdown measures, Prof. Heymann said that epidemiologically it was important to socially distance to stop the spread of the virus and that nightclubs and bars had been shown to be a source of infection in every country.
"If the U.K. is convinced that transmission is occurring in public spaces then they need to do some sort of remedial action to make sure that transmission doesn't occur there," he said.
With no concrete idea of when a vaccine will become available, Prof. Heymann thinks that the best we can do is to learn to live with the virus.
"I think we can learn to live with this virus today the way we learnt to live with other infections, whether it's been HIV which emerged many, many years ago or whether its Tuberculosis which also emerged in the animal kingdom. We need to learn how to live with this virus and that includes having people understand how to do their own risk assessments and understand how they prevent themselves getting infected and how they protect others from getting infected as well."
"There is a consensus now that most countries will have to learn to live with the virus because there will not be a vaccine that will be equitably distributed just because of the fact that there's not the production capacity to produce it within the coming year or so."
Health Secretary Matt Hancock has said that he was in no doubt that the spread of the virus is accelerating.
Speaking in the House of Commons, he said: "As the chief medical officer and the chief scientific adviser said earlier, we're seeing a rise in cases across all age groups.
"This pattern is emerging across the entirety of our United Kingdom and earlier this afternoon the Prime Minister held discussions with the first ministers of the devolved administrations and the deputy first minister of Northern Ireland to make sure that, wherever possible, we are united in our efforts to drive this virus down.
"We know that the epidemic is currently doubling around every seven days and that if we continue on this trajectory we could see 50,000 cases a day by mid-October, so there can be no doubt that this virus is accelerating."