COVID-19 Linked to Changes to the Brains of Some Sufferers, Scientists Warn
The coronavirus has been linked to brain dysfunction in patients with severe COVID-19, according to research.
The research letter published in the New England Journal of Medicine involved a small sample of 58 COVID-19 patients treated at two intensive care units (ICUs) at France's Strasbourg University Hospital between March 3 and April 3, 2020.
The participants—who were aged 63 on average—had acute respiratory distress syndrome (ARDS), a life-threatening complication of COVID-19 where the lungs are unable to provide the vital organs with sufficient levels of oxygen.
Seven of the participants had neurological disorders in the past, including a mini-stroke, partial epilepsy and mild cognitive impairment.
Of the total patients, eight had experienced some form of neurological problem before they were hospitalized, and 39 when sedation and muscle relaxants were withheld. Forty patients became agitated when muscle relaxants were discontinued, and a further 26 experienced confusion, according to a measure used by the team.
In 39 patients, problems with a part of the brain involved in movement were reflected in involuntary muscle spasms on the ankle, "enhanced tendon reflexes" and their toes fanning instead of curling when given a reflex test.
When the authors wrote their letter, 15 of the 45 patients who had been discharged had what is known as dysexecutive syndrome, where their executive functions were disrupted. They felt either disorientated or found it hard to follow commands when asked to make certain movements.
The clinicians performed MRI brain scans on 13 patients, and found abnormalities including inflammation of the lining of the brain and breakdown of the normally tight blood-brain-barrier in eight, and a loss of blood flow in all 11 who had a special type of imaging. Two asymptomatic patients had mini-strokes, the authors said.
The team said it was not clear whether the patients had these problems because of the coronavirus itself, the body's response to infection, or the effect and or withdrawal of medication.
Professor Cris S. Constantinescu of the Division of Clinical Neuroscience at the U.K.'s University of Nottingham Queen's Medical Centre, who did not work on the article, told Newsweek the research "shows that a substantial proportion of people with severe COVID-19 leading to ARDS have neurological problems."
Constantinescu pointed out the issues mostly affected the entirety of patients' brains, and were non-localizing. This indicates that the dysfunction cannot be traced to a specific side or part of the brain.
The letter "adds to the evidence of neurological manifestations of COVID-19 and suggests that those who recover need to be monitored for neurological abnormalities, including possible cognitive deficits. This will also determine whether the deficits reported here are transient," he said.
However, Constantinescu added: "Although this series is substantial, it is limited to severe cases who develop ARDS and are admitted to intensive care.
"Some of the aspects may not be COVID-19 specific, as ARDS of other causes, intensive care stays, and sedation all can contribute to encephalopathic features."
Constantinescu concluded: "Longer-term follow-up studies in people who recover after COVID-19 of various levels of severity will be important."
The letter comes as experts learn about the characteristics of COVID-19 disease caused by the new coronavirus, which was first identified in the Chinese city of Wuhan late last year. According to Johns Hopkins University, more than two million COVID-19 cases have been confirmed, almost 138,500 people have died, and more than 525,800 are known to have survived. As the Statista below shows, the U.S. is the hardest-hit country in terms of cases.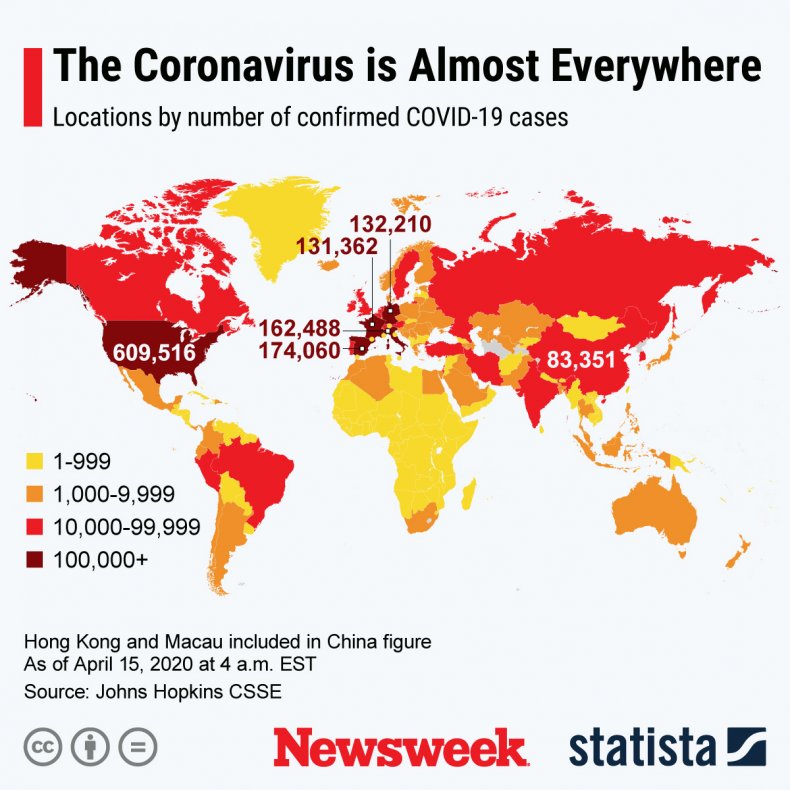 On Monday, a separate team of researchers at the University of California San Diego asked whether we are facing a "crashing wave" of neuropsychiatric conditions linked to COVID-19 in a pre-proof article published in the journal Brain, Behavior, and Immunity.
Neuropsychiatric conditions are mental illnesses linked to disease affecting the nervous system, and can range from depression and anxiety to addictions and seizures. They wrote that "the COVID-19 pandemic is a significant source of psychological distress globally." What's more, the virus itself and the immune responses it triggers "may also directly affect brain and behavior." Past pandemics have been linked to neuropsychiatric conditions, they said.
"COVID-19 is projected to affect a remarkably high proportion of the global population, which is unprecedented for a virus with such case fatality and infection rates in modern medicine. Nevertheless, the neuropsychiatric burden of this pandemic is currently unknown, but likely to be significant," the team wrote.
Earlier this month, doctors reported what was thought to be the first known case of a person experiencing brain damage linked to COVID-19 in the journal Radiology.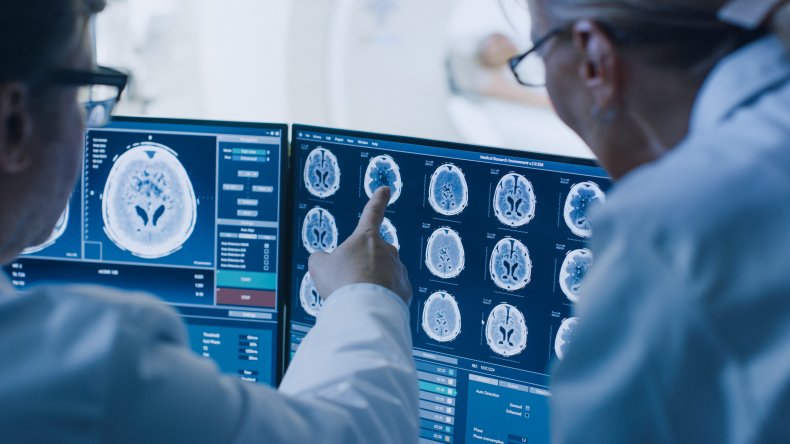 Centers for Disease Control and Prevention Advice on Using Face Coverings to Slow Spread of COVID-19
CDC recommends wearing a cloth face covering in public where social distancing measures are difficult to maintain.
A simple cloth face covering can help slow the spread of the virus by those infected and by those who do not exhibit symptoms.
Cloth face coverings can be fashioned from household items. Guides are offered by the CDC. (https://www.cdc.gov/coronavirus/2019-ncov/prevent-getting-sick/diy-cloth-face-coverings.html)
Cloth face coverings should be washed regularly. A washing machine will suffice.
Practice safe removal of face coverings by not touching eyes, nose, and mouth, and wash hands immediately after removing the covering.
World Health Organization advice for avoiding spread of coronavirus disease (COVID-19)
Hygiene advice
Clean hands frequently with soap and water, or alcohol-based hand rub.
Wash hands after coughing or sneezing; when caring for the sick; before, during and after food preparation; before eating; after using the toilet; when hands are visibly dirty; and after handling animals or waste.
Maintain at least 1 meter (3 feet) distance from anyone who is coughing or sneezing.
Avoid touching your hands, nose and mouth. Do not spit in public.
Cover your mouth and nose with a tissue or bent elbow when coughing or sneezing. Discard the tissue immediately and clean your hands.
Medical advice
Avoid close contact with others if you have any symptoms.
Stay at home if you feel unwell, even with mild symptoms such as headache and runny nose, to avoid potential spread of the disease to medical facilities and other people.
If you develop serious symptoms (fever, cough, difficulty breathing) seek medical care early and contact local health authorities in advance.
Note any recent contact with others and travel details to provide to authorities who can trace and prevent spread of the disease.
Stay up to date on COVID-19 developments issued by health authorities and follow their guidance.
Mask and glove usage
Healthy individuals only need to wear a mask if taking care of a sick person.
Wear a mask if you are coughing or sneezing.
Masks are effective when used in combination with frequent hand cleaning.
Do not touch the mask while wearing it. Clean hands if you touch the mask.
Learn how to properly put on, remove and dispose of masks. Clean hands after disposing of the mask.
Do not reuse single-use masks.
Regularly washing bare hands is more effective against catching COVID-19 than wearing rubber gloves.
The COVID-19 virus can still be picked up on rubber gloves and transmitted by touching your face.