One Fifth of English People in Study Blame Jews or Muslims for COVID-19
Nearly half of people in England believe in conspiracy theories about COVID-19, according to a survey carried out by psychologists at the University of Oxford, with nearly 20 percent agreeing separately that either Jews or Muslims were responsible for spreading the virus.
In a survey of over 2,500 people, almost half of those questioned endorsed to some degree the idea that "COVID-19 is a bioweapon developed by China to destroy the West" and around one-fifth endorsed to some degree that "Jews have created the virus to collapse the economy for financial gain".
Nearly 20 percent of those asked also agreed to some extent with the statement that "Muslims are spreading the virus as an attack on Western values."
Approximately 59 percent of adults in England believe to some degree that the Government is misleading the public about the cause of the virus and 62 percent agree to some extent that the virus is man-made, according to the study.
The research suggests that people who believe in COVID-19 conspiracy theories are less likely to comply with government guidelines on social distancing rules, thereby "contributing to the spread of the disease."
The authors of the study write: "In England, there is appreciable endorsement of conspiracy beliefs about coronavirus.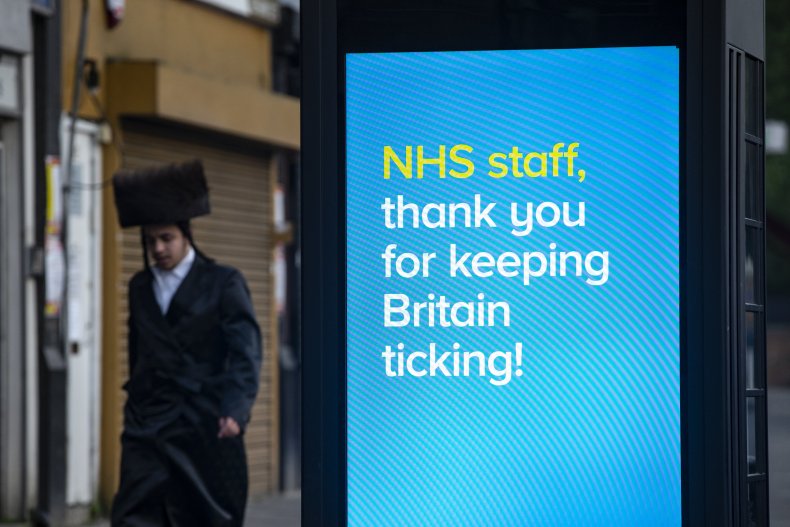 "Such ideas do not appear confined to the fringes. The conspiracy beliefs connect to other forms of mistrust and are associated with less compliance with government guidelines and greater unwillingness to take up future tests and treatment."
Those who share beliefs about conspiracy theories were also more likely than not to distrust institutions and professions.
The study states: "Higher levels of coronavirus conspiracy thinking were associated with less adherence to all government guidelines and less willingness to take diagnostic or antibody tests or to be vaccinated.
"Such ideas were also associated with paranoia, general vaccination conspiracy beliefs, climate change conspiracy belief, a conspiracy mentality, and distrust in institutions and professions.
"Holding coronavirus conspiracy beliefs was also associated with being more likely to share opinions."
However, the study also found that approximately 50 percent of the population showed little evidence of conspiracy thinking, with 25 percent showing a degree of endorsement, 15 percent showing a consistent pattern of endorsement, and 10 percent having very high levels of endorsement.
The authors say that one of the consequences of the national crisis, "may be to reveal fully the harmful effects of mistrust and misinformation."
The study concludes: "A public health information crisis may be observable. Misinformation and misguided - often malign - views look to be highly prevalent.
"Fringe beliefs may now be mainstream. A previously defining element that the beliefs are typically only held by a minority may require revision."
The data is taken from an accepted manuscript submitted by psychologists at the University of Oxford and published in the journal Psychological Medicine, a link to which can be found here.
From May 4-11, 2,500 adults – representative of the English population for age, gender, region, and income – took part in the Oxford Coronavirus Explanations, Attitudes, and Narratives Survey (Oceans) online.
The manuscript is subject to change during the editing and production process and has been published in the journal Psychological Medicine for peer review.
The quota sample of the population surveyed was based upon UK Office for National Statistics (ONS) population estimate data. It was split relatively evenly be gender and age.
Editor's note 05/22 12.05pm EDT: This article has been updated to clarify the study's methodology and provide onward links to the full dataset