A number of reports have emerged suggesting that COVID-19 could be "wiped out in London in a matter of weeks".
The capital is reported as having fewer than 24 cases a day, two months after it was hit by 200,000 cases a day.
The claim is being based on conclusions drawn from joint modeling by Public Health England and the University of Cambridge's MRC Biostatistics Unit, which tracks the rate of infection (the R-value), the number used to refer to the ability of the disease to spread.
If the R is 1, one person with the virus would infect, on average, one other person so the rate of people infected would remain around the same.
At the start of the pandemic, the R number in the U.K. was three, meaning for every person infected, they passed the infection on to three other people so the rate of infection would increase rapidly.
The research by Public Health England and the University of Cambridge's MRC Biostatic Unit currently puts the R rate in England at 0.75, firmly below the 1.0, one of the key requirements Prime Minister Boris Johnson laid out before he could begin to further ease lockdown restrictions.
According to the data, London has an R rate of 0.4, which means for every 10 people who become infected with the virus, they pass it on to four other people.
Meanwhile, the North East of England and Yorkshire are recording over 4,000 new cases daily, followed by the North West of England with 2,380 new infections every day, suggesting a stark north/south divide and increasing the potential for more localized measures to be implemented.
But could the infection in London be totally wiped out in a matter of weeks as suggested?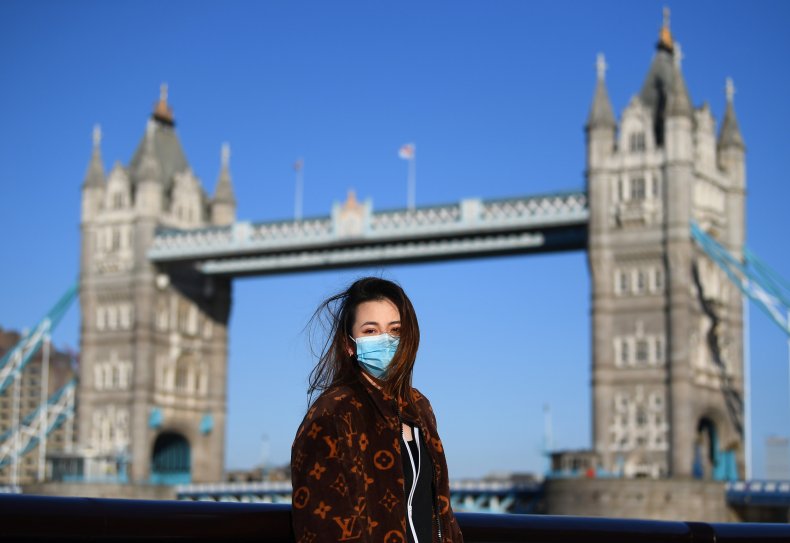 Professor David Heymann, an infectious disease epidemiologist and public health expert from the London School of Hygiene and Tropical Medicine, thinks otherwise.
He cautions against hastily drawn conclusions from the data.
Asked if fewer than 24 official cases a day and daily infection rates halving every 3.5 days COVID-19 could be wiped out in a number of weeks in the capital, Professor Heymann said: "I don't think so".
There would need a be a number of things in place, he says, for this to be more likely.
"It depends if there's a rapid response mechanism to deal with outbreaks when they do occur and if there's a monitoring system in London," he tells Newsweek.
"You'd have to be sure that every case coming into London is identified and every case in London is found. You'd have to have them all isolated and contacts traced and all those people isolated so, there's no guarantee."
Professor Heymann said before any lockdown measures could be completely relaxed in an area, there needed to be a system to rapidly detect and respond to new clusters as well as a monitoring system.
Professor Heymann said: "If it (rate of transmission) is decreasing now that's a good sign. But the fact is that possibly cases have not been identified in London that will continue to transmit, or that cases will be imported from other parts of the country where there are not cases."
A study last month by the British Medical Journal showed that 78% of people who have COVID-19 don't show any symptoms, but who represent a "formidable source" of the contagion.
Meanwhile, although the U.K. government has set itself a target of testing 200,000 people a day by the end of this month, according to the latest Department of Health and Social Care statistics, as of 9am this morning, there have been 2,353,078 tests for COVID-19 in the country overall, with 133,784 tests taking place on May 14.
The government has previously been criticized for falling behind its 100,000 target after it had been met.
On Saturday May 2, ministers said just under 76,500 tests were carried out, a drop of more than a third on the 122,000 tests carried out on 30 April.
When the Health Secretary Matt Hancock announced that the government had met its target of 100,000 tests on the last day of April, reaching 122,000 tests, the figure included 40,000 tests sent to people's homes which had not yet been taken.
With the overwhelming majority of the population not tested and with an unknown number of asymptomatic cases, the actual number of COVID-19 cases in London is likely to be far higher than official figures suggest.
Claims that COVID-19 could be wiped out entirely in London in a few weeks would be based on the assumption that there were no asymptomatic cases or undetected cases, or that people from other areas traveling into London for work did not have COVID-19.
Newsweek has asked Public Health England and the Department of Health for comment.