Primark Announces Reopening of All Stores in England
Fashion retailer Primark has announced that it is reopening all of its stores in England on June 15, according to its owner.
Its parent company Associated British Foods said that it expects 281 stores to have reopened by that date adding that "safety has been our highest priority in our detailed preparations to welcome our customers and employees back to stores."
In a statement, the group said: "Social distancing protocols, hand sanitizer stations, perspex screens at tills and additional cleaning of high-frequency touchpoints in the store are among the measures we are implementing."
Employees will also have personal protective equipment made available to them, including masks and gloves.
Newsweek subscription offers >
Primark said there would be limits on the number of customers allowed in store "at any one time to allow for the appropriate distance in between customers and employees, following government guidelines."
A statement from Primark also said that there would be: "Clear signage and floor decals, as well as dedicated employees and additional security staff, to guide customers through the store in a way that limits contact with others."
The statement said: "Every second till will be closed to allow more space between customers and between employees."
Primark CEO Paul Marchant said: "As we re-open our stores in England, nothing matters more than the health and wellbeing of our colleagues and customers.
Newsweek subscription offers >
"We have really missed our customers and we are delighted to be back on 15 June and able to provide them with the quality, affordable products they love from Primark.
"We know that life for our customers is going to look different for a while. We want our stores to be safe and reassuring places to shop and work. While it might take a little longer to get into our stores, once inside, customers will find all their favorite Primark products and we have worked hard to make sure that clear signage and extra help will be there to guide them through the changes we have made to allow for social distancing.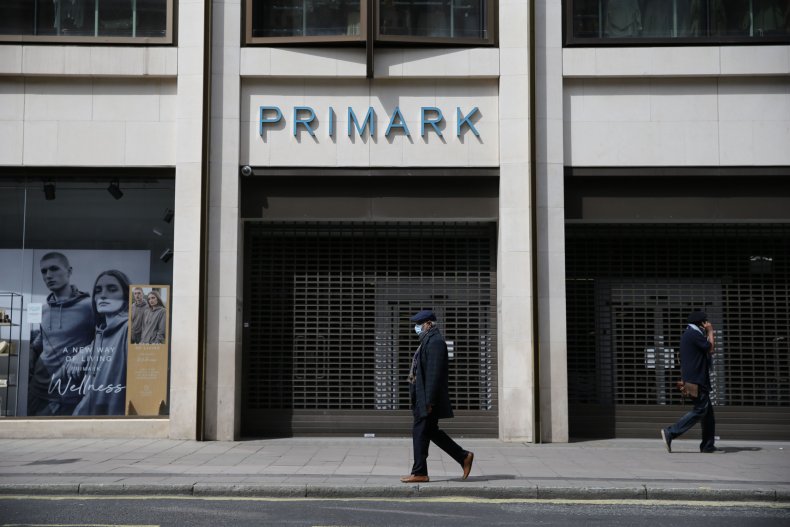 "We will adopt all government safety advice as a minimum in our stores and have benefited from our experience in the other markets in Europe where we have already opened successfully. As we open, we will continue to look at best practice across the retail sector and amend our measures appropriately."
The news on stores reopening comes after the U.K. government announced all non-essential stores could reopen from June 15.
On May 26, Prime Minister Boris Johnson said that the move was "contingent on progress in the fight against coronavirus", and that retailers had to adhere to new guidelines to protect shoppers and workers.
Business Secretary Alok Sharma said at the time: "Enabling these businesses to open will be a critical step on the road to rebuilding our economy, and will support millions of jobs across the UK."
Primark's owners say they await "further guidance for the stores in Northern Ireland, Wales and Scotland and anticipate openings in late June."
Some Primark stores in European countries have already reopened, which includes branches in Germany, France, Spain, Portugal, Italy and the U.S.
Primark Announces Reopening of All Stores in England | World