U.K. Records Highest Ever Number of COVID-19 Cases
The U.K. has recorded its highest ever number of COVID-19 cases in a 24-hour period, with 33,470 people having tested positive for the virus.
It is the highest figure recorded since the pandemic began, according to Department of Health figures.
The number of people who have now died from the virus in the U.K. has now surpassed 50,000, with the total number of cases now standing at 1,290,195. Yesterday also saw 595 deaths from the virus, the highest number since May 12.
The U.K. also has the highest number of deaths in Europe, with a nationwide lockdown in place across England to help stop the spread of a second wave. It comes as figures revealed today that waiting lists for the National Health Service (NHS) have grown since the pandemic.
The number of people waiting for over a year for hospital treatment in England has reached its highest level since 2008, meaning that the target to see patients within 18 weeks is far from being met.
There are fears that the situation could worsen during the winter, with the NHS expecting to see an increase in the number of COVID-19 patients.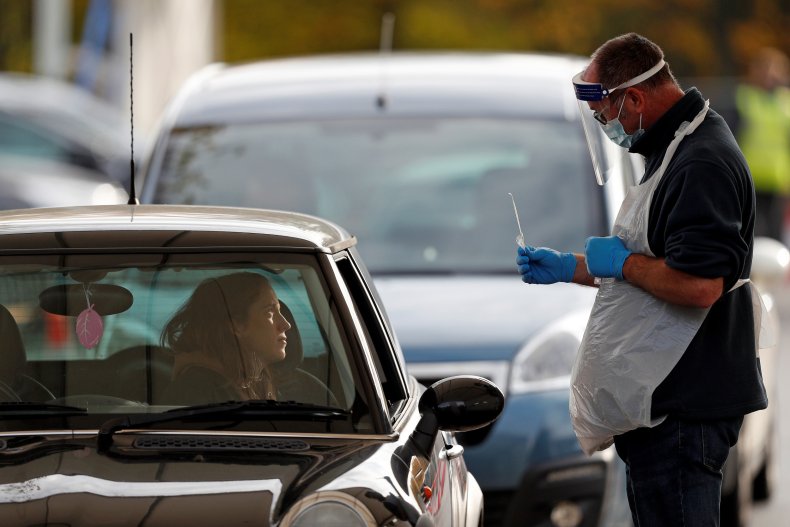 It comes as figures showed that the U.K. economy recovered from recession between July and September, with GDP growth of 15.5 percent the biggest on record following two consecutive quarterly falls. The economy had shrunk by a record 19.8 percent between April and June as the first nationwide lockdown was imposed to contain the spread of the outbreak.
A second lockdown was imposed on England on November 5 and is due to finish on December 2. England's Chief Medical Officer Chris Whitty has said there is reason for optimism in 2021, as pharmaceutical giant Pfizer and biotech firm BioNTech revealed that a vaccine candidate had been found to be more than 90 percent effective against the virus.
Professor Whitty tweeted: "Preliminary news that the Pfizer/BioNTech vaccine is effective demonstrates the power of science against Covid.
"We must see the final safety and efficacy data, but it is very encouraging. It is essential we continue to suppress Covid, but it is a reason for optimism for 2021."
Downing Street says it has ordered 40 million doses of the Pfizer vaccine, with 10 million ready to be deployed by the end of 2020. A spokesperson said: "The results are promising and while we're optimistic of a breakthrough, we must remember that there are no guarantees."