COVID-19 Death of Detroit Bus Driver Who Complained of Coughing Passenger Draws Reaction on Social Media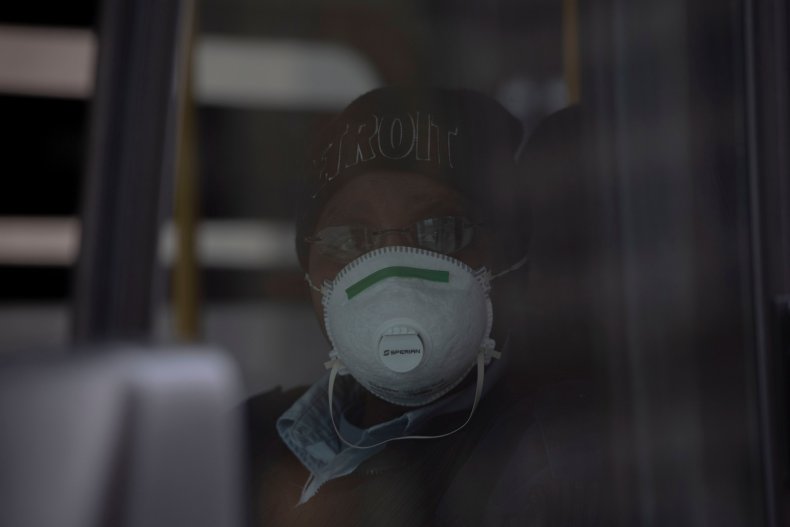 The death of a Detroit bus driver reportedly due to the novel coronavirus Wednesday less than two weeks after complaining in a video that a passenger coughed drew reaction on social media.
Prior to his passing, Jason Hargrove, a 50-year-old bus driver, put out a Facebook Live video March 21 stating that a female passenger coughed in a bus containing eight to nine people without covering her mouth.
"I'm mad right about now because that [expletive] was uncalled for and I try to be the professional that they want me to be and I kept my mouth closed. But it's at some point in time you got to draw the line and say enough is enough," Hargrove said in the video. "This coronavirus [expletive] is for real and we out here as public workers doing our job trying to make an honest living to take care of our families."
"For a grown-[expletive] person in her late fifties, early sixties to stand on the [expletive] bus and cough four and five times without covering up your mouth when you know we in the midst of a [expletive] crisis with this coronavirus. I am pissed the [expletive] off."
"To those who watching I'm just letting you know...this is real. We out here, we moving the city around back and forth trying to do our jobs and be professional about what we do. Again, I ain't blaming nobody...I blame that woman that stood on this [expletive] bus and coughed. It's her fault. Its people like her who don't take [expletive] for real why this [expletive] is still existing and still spreads."
Hargrove concluded the video telling listeners to stay home. "If you ain't got to go out, don't go out. If you go out cover up your face put some gloves on your hands. Please."
News of Hargrove's death prompted reaction on social media, including the seriousness of the pandemic and the importance of staying home. Actress Alyssa Milano sent out a tweet stating: "Stay the [expletive] home. This man is now dead but his message will save lives. May he Rest In Peace."
Blogger Perez Hilton reacted in a tweet: "Cover your [expletive] mouths!!! Cough into your elbow or hands!! I am so pissed!!!!!! Rest in power, Jason Hargrove. This video is crushing. https://youtu.be/KF2vUoH2u6k #Coronavirus #Covid19."
PBS NewsHour White House correspondent Yamiche Alcindor called the news of Hargrove's death "heartrbreaking."
Michigan Congresswoman Brenda Lawrence tweeted: "We must do more to ensure the health and safety of our essential workers during the #COVID19 pandemic. Sending my deepest sympathy to the family and friends of Jason Hargrove."
Detroit Mayor Mike Duggan said Thursday that "everybody in America should watch" Hargrove's video. The mayor said that the city did have all city buses keep front doors closed and have passengers get on and off buses using the back doors only, but after the time that Hargrove made his video.
"[Hargrove's] language is graphic, but I don't know how you can watch it and not tear up. He knew his life was being put in jeopardy, even though he was going to work for the citizens every day, by somebody who just didn't care. Somebody who didn't take this seriously and now he's gone. Every time I see images of a group of people still clustering in this city or this country I think about the Jason Hargrove's on the buses. I think about the cops. I think about the nurses and the doctors in the hospital who are going to work for you every single day," the mayor said.
"For you not to honor the social distancing request you're putting really good people like Jason Hargrove's lives on the line. I hope the people in this city, the people in this country will watch his video and listen to his words because it's the message this country needs to hear."
COVID-19 Death of Detroit Bus Driver Who Complained of Coughing Passenger Draws Reaction on Social Media | U.S.